Brian Flores was the first head coach to address the media at the 2019 NFL scouting combine at the Indianapolis Convention Center on Wednesday morning and he described his hectic period of time since he was hired by the Dolphins.
"It's been a blur, but it's been fun," Flores said. "I'm fortunate. I can complain about not sleeping, but the opportunity to coach this great organization and work with the people I'm working with, I wouldn't trade it for anything. It's been fun. There's always something to do, there's always someone to meet with, there's always a meeting to go to. It feels like there's not enough time but I'm trying to crunch time right now. Because everything's important."
Flores said he's been too busy since taking over as Dolphins head coach to relish or spend a lot of time reliving the New England Patriots' Super Bowl victory, for which he played a big role as the defensive play-caller.
"It was great, but again it happened quickly," Flores said. "It's almost like it didn't happen, quite honestly with all that's gone on.
"I watched it briefly. I thought the guys played well. Again, it's a testament to the players. The credit goes to them. They practiced hard. They played hard. They played with the discipline, the toughness, the team-first attitude that I've talked about already this morning. They reaped the benefits of that. But that happened and it was over. I was on a plane and I've been in Florida since."
Going for it: General Manager Chris Grier made very clear Wednesday at the scouting combine that the notion that the Dolphins would try to lose or "tank" in 2019 simply was not accurate. Owner Stephen Ross said after the season he was willing to take necessary steps to build a consistent winner, but Grier said Ross' words were misconstrued. "I think everyone kind of took Steve's words the first press conference out of context because — you've been around Steve — he is a volatile, very competitive person," Grier said. "So we're not trying to lose games. We're going to do what's best. We're going to build like we've talked about building right, going through the process to do what's best for the Dolphins. But, no, we're not trying to tank or lose every game. But we're going to build it right and see how it plays out. … Steve kind of clarified that when we introduced Brian. We've talked the type of players we want, tough guys, competitive guys. It's kind of hard to say you want that and say hey, rein it back for a year and just go lay down. I don't see how you could ask 53 guys to put their body on the line to lose games."
James update: Starting right tackle **Ja'Wuan James** is among the Dolphins players scheduled to become unrestricted free agents March 13, but Grier said the team would like to keep him — at the right price. "Ja'Wuan just got married last weekend; we'll probably engage him probably at some point after the combine because at this point, after getting married, there's so much going on in his mind, so we'll do it after the combine." James has started all 62 games he has played for the Dolphins since being their 2014 first-round pick. "We drafted him here, and he's a good, young player," James said. "We'd like to have him here. And we'll see what the market [is] and what he's looking for as well. … It's one less box you have to check, but at the end of the day the organization will do what's best for the Dolphins. He's a good guy. He's worked hard since he's been here. He's been a good teammate. We'll see what happens."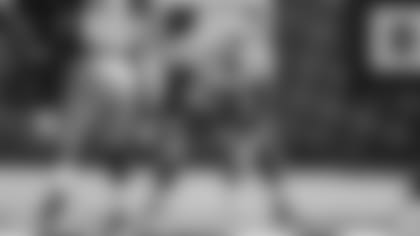 QB watch: Asked about the quarterback class in the 2019 draft, Grier wasn't ready to offer a full opinion because of one simple reason. "When people start ranking classes now, before anyone has sat down and talked to guys, it's kind of hard to do because everyone knows the mental part of the game, especially for quarterbacks, plays a huge part. Until anyone sits down and talks to those players and gets to see how they learn football, how they process information, how they're going to be in the locker room, what kind of leadership they bring you can't really say because that's the intangible that makes people great." Quarterbacks will be conducting interviews with teams Wednesday through Friday and do on-field drills Saturday.
Flores fan: Detroit Lions Head Coach Matt Patricia worked closely with Flores during their years together in New England and said he believes the man he calls "B-Flo" will do a great job in Miami. "He's really smart," Patricia said. "He's a hard worker. He's a great guy. He really relates to the players outstandingly and to people in general. He's got a great mannerism about him. Just a good person."