Defensive end **Cameron Wake** joked Friday that he was "just a pass rusher," but he clearly takes his run-stopping assignments seriously.
Wake has drawn praise from Head Coach Adam Gase and defensive coordinator Matt Burke for consistently setting the edge from his left defensive end spot, though Wake said he'd like to think this wasn't anything new this season.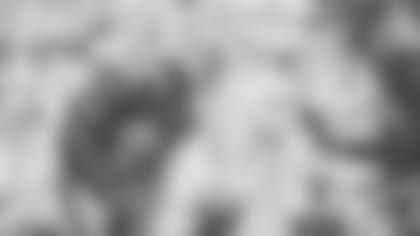 "I feel like it's a pride thing," Wake said Friday. "At the end of the day, you have to defend as a D-lineman and you have to make sure the ball doesn't get out there. If it does, you've got to put it on the ground. I'm kind of stubborn that way. I'm hard-headed. I'm old school. I'm going to try my best to do my job and that mentality is what is going to make you successful.
"That's not fabulous. It's not highlight material. I truly feel it's a big part of it. We always say if you don't stop the run, you're not going to rush the passer anyway."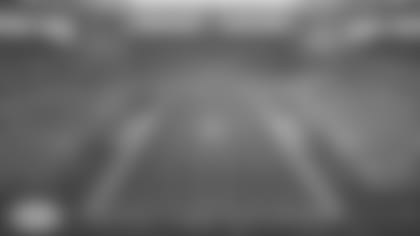 Approaching the end of his 10th NFL season, Wake says he "hopes" he's as good a run defender as a pass rusher.
"My mentality, there shouldn't be a difference," he said. "It should be first, second down, I'm going to do everything I can if you run the ball toward me to hold my gap and put the ball on the ground. And third down coming around and everybody wants to pin their ears back and get after the quarterback. I should be just as effective either way. Most guys are one or the other. They're run stoppers. He's a pass rusher. Why can't you be both?"
Carroo coming on: Third-year wide receiver **Leonte Carroo** has made his presence felt since being promoted from the practice squad, yes, with his 74-yard touchdown catch against the Indianapolis Colts but mostly for his work on special teams. Against Minnesota last Sunday, Carroo saved a touchdown on Marcus Sherels' 70-yard punt return when he tackled him from behind in the open field. "The thing about Carroo, since he's come back and been activated, I've seen kind of a refocus," Associate Head Coach/Special Teams Coordinator Darren Rizzi said. "I'm really proud of Leonte Carroo. The reason is because I think he got humbled a little bit. When you get released and you don't make the 53 and you get put on the practice squad, there's a couple different ways you can go with that. I've seen it both ways. I've seen guys come back and kind of sulk and the 'woe is me' attitude and don't really get back to where they should be. Leonte Carroo took the exact opposite approach. Carroo took the 'I'm going to prove to these guys and to myself and everybody else that I deserve to be on the 53.' He kind of refocused and he kind of re-centered. … In my opinion, he's done a really good job. I think since he's been back, he's made a number of plays. That particular play was an outstanding play."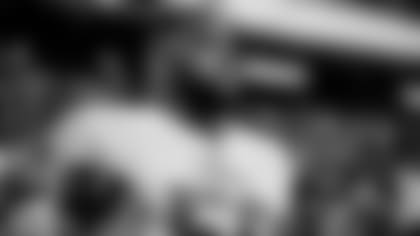 College reunion: One of the biggest tasks for the Dolphins defense Sunday against the Jacksonville Jaguars will be stopping running back Leonard Fournette. He's somebody with whom defensive tackle **Davon Godchaux** is very familiar with considering they were teammates at LSU from 2014-16. "Powerful," Godchaux said. "And a lot of people don't know that he's got a lot of speed. He can break away, run away. Lot of speed. Just gotta stop him. No ifs, ands, buts about it, we've got to stop him early because if he gets going, he's a problem to deal with. He hasn't been having his best season, but at the end of the day he's still Leonard Fournette." After rushing for 1,040 yards and nine touchdowns last season, Fournette has 396 yards and four touchdowns in 2018.
Gore encore?: Running back **Frank Gore** is finishing his 14th NFL season on injured reserve, but it seems as though he's looking to play again in 2019. Gore said multiple times this season he wanted to see how he felt in the offseason before making a decision, but multiple reports Friday suggested he's already decided he wants to keep playing. Head Coach Adam Gase said he hadn't sat down with Gore to discuss his future yet, but added, "I know there were times in the season that I could tell he's not ready for that to be even close to being done."
Just a game: Defensive end **Andre Branch** spent his first four NFL seasons with Jacksonville after the Jaguars selected him in the second round of the 2012 draft, but he said there was nothing special about facing his former team for the first time Sunday. "It's just the next game," Branch said. "We've got playoff hopes and if we don't handle this one, then those all go out the window." Along with Branch, fellow defensive lineman Jonathan Woodard also was drafted by Jacksonville—he was a seventh-round pick in 2016, though he never played in a regular season game for the Jaguars.
More connections: Jacksonville Head Coach Doug Marrone played on the offensive line for the Dolphins during the 1987 season, Jaguars running backs coach Tyrone Wheatley went to training camp with the Dolphins in 1999, and Jaguars assistant offensive line coach Tony Sparano Jr. served as offensive quality control coach with the Dolphins in 2011. Along with Branch, Dolphins defensive tackle **Ziggy Hood** and tackle **Sam Young** also have played for the Jaguars. The Jacksonville roster includes two former Dolphins players—cornerback Tyler Patmon and linebacker Martrell Spaight, who was with Miami this season.