The Dolphins got some good news on their defensive line Thursday with the return of four-time Pro Bowl selection Cameron Wake to practice.
Wake had missed practice Wednesday because of a knee injury he sustained in the 28-20 victory against the Oakland Raiders.
Veteran defensive end Andre Branch missed practice for a second consecutive day and Head Coach Adam Gase already has said he was "highly unlikely" to be available for the game against the New England Patriots on Sunday.
With Branch likely out, the Dolphins now will be using at most four defensive ends after rotating five players — including veteran William Hayes, who is now on injured reserve — the first three games.
Defensive coordinator Matt Burke quickly shot down any concern about an increased work load for Wake against New England. Asked whether he was concerned that Wake's snaps might add up, Burke quickly replied: "Nope."
Woodard watch: The newest member of the Dolphins defensive end corps is Jonathan Woodard, who was promoted from the practice squad after the team worked out some veterans Tuesday. Woodard, who could make his NFL debut against the Patriots on Sunday, first joined the Dolphins practice squad last December. "We had him through the whole offseason and I thought he had a very successful preseason," Burke said. "I thought he had some production. I just think organizationally we just felt his familiarity with the system. I think Adam (Gase) just believes in guys that are on the practice squad, they're not just here to practice, that they're developmental players and they're guys that we're training in the system day to day to fill those roles for us. At the end of the day, he's worked hard to get to where he is and to earn his spot on the team through the preseason, through the whole offseason really. Since he's been in the building, he's done everything, he's worked hard. He's a big body, but he's kind of slippery. He's got a little knack for kind of finding things. I think he's earned that opportunity to have a shot."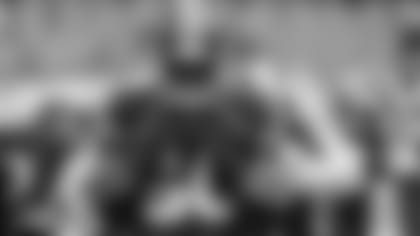 Spaight story: Unlike Woodard, Burke didn't know much about linebacker Martrell Spaight before the Dolphins signed him Wednesday morning, but he says his early experience with him has proven right the reports the Dolphins had gotten. "He brings a little physical presence to him," Burke said. "We liked that he had some experience in the league. We liked his physical play. We brought him in for the workout, we just felt like he was the best option. He's been great. All the reports of everybody we talked to, from Washington and other places, great kid, great personality, team guy, all that stuff, and he's just stepped right in and done whatever asked. We're trying to get him caught up to speed as quickly as possible, and he's taken to that. He's kind of been a gym rat in the building the last couple of days trying to get everything right."
Wildcat rewind: The Dolphins are headed to Gillette Stadium this weekend, a little more than 10 years after the famous Wildcat game that shook up the NFL and started a trend. There are five players from that game who currently are on an NFL roster, one of them being Dolphins long-snapper John Denney. Another is former Dolphins quarterback Chad Henne, who is now in Kansas City; former Patriots tight end Benjamin Watson, who's now in New Orleans; former Patriots quarterback Matt Cassel, who's now in Detroit; and Patriots players Stephen Gostkowski and Matthew Slater. Another Dolphins player in that 2008 game was safety Renaldo Hill, who's now in his first year as Dolphins assistant defensive backs coach. Denney says he has recently seen highlights of the game, during which Ronnie Brown scored three of his four rushing touchdowns after taking a direct snap in shotgun formation. "It was fun, that's for sure," Denney said. "I just saw highlights, maybe it was on Instagram or something. Watching Ronnie run all over the place, it was fun. For sure it stands out. Because it was not the norm. It wasn't your normal game. It stood out because it was different."
Big on Bolden: Because the New England Patriots have a new defensive coordinator in 2018, Gase downplayed the notion of being able to get inside information on the Patriots defense from Danny Amendola this week. The Patriots have the same special teams coordinator, Joe Judge, but Dolphins Associate Head Coach/Special Teams Coordinator Darren Rizzi also didn't buy too much into the idea he could get much intel from newcomer Brandon Bolden. Regardless, Bolden has been a great addition to Rizzi's special teams group not only because of his performance but also because of his leadership and personality, which Rizzi described as A-plus. "Kind of knew him as a player, but kind of getting to know Brandon Bolden the person, the leader, that kind of thing has been kind of neat for me," Rizzi said. "Really, really mature. Really, really good football IQ. He's been really good for some of our younger players." Rizzi also mentioned Bolden as one of the best performers on special teams so far this season, along with Senorise Perry and Walt Aikens, as well as including rookie Cornell Armstrong for his work the past two games and Stephone Anthony for his performance against Oakland last Sunday.