Veteran center Travis Swanson is back with the Dolphins.
Swanson was signed Tuesday, eight days after being signed and seven days after he was released to make room on the roster for veteran running back Brandon Bolden.
Swanson spent his first four NFL seasons with the Detroit Lions after being a third-round pick in the 2014 draft. He was the third of nine centers selected that year after being a three-year starter at the University of Arkansas.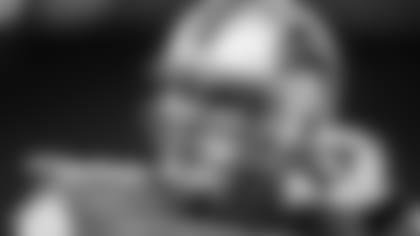 In Detroit, Swanson started 42 of the 53 games he played, including all 37 the past three seasons. He signed with the New York Jets this offseason as an unrestricted free agents, but was among the team's final roster cuts.
In Swanson's first two seasons in Detroit, he was coached by current Dolphins offensive line coach Jeremiah Washburn.
The Dolphins are back to nine offensive linemen on their roster: Laremy Tunsil, Josh Sitton, Daniel Kilgore, Jesse Davis, Ja'Wuan James, Ted Larsen, Zach Sterup, Young and Swanson.
Goodbye to Gavin: To make room for Swanson, the Dolphins released veteran tight end Gavin Escobar for a second time this month. Escobar was among the Dolphins' final roster cuts Sept. 1 before being re-signed after fellow tight end MarQueis Gray was placed on injured reserve because of an Achilles injury. Escobar was inactive for the season opener against Tennessee on Sunday.
Coaching connections: The Jets coaching staff, who will be across the field from the Dolphins on Sunday, has a lot of ties to the Dolphins, starting with Head Coach Todd Bowles. He served as secondary coach and assistant head coach for the Dolphins from 2008-11, as well as being the interim head coach for the last three games of 2011. Along with Bowles, Jets Special Teams Coordinator Brant Boyer was drafted by the Dolphins in the sixth round of the 1994 NFL draft and played for the Dolphins for one season in 1994; Defensive Line Coach Robert Nunn served as the assistant defensive line coach for the Dolphins from 2000- 2002 and special assistant to the head coach in 2004; Defensive Coordinator Kacy Rodgers served as Dolphins defensive line coach from 2008-14.; Defensive Quality Control Coach Tim Atkins served as a defensive assistant with the Dolphins during the 2007 season; and Wide Receivers Coach Karl Dorrell coached receivers for the Dolphins from 2008-10 and quarterbacks in 2011.
In the community: Dolphins players were out and about in South Florida doing communit work on their day off Tuesday. Wide receivers Kenny Stills and Albert Wilson paid a visit to the VA (Veterans Affairs) Hospital in Miami, and linebacker Jerome Baker visited children at the Boys & Girls Club of Broward County. "This is my new home," Baker tweeted along with a photo of himself and the children.
Stats pack: Thanks to Jakeem Grant's 102-yard touchdown, the Dolphins ended Week 1 of the NFL season ranked first in the league in kickoff return average. Grant averaged 62.5 yards on his two kickoff returns against Tennessee.