The Dolphins formally introduced their assistant coaches Friday when they held a media session at the Baptist Health Training Facility at Nova Southeastern University.
The media session took place inside the practice bubble—first the offensive coaches and then the defensive coaches along with new Special Teams Coordinator **Danny Crossman**.
The first group included Assistant Head Coach/Quarterbacks **Jim Caldwell**, Offensive Coordinator **Chad O'Shea**, Running Backs Coach Eric Studesville, Wide Receivers Coach Karl Dorrell, Tight Ends Coach George Godsey, Offensive Line Coach Pat Flaherty, and Assistant Quarterbacks Coach Jerry Schuplinski.
The second group consisted of Defensive Coordinator **Patrick Graham**, Defensive Line Coach Marion Hobby, Linebackers Coach Rob Leonard, Safeties Coach Tony Oden, Cornerbacks Coach Josh Boyer, and Crossman.
Dorrell is back with the Dolphins for a second stint; Oden and Studesville are back from the 2018 staff; while the other coaches are new to the organization.
The coaches discussed all sorts of topics, from their relationship to Head Coach Brian Flores, to their backgrounds in and outside of football, to their coaching philosophies.
The media session came one week after the staff was announced, and 11 days after Flores was introduced as the 13th head coach in Dolphins history.
Coaching credentials: Caldwell brings perhaps the most impressive resume among the new assistants, having been involved in coaching since 1977 when he was a graduate assistant at the University of Iowa. More importantly, he has spent seven seasons as an NFL head coach (Colts 2009-11, Lions 2014-17) along with eight years in charge of Wake Forest. His experience no doubt can only benefit Flores, even though Caldwell downplayed the idea he needed a veteran helping hand. "First of all, he doesn't need much help in that regard," Caldwell said. "He is excellent. He's a guy that has great vision and foresight. Really, what I'm here for is I'm just here to help him do whatever he asks me to do." Caldwell was away from the NFL last year, but jumped at the chance to join the Dolphins. "We had previous discussions about the league in general, preparation for interviews and things of that nature," Caldwell said. "This was long before this opportunity came up. He had asked me at one point in time, he said, 'If I get something and you're not in football at the time, would you consider it?' That's kind of how he stated it. I told him 'Yes, I would consider it.' Fortunately, it worked out. I'm here and I'm in a position to serve, which I'm happy about."
Talking defense: Graham had a pretty simple answer when he was asked whether the Dolphins would use a 4-3 or 3-4 scheme next season. "Yes." Given Flores' background, this was the expectation after he was named Dolphins head coach, and Graham pretty much confirmed it Friday. "Multiple," Graham said. "This is what we're going to do. We're going to do whatever Coach Flores wants us to do that week and what we're going to try to do is try to teach the guys the concepts of the defense, what the coverage is, what the rush is whether we're rushing three, four, five, six, doesn't matter. How we deploy those guys in different spots and the outside looking in, you guys see it. It's going to look multiple. It is going to be multiple. Are we talking about 3-4/4-3? It's just going to be multiple. We're going to do what we need to do that week and that game. We're going to try to win that situation, whatever we're trying to do. If it requires all 11 guys to be on their feet, it requires all 11 guys to be on their feet. If it requires all 11 to be down in a three-point stance, it'll look weird, but we'll do it, if we think that's what it takes to win the game."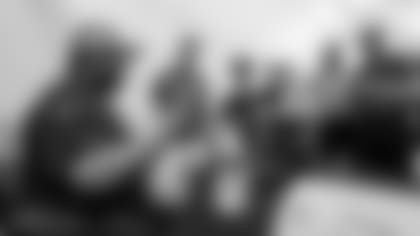 Weekly challenge: As Graham mentioned, the Dolphins very well might have totally different looks from week to week depending on the opponent. But it's not just on defense where the Dolphins will alter their approach on a game-by-game basis. That's going to apply to the offense as well. It's all part of the philosophy laid out by Flores during his introductory press conference of having the flexibility and versatility to change things up to take advantage of particular matchups based on the opponent. "Brian and I share a lot of the same philosophies, one of which is being very team-oriented," O'Shea said. "But offensively, our vision is to do whatever is required to be successful that week. We absolutely want to have a core set of things that we do well, but we're also going to have the ability to adjust on a weekly basis. I think it's important for the coaching staff to have the mind-set that we need to be able to adjust and our players also need to adjust. That's an important part of the offense is the ability to be multiple, to not be a specific scheme. But again, it goes back to we're going to do what the players do well and what are their strengths. We always identify what they can do, not what they cannot do, and game-plan or set up our offense according to that." O'Shea acknowledged that type of approach is more demanding on the players. "I think when you have a multiple offense, it does require the players to spend extra time in preparation, but in the end, we're doing what's best for the players and we're doing, most importantly, what's best for the team," he said. "I think the players in the past, when we've been in a multiple offense, have always embraced that challenge, because in the end they know that we're trying as a coaching staff to do what's best and put them in the best position to not only succeed individually, but most importantly, our vision is to succeed as a team."
Minkah musings: As one of the returning coaches, Oden again will get the chance to work with 2018 first-round pick Minkah Fitzpatrick. Oden was asked Friday for his assessment of Fitzpatrick's rookie season and his potential for growth. "He had a solid rookie season," Oden said. "His arrow is pointed up. He still has so much to learn. But the thing with him is that he's willing to do it. He's more than willing to do it. Everyone is going to be learning right now. Everyone is starting from a clear plain field, from that perspective. I'm excited to see him grow. I'm excited to see him taking more of a role if that happens. He's the right kind of guy. He has the right kind of skill set, mentally and physically. So it's going to be exciting to watch him grow." Oden then talked about what stood out to him last year about the former University of Alabama standout. "I could go run down a whole list, but there's nothing different than you guys have seen or haven't seen," Oden said. "There's no hidden things in regards to that. He has the skill set mentally and physically to do a lot. That's a good thing. We're excited to watch him grow in this system and learn in this system."