Veteran defensive end William Hayes will end up not playing a down in the preseason, but he's on track to be ready for the regular season opener against the Tennessee Titans.
Hayes has been sidelined since the early days of August after sustaining a hamstring injury in practice.
Head Coach Adam Gase gave an update on Hayes' condition after practice Tuesday.
"He's still working through that," Gase said. "I think he feels like he's ready to go, but I think we're good where we're at right now, we just have to make sure that he's healthy for Week 1."
Then came the important question, with Gase asked whether he was anticipating having Hayes ready for Sept. 9: "I'm hoping so, unless we have any kind of setbacks."
Practice report: The Dolphins conducted their final practice with 90 players this year before heading to Atlanta to face the Falcons in the preseason finale Thursday. The next time the Dolphins have a full practice, they will be down to 53 players on the active roster plus members of the practice squad. The practice took place inside the bubble at the Baptist Health Training Facility at Nova Southeastern University and featured a lot of 11-on-11 work involving the first-team offense against the first-team defense. Among the highlights of practice were a couple of "sacks" by defensive end Charles Harris and a beautiful deep pass from Ryan Tannehill to Kenny Stills in the corner of the end zone. Rookie kickers Jason Sanders and Greg Joseph took turns on field goal attempts Tuesday and both were 4-for-4.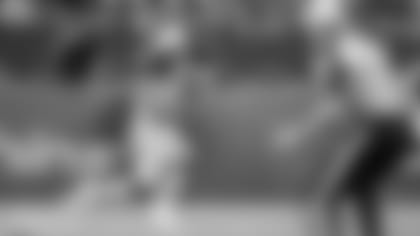 Injury update: Guard/center Ted Larsen left practice early Tuesday after sustaining an injury, though Gase did not have any details on his condition when he met with the media. Wide receiver Leonte Carroo returned to practice after sitting out last week because of a groin injury. Running back Kalen Ballage also returned to practice, though he remains in the concussion protocol. Wide receiver Jakeem Grant, who was injured in the preseason game against Baltimore on Saturday, sat out practice because of a concussion. He joined the list of injured players, which include DE William Hayes (hamstring), WR DeVante Parker (hand), LB Mike Hull (knee) and OL Jake Brendel (calf). Guard Josh Sitton was given a veteran's day off.
Lippett progress: Tony Lippett still is looking to get back to the form he showed in 2016 when he led the team with four interceptions, and Gase says it's a matter of time for the fourth-year cornerback. Lippett, of course, missed the entire 2017 season after sustaining a torn Achilles tendon in practice. He came into training camp hoping to contend for the starting cornerback job opposite Xavien Howard and got first-team reps in practice, but it appears Bobby McCain has grabbed a firm hold on that spot. As for Lippett, the hope is he can continue to get better each time he steps onto the field. "I think the more he plays, the more comfortable he's getting," Gase said. "We've got this game coming up (against Atlanta), which will be good. (We'll) try to give him as many snaps as possible. I know in practice we're trying to do the same thing and just keep him, encouraging him to challenge receivers, use his length, do all the things that he's done in the past. Really, this game will be a great test for him to really go out there and challenge and play as many snaps as we can get him in there. Hopefully, it's a high number so when we get out of this game we have a really good sense where he's at."
TV info: The Dolphins-Falcons game Thursday at 7 p.m. will be shown live on WFOR-TV in South Florida, with Dick Stockton, Nat Moore and Bob Griese calling the action. The broadcast will be replayed on NFL Network on Sunday at 6 a.m. Fans also can watch live out-of-market preseason games and replays of every game as part of the NFL Game Pass package. For information, click **HERE**.