The Dolphins made some additions to their offense Sunday when they claimed off waivers rookie quarterback Luke Falk and wide receiver Tanner McEvoy.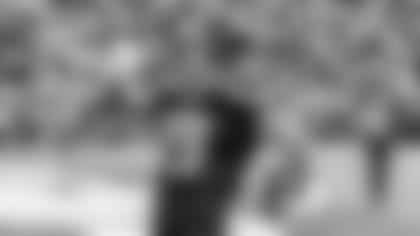 McEvoy is a third-year player from Wisconsin who spent the past two seasons with the Seattle Seahawks and caught 14 passes for 253 yards (impressive 18.1 average) and two touchdowns, both of them in 2017.
At 6 feet 6, 230 pounds, McEvoy brings great size to the Dolphins wide receiver group, which also includes Kenny Stills, DeVante Parker, Jakeem Grant and newcomers Danny Amendola and Albert Wilson.
McEvoy played wide receiver, safety and wide receiver at Wisconsin.
Falk was a sixth-round pick of the Tennessee Titans in the 2018 NFL draft after starting the past three seasons at Washington State. In his four-year career at WSU, Falk completed 68.3 percent of his passes for 14,481 yards and 119 touchdowns and 39 interceptions.
In the preseason, Falk completed 55.2 percent of his passes for Tennessee with one touchdown and one interception, and a passer rating of 67.9.
Falk's addition gives the Dolphins four quarterbacks on their 53-man roster, along with Ryan Tannehill, Brock Osweiler and David Fales.
At the 2018 combine, Falk said the Dolphins were the first team to give him a formal interview. He also revealed he was a big fan of Tom Brady's, and he ironically was selected in the same exact draft spot (199th overall).
Headed to IR: To make room on the roster for the two players, the Dolphins placed linebacker Mike Hull and offensive lineman Jake Brendel on injured reserve. The Dolphins also released veteran tackle Sam Young. Remember that every NFL team can designate two players to return from IR every season, though they cannot play until eight weeks from the time they were placed on IR (after being on the initial 53-man roster).Young, who played 18 games with seven starts for the Dolphins the past two seasons, was released last Sept. 2 and re-signed two days later. "Losing Mike for a little bit hurt, that kind of stings us," Gase said about Hull on Sunday morning. "We had a good plan going into training camp with him, to make sure he stayed healthy, getting him ready for a big year on special teams and getting him ready at linebacker. And losing him in that preseason game, that stung a little bit because he's an impact player for us on special teams."
Practice squad filled: The Dolphins filled out their 10-man practice squad Sunday with players who all were on the team during training camp and the preseason. The list includes guard Isaac Asiata, wide receiver Leonte Carroo, cornerback Jalen Davis, wide receiver Isaiah Ford, center Connor Hilland, running back Jeremy Langford, defensive end Cameron Malveaux, defensive tackle Jamiyus Pittman, linebacker Quentin Poling and defensive end Jonathan Woodard. Davis, Hilland and Pittman all were signed as undrafted rookie free agents this spring.
QB question: Head Coach Adam Gase seemed surprised that some media members expressed surprise that the Dolphins ended up keeping both Brock Osweiler and David Fales at quarterback along with starter Ryan Tannehill. "I kind of hinted at it the last nine months, but we didn't pick up on it," Gase said. "Really, at the end of the day, you talk about it being one of the most important positions in professional football. Our thought process is we're going to try to develop guys, and get them ready to go and if we ever have any situation where we need the next guy to get up, we want to make sure we have the right guy. We're going to keep working with the two guys we got." Gase added his plan was to keep Osweiler and Fales on the active roster the entire season. Gase gave no hint as to who might have the edge for the No. 2 spot at the moment, suggesting the depth chart might continue to list Fales OR Osweiler behind Tannehill. "It's day-to-day," Gase said. "I feel like it goes back and forth. It's one of those things where, who has the best protection on that particular night? It seems like that guy has a good night in preseason. That's what always going to make it tough about who's the backup? Because you're guessing."
Letting Lippett go: The decision to waive fourth-year cornerback Tony Lippett was not an easy one for the Dolphins, but Gase said it came down to performance in training camp. The Dolphins kept five cornerbacks on their initial 53-man roster: Xavien Howard, Bobby McCain, Torry McTyer, Cordrea Tankersley and rookie sixth-round pick Cornell Armstrong. "Some people might disagree," Gase said. "We felt like that's where we are right now. We wanted to keep those guys. It was time for us to part ways with Tony. That wasn't fun, just because history, being here together, being Michigan State guys as well, I'm always going to be pulling for him. If he ends up back here at some point, I'm all for it."
Larsen update: Veteran guard Ted Larsen apparently escaped a serious injury when he went down in the final practice before the preseason finale at Atlanta and he'll be ready to contribute in the season opener against the Tennessee Titans. "We probably got scared more than anything," Gase said. "I know it looked bad the way it went down. I know I was sitting there thinking this is perfect. About this time of year. The last day. And you have one of those kinds of injuries. But, as he said, it's a good thing he has tree trunks for legs."
The Kendall case: Veteran defensive tackle Kendall Langford did just about everything he could to earn a spot on the 53-man roster, but he was playing catch-up after signing in mid-August. But the biggest reason he didn't make the team might have been the impressive summer performance of second-year player Vincent Taylor. "I think it's tough because I think Vincent is playing really well," Gase said. "And you guys have probably noticed him a lot. It seems like he is in the mix so much. Sometimes D tackles it's hard to notice. And I think he shows up a lot. It was tough asking (Langford) preseason two getting thrown into a game battling as hard as he could. For two weeks. It's just one of those situations, I wish we had him in the spring, and started from there. And learned all the techniques and what they're asking him on defense. I think the timing was just not great for him. And it everything was so fast. And all of the sudden we're cutting the team."
Perry's progress: Running back Senorise Perry wasn't considered a lock by media members to make the 53-man roster when training camp began, but he basically left the Dolphins no choice but to keep him with his impressive summer, combined with his special teams abiity. Perry will continue his working relationship with Gase, which began in 2015 in Chicago when Perry spent the entire season on injured reserve and has continued in Miami since the Dolphins signed him to the practice squad in October 2016. "He has been as consistent as I've ever seen him at running back," Gase said. "He doesn't make many mistakes. He runs hard. He can do every phase that we're asking him to do, whether it's pass pro, receiving, running the ball. He has a great grasp of the offense right now. It's great for me to see three years in this offense, he's gotten better and better. Just getting to see him develop, I'm happy for him and I love the fact that he's an impact player for us on special teams."