The Dolphins were off Friday after completing the first week of OTAs and will be back on the practice field Tuesday.
It will be another chance for the rookies to continue trying to catch up to the veterans when it comes to the playbook, a task that's never easy. Head Coach Adam Gase, though, says that's perhaps the most significant thing for rookies during this Phase 3 of the offseason program.
"It's really just trying to get them to where they are up to speed with the other guys," he said this week. "It's going to be tough because there is a lot of things they haven't seen. They're going to make a lot of mistakes and our job is to correct them quickly and try to get them on the same page with the veterans as fast as possible."
The Dolphins have 21 rookies currently on the roster, their eight draft picks and 13 players signed as rookie free agents.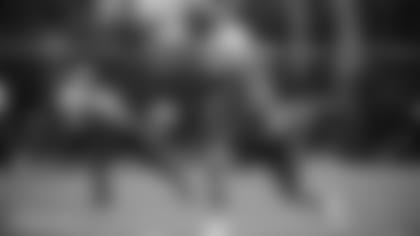 All of them are in the same situation, including first-round pick Minkah Fitzpatrick.
"I know he's trying to immerse himself in this stuff," Gase said. "He'll do anything he's asked to do. No matter what group he's running with, he's trying to put himself in position to make plays and make sure that he's doing his job."
New coaches: Along with the rookies and the veteran newcomers, new faces in the offseason program include the six new assistant coaches. Two of those are defensive backs coach Tony Oden and assistant DB coach Renaldo Hill. Safety Reshad Jones was asked Thursday about Oden, who came over from the Detroit Lions. "Tony is a great dude," Jones said. "He's a family guy. You can tell that he cares about us not only on the field, but off the field too. He asks about your family members and different things like that. It's fun being with a guy like that. He's been around also. He knows football. He knows the game. I think he'll be very helpful for the young guys this year in our room." Cornerback Xavien Howard was asked about the message Oden has been telling his players. "We just agreed to come in there and we've just got to finish," Howard said. "We've got to finish strong and study stuff that we had put on film and stuff last year, that again, people have seen. He's really just telling us (to) finish and try to make plays out there." The other new Dolphins coaches are offensive coordinator Dowell Loggains, running backs coach Eric Studesville, offensive line coach Jeremiah Washburn and defensive line coach Kris Kocurek.
Home sweet home: Wide receiver Albert Wilson came back to his native South Florida when he signed with the Dolphins as an unrestricted free agent this spring, and he continues to savor every moment of his homecoming. "It's great," he said. "I still take it in every day, just coming into the locker room and seeing guys like Dan Marino walking around. His great legacy around here, it's still breathtaking." Wilson said the chance to play in South Florida was a major factor, perhaps the biggest, in his decision to sign with the Dolphins after spending the past four seasons with the Kansas City Chiefs. "When things came down to it, outside of football, this was the right place for me," Wilson said. "I'm able to get back home and play for my home state. It wasn't a question. A lot of people don't get to go home and have a great opportunity like me, so I'm definitely taking full advantage of it."
A draft story: Raekwon McMillan was actively involved in helping recruit fellow linebacker Jerome Baker to Ohio State a few years back, but he actually was at the movies when the two officially became reunited with the Dolphins. "I was tweeting from the movies," McMillan said. "Everybody saw me tweeting but I was in the movies and the people beside me were getting mad because I was on the phone the whole time. It just kind of feels good again to have him back with me here so I can teach him a little bit of what I know. McMillan, who was watching "Black Panther" on the second night of the 2018 NFL draft, started alongside Baker at Ohio State in 2016. "When we played the team up north — that's Michigan (laughter) — I think I had like 19 tackles or something like that and he was right behind me with like 18," McMillan said. "He was out there balling. From then on, I knew he had a chance. Personally, I thought he was going to be an early second-round pick; but they had circumstances last year at Ohio State that made him drop down a little bit. He's definitely a good ballplayer."
Tattoed Tann*y:* At the very end of his press conference Wednesday, quarterback Ryan Tannehill was asked about a tattoo on the inside of his right arm, which he said he got last year for a simple reason. "It's laurel leaves for my wife," Tannehill explained. "My wife's name is Lauren. Lauren means 'by the laurel leaves,' so that's it."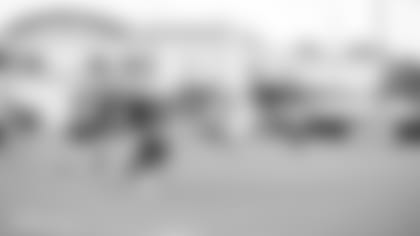 Determined Danny: One thing the Dolphins knew they were getting when they signed wide receiver Danny Amendola as an unrestricted free agent this offseason was a hard-working and intense veteran. Media members got to see it first-hand this week during the first OTA sessions of the spring. "That's him, that's how he has been his whole career," Head Coach Adam Gase said. "Our defensive guys found that out first-hand last year. He's a competitor. He's a perfectionist. He's going to compete whether it's Day 2 of OTAs or Phase 2 or in the weight room, during game week. It's just not going to change." Amendola showed off his displeasure during the open practice Wednesday after a dropped pass and a play where he was stripped of the ball after a reception. "That's Danny for you," said fellow wide receiver Albert Wilson. "He's a perfectionist and he wants to do everything right. If it doesn't go his way, he's kind of down on himself. I think that's what makes him a great player. He's the hardest person on himself."
Draw play: Rookie second-round pick Mike Gesicki joined the Dolphins already owning some impressive pass-catching skills, but drawing ability? Not so much. Gesicki was among several rookies featured in an NFL video where they were asked to draw the logo of the team that had selected them. Of course, drawing a dolphin inside a sunburst isn't the easiest thing to do for non-artists, but Gesicki's effort was … let's just say he better stick to football.