The Dolphins told Gavin Escobar after they released him Saturday to expect a phone call if they needed a tight end at some point this season, but he never expected the call to come so quickly.
Escobar hadn't even finished unpacking after returning home from California when he got a call from the Dolphins around 3 p.m. on Wednesday, which was noon on the West Coast. Escobar quickly threw some things together, repacked, hopped on a flight at 2 p.m. and was back in South Florida around 3 a.m.
"I got about two hours of sleep," said Escobar, who was signed after fellow tight end MarQueis Gray was placed on injured reserve. "I'm running on fumes, but I'll get some rest tonight."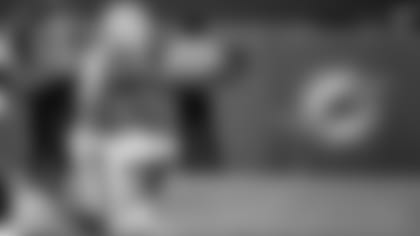 Escobar's return is a clear indication he performed well enough in training camp and the preseason to get the call from the Dolphins.
Along with Gray, the Dolphins kept A.J. Derby and rookie draft picks Mike Gesicki and Durham Smythe, but Head Coach Adam Gase said what Escobar did as well.
Asked what he liked best about Escobar this summer, Gase said: "Consistency. I thought he did a really good job. That was one of those ones where we had four guys and he was 5. There was probably argument that it was more like 4a, 4b."
For Escobar, a second-round pick of the Dallas Cowboys in 2013, this represents another opportunity, even if it comes under difficult circumstances.
"When they gave me the call, I had no idea what the situation was," he said. "It sucks to come back because of that, but obviously it's the nature of the game. I tore my Achilles back in 2015 and it sucks. It's a bad injury. But we know Q will be back strong than ever.
"I'm just here to help the team. I haven't been told anything specifically, so I'm just out here working like everyone else."
Tough break: For Gray, the injury comes at a time when he was poised to play perhaps his biggest on offense since he joined the team in 2016. Gray tore his Achilles tendon during a one-on-one drill without being touched. Gase said the injury was season-ending, making it even more disappointing for a player well respected by his teammates. "There's a lot of us that went to see him when he got back," Gase said. "We just made sure we confirmed it. It was just tough to see him like that. It showed everybody how much he cared about being on this team and how much he wanted to be a part of it this season. It's one of those things that he's going to work hard to get back and it'll be good when we do get him back." Gray was listed as the first-team tight end on the depth chart, and Gase said his loss would require some adjustments in the game plan. "We'll move some things around as far as what we're going to do offensively," he said. "We'll come up with a plan and be ready to go on Sunday."
Buddies back together: New running back Brandon Bolden said Thursday that Danny Amendola told him he was excited when Bolden was released by the New England Patriots this past weekend. Bolden was shocked at first by the comment until it became clear the reason was that Amendola saw a chance for the two being reunited in Miami, which is exactly what happened. "Me and Danny, since he got to New England, we've been best of buds," Bolden said. "When he signed here, I congratulated him. I was excited for him. And then when I got released, he's like, 'Oh, bro, so excited!' I was like, I got released. He's like, 'I know.' So then everything got rolling. Danny has been my boy since we met. We've been talking about it all the time. We've been watching each other since we were in college. I watched him at Texas Tech. My freshman year we played Texas Tech in the Cotton Bowl and he was on the sideline watching, so he got to see how I operated first-hand before we were teammates. And we ended up on the same team. I've always been an Amendola fan and he's always been a Bolden fan." The feeling indeed is mutual. "I'm glad he's here," Amendola said. "He's a great teammate and a great football player. We got a good one." Bolden hasn't had much time for catching up with old friends, though, because he's been busy trying to get up to speed on the playbook and the game plan so he can make his Dolphins debut Sunday against Tennessee. But he says he has no doubt that will get accomplished. "I'm a bit of a disadvantage, kind of working uphill," Bolden said. "I didn't get to spend any time during camp and there's a game coming up in a couple of days, so kind of just got to jump up in that fire head-first. It's kind of what I've been doing. The coaches and the rest of the players kind of understand my situation and they have been tremendous in trying to help to make sure I get everything down so I can get out there and help them this Sunday."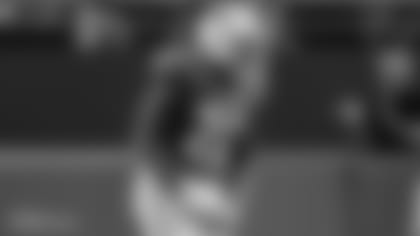 T.J.'s time: The start of the regular season will be a lot different for safety T.J. McDonald, and much more enjoyable. Unlike last year when he had to sit out the first eight games because of a league suspension, McDonald will be on the field for the season opener Sunday and ready to make an impact from the start. "It's exciting," he said. "The (big thing is to) just build off the momentum I had, not stopping and starting. That's not the game. Building off the momentum and going from playing in the preseason and being in the condition that I'm in and coming out and being able to play, I'll be in better shape and everything like that." Gase has high hopes for McDonald after a second consecutive strong training camp. "We like what he does for us," he said. "We like how he is in the locker room, in meetings, practice field, games. We have a lot of confidence in him."
Getting ready: Wednesday and Thursday represent the two days of real practice in preparation for a game, and Gase said he was pleased with what he saw from his team in those two practices. "I thought it was good," he said. "Yesterday was one of those days where we had good weather. A little rain steamed it up. It's a challenge. Our guys did a good job, put their head down, worked hard. Today I thought was fast. Guys were ready to go. They did a good job of recovery yesterday and we had good meetings this morning, we came out and practiced hard."