As he continues to make NFL history, **Frank Gore** still continues to operate in a first-class manner.
The veteran running back was announced Wednesday as the Dolphins' nominee for the fifth annual Art Rooney Sportsmanship Award. Gore won the award two seasons ago when he was a member of the Indianapolis Colts.
Each NFL team nominated one of its players for the award, which recognizes players around the league who exemplify outstanding sportsmanship on the field. The award was created in 2014 in honor of the late founding owner of the Pittsburgh Steelers and Pro Football Hall of Famer Art Rooney Sr.
A panel of former players from the NFL Legends Community will select eight finalists (four in the AFC and four in the NFC) from the 32 nominees. The eight finalists will be listed on the Pro Bowl ballot under the NFL Sportsmanship Award category when players vote on Friday, December 14.
The winner of the NFL Sportsmanship Award is determined by a vote of current NFL players. From the eight finalists, each team's players will submit a consensus vote of their choice for the winner. As in Pro Bowl voting, a team cannot vote for its own player.
The award is presented each year to an NFL player who best demonstrates the qualities of on-field sportsmanship, including fair play, respect for the game and opponents, and integrity in competition.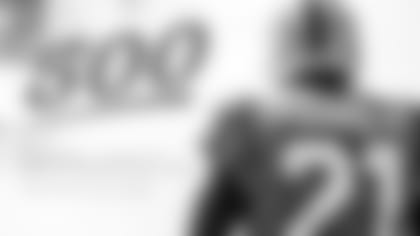 The winner selected by the vote of the players will be announced during the nationally televised NFL Honors show on Saturday, February 2 on CBS, the night before Super Bowl LIII. He will receive a $25,000 donation from the NFL Foundation to a charity of his choice. He will also receive a trophy that represents the important role that sportsmanship plays in the game and how NFL players that demonstrate integrity and honor on the field serve as role models for players at all levels.
Along with Gore, past recipients of the Art Rooney Sportsmanship Award include Larry Fitzgerald in 2014, Charles Woodson in 2015 and Carolina Panthers linebacker Luke Kuechly last year.
The 2017 Dolphins nominee for the award was guard Jermon Bushrod, who is now playing with the New Orleans Saints.
Gore, signed in the offseason as an unrestricted free agent, leads the Dolphins in rushing and in the game at Green Bay on Sunday he became the first running back in NFL history with 14 consecutive seasons with at least 500 rushing yards. In the victory against the New York Jets on Nov. 4, he passed Barry Sanders to move into sixth place on the NFL's all-time scrimmage yards list.