INDIANAPOLIS — Penn State running back Saquan Barkley and Notre Dame guard Quenton Nelson are considered the top prospects at their positions, and they provided a glimpse of their physical ability Thursday.
The first workouts of the 2018 NFL combine took place at the Indiana Convention Center with the bench press for running backs and offensive linemen, and Barkley and Nelson both shined.
Barkley did 29 reps, tying for first among running backs with Nick Chubb from the University of Georgia.
Nelson later put up 35 reps, which was tied for second among offensive linemen behind the 37 produced by guard Will Hernandez from UTEP.
"I enjoyed it very much," Nelson said of benching in front of a crowd. "That was awesome being able to cheer everyone on and try to help guys get extra reps and having people doing that for me too when I was up there, it was awesome. It was a great atmosphere. I enjoyed it a lot."
Price isn't right: The bench press wasn't as kind to Ohio State center Bill Price, who skipped his scheduled media session after reportedly sustaining an injury while lifting. Price is considered among the top prospects at his position.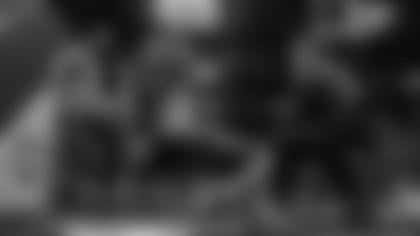 Talking Tunsil: Rod Taylor faced the pressure of following 2016 Dolphins first-round pick Laremy Tunsil as the University of Mississippi's starting left tackle, but he did well enough to earn an invitation to the scouting combine. Taylor was quick to credit Tunsil for his help. "That's my guy," Taylor said. "That's like my right-hand guy there. That's like a brother to me. He really taught me the game. That's somebody I look up to. I learned a lot from him as far as using my hands, using my feet. He's a guy that moves well, has great hands and somebody I've been looking up to, that's been my brother. Before we even got to Ole Miss, we were at the Alabama camp. I was young, he was older than me. That was my guy. I've been looking up to him and he's accomplished big goals." Taylor said it would be a "blessing" to be reunited with Tunsil. "People don't know he's a great guy," Taylor said. "People don't see the inside. They just see what everybody says. But that's probably one of the best personalities, one of the best people you could be around. He's cool, calm, collected. He's funny. That's what people don't know, he's funny too. I love that guy."
Never doubting Drake: Dolphins running back Kenyan Drake was a part-time player at the University of Alabama because of the program's depth at the position, and one of those with whom he shared the work load was Bo Scarbrough, who is at the scouting combine this year. Scarbrough said he wasn't surprised at Drake's ability to become the go-to guy late last season after Damien Williams was sidelined by a shoulder injury. "I wasn't surprised at all. He did it at Alabama and I knew he could do it at the next level as long as he put in the work. And you know, the effort and the discipline will take care of it.''
'Mailman' son his own man: LSU offensive lineman K.J. Malone's presence at the combine raised the immediate question of how he wound up playing football instead of baskeball, considering his father is Basketball Hall of Famer Karl Malone. "I kind of wanted to make a name for myself," Malone said. "My dad didn't want the pressure of playing basketball and having to live up to him. He kind of wanted me to make my own name, and that's what I'm trying to do." Malone was a redshirt freshman during Jarvis Landry's final year at LSU and said he saw the same thing the Dolphins have seen over the past four seasons. "Great player," Malone said. "He was kind of a mentor I looked up to, him and La'el Collins. I went to FCA (Fellowship of Christian Athletes) and Jarvis was always there. And then watching him and Odell (Beckham Jr.) during practice, all the catches they make now and people are like, 'Wow,' we saw that every day." While he didn't face the pressure of trying to become the same kind of basketball player as his father, Malone said there was pressure nonetheless being his son. "Even in the classroom, 'He's Karl Malone's kid, he better do good in this class.' I faced pressure every day, but one thing my dad always taught me is let your personality shine and treat everybody how you want to be treated. That's what I want to do."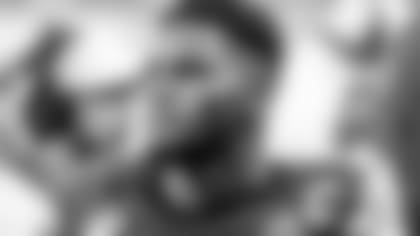 Helping the Hurricanes: The University of Miami has a strong representation at the scouting combine with nine prospects on hand. They all played a part in helping the program take a big step in 2017 toward the status it enjoyed years ago when it was among the best in the country. This clearly is a source of pride for the UM prospects. "Tremendous pride," offensive tackle KC McDermott said. "You just gave me chills, man. That's something that when we came in as freshman, we told each other we were gonna take this program and, not put it back on the map because The U's never gone away, but put it back on track, put it in the right direction. … My senior class did a great job of taking all the young guys and making them understand that if we just execute play in and play out, we'll dominate every team because we have the talent. That's exactly what happened this past year. If you go look at the recruiting classes, you'll see the talent difference between ours and Notre Dame, ours and Virginia Tech, and we're catching up to Clemson. For us to do that as seniors, in our last year, was just unbelievable." Along with McDermott, other UM players are the combine are running back Mark Walton, kicker Mike Badgley, wide receiver Braxton Berrios, tight end Chris Herndon, defensive end Chad Thomas, defensive tackles R.J. McIntosh and Kendrick Norton, and cornerback Dee Delaney.