Rookie tight end Mike Gesicki came to the Dolphins with the reputation for being able to make tough catches despite tight coverage, and it was there for all to see at practice Friday.
Gesicki continued his upward trend with a couple of impressive contested catches in the end zone, including on a pass from Ryan Tannehill in a goal-line drill.
"That's one of the reasons that I'm here," Gesicki said after practice. "If I'm going to be out on the field, I've got to be able to make those plays. If it's up there, it's yours. That's the mentality that you have to have. I'm really appreciative of the opportunity to go out there and make plays."
Head Coach Adam Gase said he likes the progress he has seen from Gesicki and the chemistry that's developing between him and quarterback Ryan Tannehill.
As for the ability to make contested catches, Gase said it's clear Gesicki has a knack for it.
"You guys have seen his basketball highlights," Gase said. "Guys that can go up and get a ball and put it in the hoop. (It's the) same thing here. He just has unique timing. He knows how to box a guy out. He knows how to keep his position. If a guy is draped on him, it seems like … That was the first time we saw him not get one against Xavien (Howard) today. A couple of us were calling for a flag. It's good though. It's good competition. I think the corners and safeties, it's good for them, because we have a guy in our division (Rob Gronkowski) that's very tough to cover and anytime we can get work against your own team that could carry over to Sundays, that's a plus."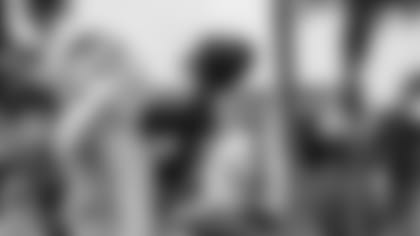 Respect for Rashawn: Wide receiver Rashawn Scott was another standout at practice Friday when he had a couple of big catches from quarterback Brock Osweiler, one good for a touchdown and another good for about a 40-yard gain.
Scott faces a tough battle to earn a roster spot because of the Dolphins' depth at wide receiver, but Gase said Scott has done everything that's been asked of him.
"He's one of those guys, he keeps doing his job," Gase said. "He stays in his book. He's really good in meetings. He's going to give you everything he has on the field. He fights. The thing I love about him is he never looks at anybody else. He's not worried about, 'Alright, where am I on the depth chart? Where do I stand? How many reps?' When he's put in there, he does everything he can to make a play."
Fresh start: Linebacker Stephone Anthony, who has lined up with the first-team defense for most of camp so far, had an interesting way of explaining the difference it has made for him to be with the Dolphins from the start of camp, as opposed to last year when he arrived in late September. "You get a chance to get the cement laid down," Anthony said, "get a chance to flatten it out yourself, smooth it over and go from there." Anthony, who appeared in eight games in a backup capacity last season after starting 19 games for the New Orleans Saints between 2015-16, downplayed the significance of spending a lot of time with the starting defense. "For me personally, I think my job is to come in and get better every day," he said. "As far as rotation-wise or anything, it's camp. We move guys around just from day to day and you try to put your best foot forward. That's all you can do."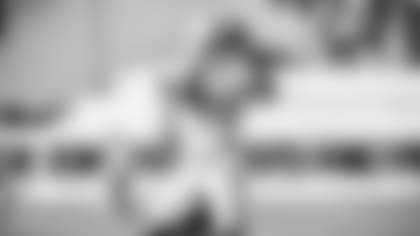 Practice report: The Dolphins practiced in shoulder pads Friday. … Tight end MarQueis Gray returned to practice after sitting out Thursday. … Tackle Ja'Wuan James returned to team drills for the first time in three days. … Defensive end William Hayes (hamstring) joined the list of players sitting out practice. Also missing practice were wide receiver Isaiah Ford (shoulder), offensive lineman Jake Brendel (calf) and tight end A.J. Derby (foot). … Second-year player Torry McTyer lined up at cornerback with the first-team defense opposite Xavien Howard. … Wide receiver DeVante Parker outjumped two defenders to catch a short Ryan Tannehill touchdown pass in the end zone in a red-zone drill. … Defensive tackle Anthony Moten got to quarterback David Fales for a potential sack. Moten and fellow rookie DT Jamiyus Pittman later teamed to stuff a running play near the goal line. … Leonte Carroo caught a 45-yard touchdown pass from David Fales. … Longtime Chicago Bears tackle Jimbo Covert, who played with Dan Marino at the University of Pittsburgh, was a guest at practice.
Scrimmage plans: The next Dolphins practice will take place at Hard Rock Stadium on Saturday and involves some scrimmaging. Gase said the idea was to prepare for the preseason opener, scheduled for Thursday against the Tampa Bay Buccaneers at Hard Rock Stadium. "We try to keep everything close to what we're going to do in our preseason opener — how players come out of the locker room, how we do things pregame, our pregame meal at the stadium," Gase said. "It's all of those little things to where if you've been here you've gone through it before, it's not as big a deal. If you're new, it's like your dry run. Understanding how to get to the stadium, where do you go, where do you park and then locker room, what we're doing, how you get stretched out before the game, the routine pregame with everybody on the field, who comes out when. And then when we hit the scrimmage, it's the same format we did last year." Gase said the practice would involve some 7-on-7 work as well as team periods, though he wasn't sure there would be live tackling. Tackle Ja'Wuan James said the main significance of the scrimmage was working in a game-type situation. "Being out there in a live setting almost, the coaches are all gone, and just getting the rhythm of a drive," he said. "We're going to be in the stadium, so it'll have that feel to it." Anthony, meanwhile, had a simple goal for the scrimmage: "As a defense, I think we need to come out and it needs to be a good day for us overall."
Youth is served: In keeping with their commitment to youth football, the Dolphins welcomed members of Pompano Beach Blanche Ely High School, as well as the PPO Bengals and the CCD Colts of the American Youth Football League, to practice Friday. After watching practice, the players got the chance to meet Dolphins players and get autographs, and the two AYFL teams had a scrimmage on the practice field.