Jakeem Grant was named AFC Special Teams Player of the Week on Wednesday and he's confident there's more in store for him.
Grant was recognized for his performance in the 27-20 victory against the Tennessee Titans, during which he had a 102-yard kickoff return for a touchdown and an NFL-best 62.5 average.
"That's just a stepping stone," Grant said. "I want to go out and make a big play like that every Sunday. That's only setting the standard."
Grant became the first Dolphins returner to be named AFC Special Teams Player of the Week since 2015 when Jarvis Landry was honored for Week 1 and the first kickoff returner to win the award since 2009 when Ted Ginn Jr. was recognized.
Grant's touchdown came in the fourth quarter, and he repeatedly has credited his teammates on the kickoff return team for the great blocking that allowed him to score, he says, while running at less than full speed.
"I was actually three-quarter speed," Grant said. "When I looked up at the speed meter and it said 20.9 (mph), I was hurt. That's slow, man. I tried to tell everybody. It was like, 'Jakeem, that's all you got?' I was like, no, I wasn't running, man. I didn't have to do anything. I didn't get touched and I didn't have to run for my life. I could just use 75 percent to run past those guys."
Grant had one career punt return for a touchdown, which ironically also came against Tennessee, that one in his rookie season of 2016. He called getting his first kickoff return for a TD a relief.
"Just showing the world and showing the other NFL teams that our return unit is going to be a force to be reckoned with this season," he said. "If they're going to kick it to us, then we're going to go out there and make a big play."
Tannehill flashback: For a moment, albeit a very brief one, quarterback Ryan Tannehill was back at his college freshman position of wide receiver Sunday. The Dolphins lined up in the Wildcat formation in the third quarter, with Tannehill wide left and Albert Wilson ready to take the snap. But they called a timeout before snapping the ball, and Tannehill took the snap on the next play. What was that, about three seconds?" Tannehill joked. "That was uneventful, I guess you could say." For the record, Tannehill has two career receptions, both against Buffalo. One was a 9-yard pass from Jarvis Landry off a reverse in 2015, the other a pass to himself, a play that lost 4 yards, after his throw was deflected at the line of scrimmage.
Parker presence: Wide receiver DeVante Parker caught passes at practice Wednesday for the first time since early in training camp when he sustained a finger injury. It's still too early to know whether Parker, who was listed as a limited participant at practice on the official injury report, will play against the Jets on Sunday. Tannehill said he doesn't believe he and Parker will need much time to re-established their rapport once the latter is able to go through a full practice. "Obviously he's going to need to practice before he plays, but, yeah, I've had a lot of time with him over the course of the last four years," Tannehill said. "Whenever he's able to hop in, I feel like we can kind of just pick up where we left off."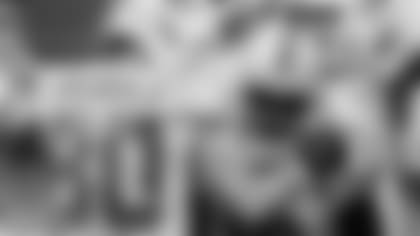 Amendola maintenance: Wide receiver Danny Amendola was kept out of practice Wednesday, and Head Coach Adam Gase said this will be the case every week.
Denney marches on: The Dolphins signed rookie long-snapper Lucas Gravelle to their practice squad Tuesday, two days after veteran John Denney sustained a shoulder injury against Tennessee. But Gase said Wednesday will be ready to go against the Jets this weekend, meaning he'll extend his consecutive games steak to 210, which is the longest current streak in the NFL. To make room on the practice squad for Gravelle, the Dolphins released defensive end Cameron Malveaux.
School spirit: Veteran safety T.J. McDonald and his teammates on the Dolphins defense will be getting ready to face Jets rookie quarterback Sam Darnold this week, and he's got a pretty good idea of what Darnold can do. As a former USC player, McDonald saw Darnold a lot over the past few years while watching his alma mater on Saturdays. "I watched all of the games," McDonald said. "Saturday is a big college football day for us in this locker room. I was watching the Rose Bowl runs and watching him in the Pac-12 championship games and all of that, so I definitely kept up with him." McDonald also saw Darnold in his NFL debut Monday night, and came away impressed with the rookie during the Jets' 48-17 victory, which began with a pick-six on Darnold's first NFL pass. "It was impressive," McDonald said. "Coming into this league, it's a competitive league, and in a market like New York, to be able to go out and do that, that's impressive. You definitely have to tip your hat to that. … He didn't get flustered. They said it on TV a lot, but he was poised and that's a tribute to his hard work and his confidence level, so hats off to him."