Some 19 months after he was drafted by the Dolphins, wide receiver **Isaiah Ford's** chance has arrived.
The 2017 seventh-round pick was promoted from the practice squad Wednesday to take the place of fellow wide receiver **Jakeem Grant**, who was placed on injured reserve after his breakout season was cut short by an Achilles injury.
Ford was on the practice squad since the start of the regular season, this after he spent his entire rookie season on injured reserve because of a preseason injury.
"My patience has been tested since entering the combine, entering the draft," Ford said. "It's not on my time, it's all God's time. I'm just doing my part, working extremely hard and being ready for when that time does come."
Head Coach Adam Gase discussed Ford's development as a wide receiver.
"He's developed very quickly coming off an injury, jumped right in there in training camp, did a lot good things in practice, really didn't have a lot of opportunities in actual preseason games. I say throughout the season he's just kind of put his head down, grinded. He's worked on the outside stuff as well just because basically he was trying to avoid what I did last week by bringing somebody else in to play outside. Now he's got an opportunity."
Ryan reaction: Quarterback **Ryan Tannehill** came out of his first game in six weeks in good shape, though he admitted there was some rust that still needs to be knocked off. Tannehill said he was feeling "good" physically before adding, "A little general soreness after the game. (It was my) first time playing in a while. I didn't take many hits, but (I had) general soreness from the first time playing in a while. I felt good. My confidence was built during the week, being able to throw Wednesday, Thursday, Friday and really didn't run into any hang-ups there. I felt good going into the game that it wasn't going to be an issue." Tannehill said that nothing that happened in the game surprised him in terms of what he was able to do, such as his first pass attempt, a beautiful 21-yard completion to tight end Durham Smythe between defenders. That said, Tannehill conceded there indeed was some rust. "Yeah, definitely," he said. "If you don't play for six weeks, you're not going to come out at your best. During the week last week, just getting comfortable and back in the pocket and getting used to moving around, feeling things is obviously not something that comes right back overnight. I'm working extremely hard on that throughout the week and obviously feel better than I did last week at this point."
Protecting Tannehill: Tannehill made media members at his weekly press conference laugh when it was pointed out to him he was caught a few times during the game against the Colts looking at the Dolphins sideline and giving the thumbs up. "Sometimes (Head Coach Adam) Gase will pop in my helmet and just make sure everything is all right," the quarterback said. "He's like my mom, like 'Are you OK?'"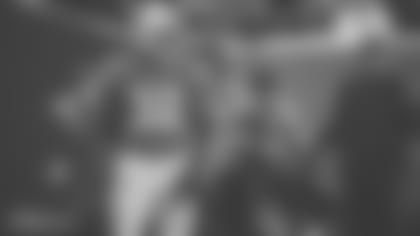 Practice moves: The Dolphins lost defensive end Cameron Malveaux off the practice squad when he signed with the Arizona Cardinals. Malveaux appeared in five games for the Dolphins this season and four games in 2017 after joining the team as a rookie free agent. With the loss of Malveaux and the promotion of Ford, the Dolphins had two openings on their practice squad and they filled them Wednesday with the signings of wide receiver **Francis Owusu** and safety **Chris Lammons**. Owusu was in training camp with the Dolphins the past two summers, while Lammons spent three weeks on the Saints practice squad in October.
Throwback talk: The Dolphins will be wearing their throwback uniforms Sunday against the Bills, much to the delight of defensive end, and resident fashion guru, **Andre Branch**. "I love the throwbacks," he said. "Yeah, I'm a fashion guy. The gray facemasks with the black visor, you can't beat that." The Dolphins wore their throwback uniforms four times over the past two seasons, going 3-1 in those games, including a victory against the Bills in 2016.