For the second consecutive year, Kenny Stills has been selected as the Dolphins' nominee for the Walter Payton Man of the Year award.
The award, established in 1970, recognizes an NFL player for his excellence on and off and off the field. It was renamed in 1999 after the late Hall of Fame running back. Each team nominates one player who has had a significant positive impact on his community.
The winner will be announced during the "NFL Honors" award special on Feb. 2, the night before Super Bowl LIII. The winner will receive $500,000 in donations; half will be donated in his name to expand Character Playbook, the NFL and United Way's digital character education program, and the other half will be donated to the charity of his choice. All other 31 nominees will receive a donation of $50,000 in their name to expand Character Playbook, and an additional donation of up to $50,000 to their charity of choice.
In addition, fans can participate in Nationwide's fourth annual Charity Challenge, a social media campaign designed to support and promote team nominees. Fans can vote by using #WPMOYChallenge on Twitter with their favorite nominee's last name somewhere in the post between Dec. 6 and Jan. 13. The player whose unique hashtag is used the most will receive a $25,000 contribution to their charity of choice. Hashtag information and official rules can be found at nfl.com/manoftheyear. As of 4:30 p.m., Stills was fourth in total mentions.
O-line observations: The revolving door along the offensive line caused by injuries apparently isn't ready to stop just yet. Just as center/guard Travis Swanson appears poised to return after missing the game against Buffalo last Sunday, center/guard Jake Brendel looks like he'll have to sit out the game because of a calf injury. Brendel did not practice Thursday after being injured in practice the previous day, and Head Coach Adam Gase said the injury was to the same calf that landed Brendel on injured reserve to start the regular season. "I'd say week to week but we're almost done with the week," Gase said. "In practice yesterday, we just had one of those situations where he was running and felt something. We're just going to see how he progresses through the rest of the week." As evidence of the injury issues along the offensive line, guard Jesse Davis is the only player who has started every game. Nine different players have started up front, including guard Josh Sitton and center Daniel Kilgore, who both were on injured reserve by the first week of October. "We started off with five guys and then everybody started going down then it's the next man up," left tackle Laremy Tunsil said. "Communication is the big key. We have to stay close together and that's what an offensive line does."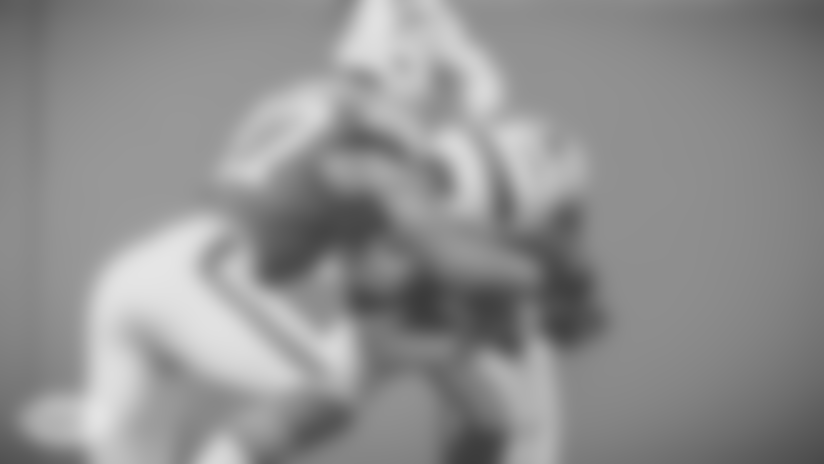 Kiko on the go: Linebacker Kiko Alonso has been going nonstop all season, and it's led to him making a lot of big plays on defense. But Gase said there have been times when Alonso actually might be going too fast. "Sometimes he has to find that right place where it's that emotion amped up for the game and being able to kind of hyper-focus on his job," Gase said. "That's where sometimes he puts himself in a bad position. It's almost like he's too emotional and he's going so fast. That's where he's made mistakes in the past. It's like finding that fine line. You see a lot of top-tier guys over time that could do both. He's working to get there and trying to control the emotion and keep his focus, but it's always great to have a guy with that kind of intensity and emotion throughout the game."
College spirit: There's nothing like some good, old trash talking about college football in an NFL locker room, and there are few—if any—Dolphins players who can do it as well as defensive end Andre Branch. These are great times for Branch, who played at from 2008-11 and will be watching his alma mater compete in the College Football Playoff for a fourth consecutive season. Clemson will be matched up against Notre Dame on Dec. 29 in Dallas, and Branch was asked whether the trash talking had begun. To make sure every word he said would come in loud and clear, Branch leaned forward to deliver this message: "December 29 is going to be a great day in Death Valley, South Carolina. Tough time to be a Notre Dame Irishman. I'm sorry that they got matched up against us. It's not their fault. They don't have their conference. They came. They did what they had to do against Nova. They played Nova, I think. ITT Technical Institute. VCU. They don't even have a football team. They played a club team. So, yeah, they get to actually play some competition and we'll see how they fare. So it'll be great. You guys will see what happens when they lose. So, yeah, playoffs is just a given for Clemson. Clemson and Alabama obviously 1-2. That's when the playoffs start. The national championship is already here. It's already here."