Linebacker Kiko Alonso made a splash upon his arrival in Miami two years ago, and he's once again showing that big-play capability in the early stages of this season.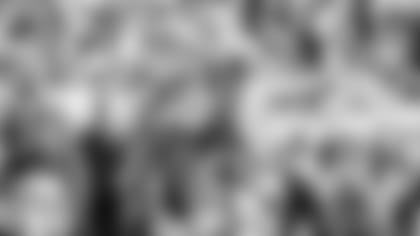 Through the first two weeks of the season, Alonso is tied for the NFL lead with 19 initial tackles and he's also one of only two players with two forced fumbles and an interception, the other one being new Chicago Bears pass rusher Khalil Mack.
Alonso was particularly active in the 20-12 victory against the New York Jets this past Sunday when he finished with 13 initial tackles, the highest total for a Dolphins linebacker since 2003 when Tommy Hendricks had 14 against the Tennessee Titans. Alonso also had two forced fumbles, the first of which resulted in a takeaway that set up the Dolphins' second touchdown to provide a 14-0 lead.
Head Coach Adam Gase was asked Wednesday whether he saw Alonso as being back to his 2016 form.
"It seems like it," Gase said. "I mean, it was probably one of the more productive games I've ever seen by a linebacker, at least that I've been around. I mean, he was all over the place. I thought he did a great job hustling to the football, good job of getting the ball. He had some really good hits. And he was assignment-sound."
For his part, Alonso says he doesn't feel any different than he did last season when he wasn't able to produce as many big plays.
In 2016, Alonso had played a big role in the Dolphins earning a playoff spot as he tied for the NFL lead with four fumble recoveries, in addition to having a forced fumble and two interceptions, including his famous game-winning pick-six against the Chargers.
Alonso said he couldn't really explain why the big plays have returned this season.
"Couldn't tell you," he said. "I'm just trying to fly around and make plays. … Good things happen when you're running to the ball."
Hands-on coach: As he did several times during training camp, Gase got involved in practice Wednesday playing the role of defensive back in a drill designed to help receivers work on using their hands to get off the line of scrimmage. "The tight ends, a couple of times we were trying to release, we got jammed up a little bit," Gase said. "Just get them to be quicker with their hands. They work on it a lot in their individual periods, but every once in a while just jumping in there and kind of try to distract them a little bit. That's all I'm trying to do." Rookie tight end Mike Gesicki said he enjoyed lining up against his head coach. "Having him out there, it gives you just a little bit more fun, a little bit of a fun factor," Gesicki said. "At the end of the day, it's just good work. It gives you a good look. That's how it's going to be in the game. He really enjoys it, so he might even go harder than the guys in the game. It definitely helps."
Reshad report: Safety Reshad Jones did not practice Wednesday because of a shoulder injury, but Gase sounded confident the two-time Pro Bowl selection will be available for the game against the Raiders. "We're taking it day to day right now. We're going to get him back. I just don't know what day yet." Because of Bobby McCain's ability to play outside cornerback and in the slot and Minkah Fitzpatrick to play safety or the nickel spot, the Dolphins would have options if Jones were unable to play against Oakland. "We've got a whole bunch of different scenarios we worked out and just kind of talked about," Gase said. "It's not really something I'm really willing to put out there right now."
Hall call: Running back Frank Gore likely will be inducted into the Hall of Fame after his playing days over, but for now Hall visitors can see the jersey he wore Sunday when he passed Curtis Martin into fourth place on the NFL's all-time rushing list. The jersey, which arrived in Canton on Wednesday, will be displayed in the Pro Football Today gallery of the Hall of Fame.
Derby delivers: With two rookie tight ends on the roster and having missed most training camp because of an injury, A.J. Derby didn't attract a whole lot of attention heading into the regular season. But he played a significant role on offense the first two games, including scoring his first touchdown in a Dolphins uniform against the Jets last Sunday. Derby, who joined the Dolphins in late November when he was claimed off waivers from the Denver Broncos, has played the most offensive snaps of any Dolphins tight end so far this season. "We didn't really talk about it, but I had a feeling it was going to happen," Derby said. "I'm just going to be prepared to play every snap. I think that's how our whole room is going to be prepared like that. I'm just going to try to keep making plays for this offense."