Veteran defensive lineman Kendall Langford endured a very difficult 2017, both on and off the field, but he's not looking back.
He's back with the Dolphins, where his career began in 2008, and says he's a much different — and better — player than when he first came to Miami as a third-round pick out of Hampton University.
"I've grown tremendously over the years as a player," Langford said after practice Tuesday. "My knowledge of the game, my recognition. I see what's coming at me. As a football player and as a professional, I've developed tremendously."
Langford signed with the Dolphins three days before the game at Carolina, then went out without even one practice with the team and played 18 defensive snaps against the Panthers and finished with two assists. He even lined up with the first-team defense late in the first quarter.
In his last full season, Langford had a career-high seven sacks as a defensive end in the Indianapolis Colts' 3-4 defense. He's back in a 4-3 scheme, but is looking to have that same kind of success with the Dolphins.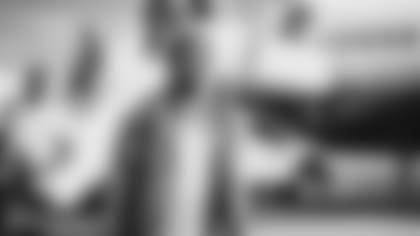 "That's what I'm looking forward to," he said. "I'm looking forward to this being my best year yet. I just was waiting for the opportunity. That's why I trained the way I did and was prepared when I got the call."
Langford said he trained four days a week waiting for his next opportunity in the NFL after his 2017 season ended after just one game with the Houston Texans because of a knee injury. On that one weekday he wasn't preparing for football, Langford was boxing.
It's that kind of dedication that has helped him carve out an NFL career that has lasted 10 years and counting.
"This was one of those things, I said I'm going to play until they kick me out," Langford said of his mind-set as a rookie on that 2008 Dolphins team that would go on to win the AFC East title. "That's why I started early in my career doing the necessary things, taking care of my body, learning from the vets, get the massages, go to the chiropractor, cold tub — all of the extra things you do to keep your body fresh and prepared. That's what I did my whole career and I've had a successful career, injury free up until Year 9, and not a hiccup."
Last year, however, was one to forget for Langford, both on and off the field. But that's in the past, and he's looking for a great return to the Dolphins.
"(I had) everything life could possibly throw at me — injuries, I bounced (around to) a couple of teams, personal issues," Langford said. "It was … 2017 was by far the worst year of my life. I'm looking forward to getting my career back on track here in 2018 and continue to move forward."
Mentor in town: Former Rams head coach Mike Martz, who Head Coach Adam Gase says has been the biggest influence in his coaching career, was at practice Tuesday and will be spending the week with the Dolphins. "I asked if he had any time this week with us kind of getting into an in-season week of practice and game planning, things like that, asked him to come down," Gase said. "He was available, so he was able to come down this whole week and kind of spend some time with us. I thought it would be good. Some of our coaches know him; some of them don't. It's been great for me because I've been able to pick his brain on just some different things that we've never really talked about before." As for what Martz has meant to him, Gase said the biggest things are offense and how to instill confidence in his players. "He's the best one I've ever been around as far as when he was in front of the group, you walked out of the room, you thought you were going to score 60 every game," Gase said. "You could feel that from him that he believed that. That was something just watching him as many times as I did, it just kind of rubbed off on me."
Parker plan: Wide receiver DeVante Parker continues to sit out because of a hand injury, but that doesn't mean he's not working. He is working — and very hard. "A lot of conditioning," Gase said. "Just trying to make sure we don't lose that. He still can't catch a ball. He's been very engaged in all the meetings. I know he doesn't want to take any steps back mentally. If he wasn't in our meetings, it's just easy to get away from it and … you're not going to forget everything, but just hearing the little details over and over again so it's second nature. He doesn't want to lose that." Gase said it was very important to Parker to maintain a high level of conditioning after the work he put in to get himself ready for training camp. "I know he had worked hard to make sure he was in great condition," Gase said. "He was able to run the entire training camp without having any kind of fatigue issues. I know he doesn't want to lose that."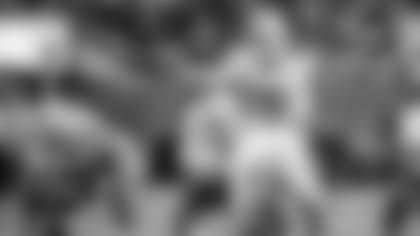 Keeping Ryan upright: Among the most satisfying aspects on offense through the first two games of the preseason has been the offensive line's ability to keep pass rushers away from quarterback Ryan Tannehill. He wasn't sacked in either of his appearances against Tampa Bay and Carolina, and he described the biggest hit he's taken so far as "maybe bumped." "He's doing a good job getting the ball out, but I also think he's got a lot of space," Gase said. "I don't know if he's really used to this. Our guys up front have taken a lot of pride in making sure he hasn't gotten touched. The two times he has actually been knocked down have been almost like … not late hits, but just like those late grabs where he's a little bit off balance and it was almost like he fell. The line has done a great job, not only in pass protection but in the run game. We have things to clean up but I like where we're trending."
Practice report: The Dolphins practiced in uppers (shoulder pads only). … Wide receiver Kenny Stills and defensive tackle Jordan Phillips both returned to practice after sitting out last week because of an ankle injury. … Along with Parker, players who sat out practice were RB Kalen Ballage (concussion protocol), DE William Hayes (hamstring), S Trae Elston (shoulder), LB Mike Hull) and OL Jake Brendel (calf). … Tight end MarQueis Gray practiced but remains in the concussion protocol. … Quarterback Ryan Tannehill had a nice completion to rookie tight end Mike Gesicki in a team period. … Linebacker Kiko Alonso had an interception in team drills. Xavien Howard, Bobby McCain and Cam Wake also had picks. … Veteran running back Frank Gore had a couple of nice runs up the middle.