The Dolphins have gotten some good news on their offensive line, with tackle Laremy Tunsil out of the concussion protocol.
Tunsil was a full participant in practice Friday, and is on track to take his place in the starting lineup against the Chicago Bears on Sunday.
"It's a part of the game," Tunsil said. "People get concussions. I'm glad it wasn't that bad and I'm glad out of the protocol. I'm looking forward to playing against Chicago, which has a really good front, a really good defense."
Tunsil left the game against the Cincinnati Bengals in the third quarter last Sunday and did not return.
He said it was frustrating to watch the Bengals come back after the Dolphins led 17-0.
"That's pretty hard just to see that and not be a part of that," he said. "It's kind of hard just to see the team blow a lead like that and you're not out there trying to contribute to the team. It's very hard."
Tunsil said this was the first concussion he had sustained, adding, "and hopefully the last."
Managing Mack: Tunsil's presence in the lineup Sunday will be important as the Dolphins try to deal with perhaps the best pass rusher in the entire NFL, Khalil Mack. After coming over in a trade with the Oakland Raiders, Mack has been a force for the Bears. He has five sacks in four games and is tied for the NFL lead with J.J. Watt with four forced fumbles. This will be the third time the Dolphins have faced Mack and they'll be looking to hold him without a sack for a third time. The first Mack matchup came in 2014 in London, England, when Mack was a rookie and the second took place last November at Hard Rock Stadium. Playing those guys later in the season, he was pretty banged up," Head Coach Adam Gase said. "You can see that he's in great shape. Probably him not being in training camp was really good for him just because he was probably getting after it pretty hard early in his career and you can see he looks explosive, fast and all of those things that you saw when he was in his first couple of years. He looks like he's taken it to another level. He looks really good right now."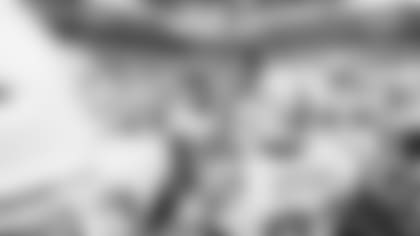 Wake watch: Defensive end **Cameron Wake** missed a second consecutive full week of practice, but Gase said Friday he's "not that far." That said, the Dolphins are going to be cautious with Wake, who was inactive against Cincinnati last Sunday. "We're just going through the process that the trainers have him going through," Gase said. "We're going to be smart with him. We're not going to rush him back by any means. It's probably going to be more of us holding him back than him rushing back. We'll just keep taking it day to day and we'll know when he's ready to go. … It's just one of those things where we're being very cautious. We do not want to lose him longer than what we already have right now. We're just trying to make sure that everything is right and that he's ready to go and we've got him for the rest of the year. That's really the best answer I can give you because he's an older player that if you rush him back and you have any kind of setback and lose him longer, now that's going to be a bigger issue."
Hurricane watching: Defensive tackle **Akeem Spence** went through some anxious moments this week when Hurricane Michael struck the Florida Panhandle. Spence was born in Fort Walton Beach and his parents live in Navarre, Florida. He said they were spared major damage. "It was a little bit of a worry," Spence said. "But my parents, they had power all throughout the night and everything, so I was able to communicate. They were fine, got a little bit of rain and wind, but nothing too crazy."
Chicago connections: There's going to be quite the reunion Sunday as the Dolphins coaching staff includes seven coaches who also have worked for the Bears, including Head Coach Adam Gase. The others are offensive coordinator Dowell Loggains, offensive line coach Jeremiah Washburn, tight ends coach Shane Day, quarterbacks coach Bo Hardegree, run game coordinator/running backs coach Eric Studesville and assistant strength and conditioning coach Jim Arthur. Director of Football Research and Strategy Matt Sheldon also worked for the Bears for two seasons (2015-16), and guard **Ted Larsen**, quarterback **David Fales** and running back **Senorise Perry** are former Bears players, as is guard **Josh Sitton**, who is on injured reserve. Chicago has three former Dolphins players: tight end Dion Sims, defensive tackle Nick Williams, and kicker Cody Parkey.
Crucial catch: The game against the Bears on Sunday will be the Dolphins' Crucial Catch game, part of the NFL's campaign to bring awareness to fight cancer through early detection and risk reduction. At the game Sunday, the team will celebrate and honor cancer fighters and survivors on-field from Sylvester Comprehensive Cancer Center and researchers who have received funds from the annual Dolphins Cancer Challenge (DCC) event. At halftime, the DCC will present Sylvester a charitable donation. The team will honor cancer survivors treated at Sylvester in many different research areas showing the direct correlation between the money donated and the lives saved. The DCC, launched in 2010 as the signature initiative of the Miami Dolphins Foundation, has raised more than $27.5 million since 2010 in support of Sylvester. The annual DCC will take place on Apr. 6, 2019. NFL Crucial Catch games will feature players, coaches, fans, and referees in apparel supporting multiple types of cancer, as well as additional on-field and in-stadium branding to help raise awareness for the campaign. Much of the apparel worn at games by players and coaches, along with brand new Crucial Catch game items, will be auctioned off at NFL Auction, with proceeds benefiting the American Cancer Society's Community Health Advocates implementing Nationwide Grants for Empowerment and Equity (CHANGE) program.