The Dolphins bolstered their wide receiver corps Thursday when they signed Danny Amendola and Albert Wilson as unrestricted free agents.
Amendola and Wilson join a group that includes returning starters Kenny Stills and DeVante Parker, along with Leonte Carroo, Jakeem Grant, Isaiah Ford, Drew Morgan, Rashawn Scott and Francis Owusu.
A nine-year NFL veteran, Amendola comes to the Dolphins with 426 career receptions, including 61 for 659 yards and two touchdowns last season. Amendola really stepped up in the 2017 playoffs, leading all NFL players in the postseason with 26 receptions. He had eight catches for 152 yards in the Super Bowl loss against the Philadelphia Eagles after scoring two fourth-quarter touchdowns in New England's 24-20 victory against the Jacksonville Jaguars in the AFC Championship Game.
Wilson is a four-year veteran who had spent his entire career with the Kansas City Chiefs. The native of Port St. Lucie had 42 receptions for 554 yards and three touchdowns in 2017.
Coming back: The Dolphins re-signed two of their own unrestricted free agents Thursday — long-snapper John Denney and safety Walt Aikens.
Denney, the longest-tenured player on the team, will be back for a 14th season. He joined Dan Marino and Jason Taylor last season as the only players to appear in 200 games for the Dolphins.
Aikens, a fourth-round pick in the 2014 draft, has been one of the Dolphins' core players on special teams over the past four seasons.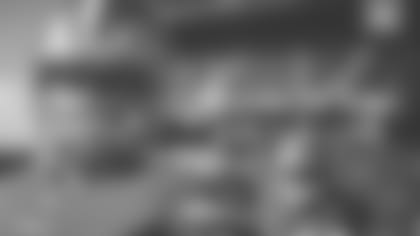 New center in town: The Dolphins made another trade Thursday, acquiring center Daniel Kilgore from the San Francisco 49ers. In exchange, the Dolphins agreed to swap picks in the seventh rounds and move down from the 223rd overall selection to the 227th. Kilgore started every game in 2017 for the 49ers, who signed him to a three-year contract extension last month. Kilgore entered the NFL as a fifth-round pick out of Appalachian State in 2011 and has started 36 games.
End of the road: Center Mike Pouncey's stay with the Dolphins came to an end Thursday when he was released. The team's first-round pick in the 2011 draft, Pouncey earned three Pro Bowl invitations in seven seasons in Miami and started all 93 games he played. Pouncey earned the team's Ed Block Courage Award in 2017 when he started every game after coming back from a hip injury that cut short his 2016 season.
Free agent loss?: Veteran guard Jermon Bushrod agreed to a free agent deal with the New Orleans Saints, according to multiple reports. Bushrod, who started 26 games for the Dolphins the past two seasons, is going back to the team with which he began his NFL career in 2007. He's the second Dolphins unrestricted free agent to sign with another team, following kicker Cody Parkey, who agreed to terms with the Chicago Bears. The Dolphins' other free agents S Nate Allen, LB Lamin Barrow, QB Jay Cutler, TE Anthony Fasano, DE Terrence Fede, DE William Hayes, LB Koa Misi, QB Matt Moore, DB Michael Thomas, DB Alterraun Verner and RB Damien Williams.
Extra dollars for Davis: Guard/tackle Jesse Davis was among the biggest winners of the Performance-Based Pay Program for 2017. Davis earned just under $309,000 in the collectively bargained benefit that compensates all players based upon their playing time and salary levels. Per the NFL, "Under the Performance-Based Pay program, a fund is created and used as a supplemental form of player compensation based on a comparison of playing time to salary. Players become eligible to receive a bonus distribution in any regular season in which they play at least one official down.  In general, players with higher playtime percentages and lower salaries benefit most from the pools. Performance-Based Pay is computed by using a player index ("Index"). To produce the Index, a player's regular-season playtime (total plays on offense, defense and special teams) is divided by his adjusted regular-season compensation (full season salary, prorated portion of signing bonus, earned incentives). Each player's Index is then compared to those of the other players on his team to determine the amount of hisPerformance-Based Pay." After first signing to the Dolphins practice squad in 2016, Davis made the team in training camp last year and went on to play all 16 games with 10 starts along the offensive line.