One of the most intriguing roster decisions for the season opener Sunday remained a mystery after the last practice of the week: Who will be the backup quarterback behind Ryan Tannehill?
The depth chart lists Brock Osweiler OR David Fales as the second-team quarterback, and Head Coach Adam Gase said Friday he hadn't made a decision yet.
As to how he'll go about deciding, Gase said, "It'll probably just be a gut feel. We'll see when we get there. I haven't really spoken to those guys yet."
Regardless of who ends up getting the nod, the game Sunday will mark the first time since 2010 that the Dolphins' backup quarterback for their season opener will be someone other than Matt Moore. The No. 2 quarterback for that 2010 opener against the Buffalo Bills was veteran Chad Pennington.
McMillan's Heisman memories: The Tennessee Titans backfield includes not one but two Heisman Trophy winners with quarterback Marcus Mariota and Derrick Henry, who won the award in 2014 and 2015, respectively. Linebacker Raekwon McMillan will be facing both players for the first time in the NFL on Sunday, but he went up against them in college — in consecutive weeks. McMillan was a freshman at Ohio State in 2014 when the Buckeyes won the national title, and they beat Alabama (with Henry) and Oregon (with Mariota) in the BCS playoffs. Said McMillan: "Last time I played them it was good memories."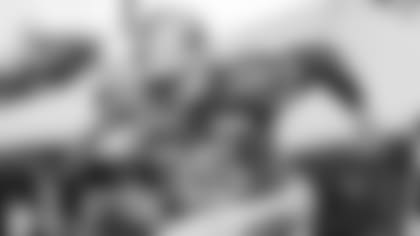 Hayes' return: Defensive end William Hayes will be playing in a game Sunday for the first time since Nov. 19 when the Dolphins faced the Tampa Bay Buccaneers at Hard Rock Stadium. Hayes sat out the entire preseason after sustaining a hamstring injury early in training camp, though Gase said it was his decision to keep the veteran out of the lineup. "He's just ready to go," Gase said. "He's not saying much right now. He was bugging me for the last month saying he's ready. He's just ready to get to the game." Before the injury that landed him on injured reserve, Hayes was one of the Dolphins' most effective defensive linemen in 2017. His return gives the Dolphins a great run-stopping presence up front. "He's a difference maker," Gase said. "I don't know if there's many guys that set the edge as violent as he does. I think what makes him a little different than some of the guys that I've seen in the league over the last five years is he can transition to the pass game as well. Being able to move inside, outside, he just has a very large skill set for a defensive end. He has a different attitude."
Weather watch: The forecast for Miami Gardens for 1 p.m. Sunday calls for thunderstorms, but the Dolphins have been consistent in saying they're hoping for really hot weather. The logic is simple: Having practiced in South Florida throughout the summer, they'll be better prepared to handle it if things get real steamy. "They've got to deal with this heat," safety T.J. McDonald said of the Titans. "It's something different. I'm from the West Coast; when I first got here, I had no idea what was going to hit me. It's different. We've been here. We've been grinding. Sometimes when we go out there at practice, we're like, ain't no way anybody is working harder than us right now because this feels crazy. But now that's going to pay off." First-year Tennessee Head Coach Mike Vrabel made light of the situation during his conference call with South Florida reporters this week. "We went to Houston and actually practiced in Houston for four weeks, so we're used to the humidity," he began. "A lot of people didn't know that. We traveled down there and had training camp in Houston outside, so we should be good to go. … Guys, I'm joking. You can't replicate that humidity in Tennessee. We understand that there's humidity down there. What we've always try to do is try to get ourselves in the best condition as we possibly can to start the regular season, especially on the road in Miami."
Weather watch, part two: The weather delay in the 2018 NFL season opener between the Philadelphia Eagles and Atlanta Falcons on Thursday night brought back memories for Head Coach Adam Gase, who went through a similar situation in 2013 when he was the offensive coordinator of the Denver Broncos. Because of stadium conflicts in Baltimore, the Broncos found themselves playing host to the defending Super Bowl champion Ravens and the start of the game was delayed because of bad weather. The Broncos ended up beating Baltimore, 49-27, that night behind Peyton Manning's record-setting seven touchdown passes. "We waited for a while," Gase said. "You just try to keep guys loose and you try to organize. When you get a start time, then you start working backwards and just really get your warmup set."
Familiar faces: The projected starters at cornerback for Tennessee both are former teammates of Danny Amendola's with the New England Patriots, Logan Ryan and Malcolm Butler. Amendola had a lot of battles against those two in practice, and now he's looking forward to going up against them as opponents. "It'll be great," Amendola said. "They're two great players, two guys that I played against a lot. I know what they've got, they know what I've got and it's just a matter of getting out there and getting it done on Sunday."
A big assist: When Brandon Bolden signed with the Dolphins earlier this week, he bypassed an opportunity to returned to the New England Patriots, who wanted him back after releasing him for roster management purposes. Bolden chose Miami even though he had spent his first seven NFL seasons with the Patriots. And the Dolphins can thank his wife, Arianna, for that. "It was kind of just talking everything over between my agent, my wife, trying to keep everything together and just make the best decision for what's best for my family," Bolden said. "I have a wife and two kids and another one on the way. That was a very long, hard conversation. It was almost a 14-hour ordeal, going back and forth between everybody." Bolden said he met his wife in middle school in Baton Rouge, Louisiana. "My wife, that's my GM," Bolden said. "Whatever she says, that's what's going on. When we were talking about it, it was like, oh, we gotta wait for this. She's like, 'No, you're going to Miami.' All right, cool."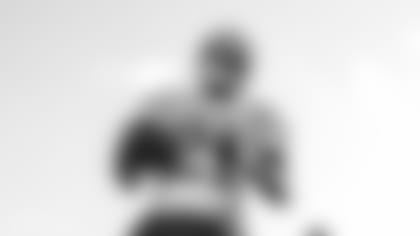 Gore gaining ground: Running back Frank Gore can continue his climb up the NFL's all-time rushing list Sunday against the Titans. Gore needs 76 yards to move past Curtis Martin into fourth place behind only Emmitt Smith, Walter Payton and Barry Sanders. "It's fun for us being the receiving corps and priding ourselves in our blocking, to get out there and be a part of that, to be a part of history," wide receiver Kenny Stills said. Gore enters the 2018 season with 14,026 yards in 13 NFL seasons, an average of 1,079 per season.
Aikens' ascent: Walt Aikens has been a key special teams player for the Dolphins since he joined the team as a fourth-round pick in 2014, but he's also grown as a leader. That will come into play this season with the many changes the Dolphins have undergone on special teams. "He's been kind of a foundation guy for us, if you will," Associate Head Coach/Special Teams Coordinator Darren Rizzi said. " (He's) a guy that we're kind of building around here in the offseason. Obviously, he was a free agent and we decided to sign him back and we're kind of building the core group around a guy like that. I think Walt has come a long way in terms of leadership and a leader by example and things like that. He's really grown in that way, and so we're looking for a lot more leadership out of him. When you start to lose guys, you can start naming the guys we've lost in free agency, injury, or whatever. You lose some leadership there. We were looking for some cohesiveness at least, and a guy like Walt brings that. He brings some energy, he brings leadership, he brings experience, and so you're looking for guys to be looking to a guy when you're on Sundays and things start flying around and he's the guy kind of holding it together right now. So, I've been really happy with his progress, both as a player and a person and a leader."
Old friends: Associate Head Coach/Special Teams Coordinator Darren Rizzi explained that he had a lot of familiarity with newcomers Brandon Bolden and Tanner McEvoy, both of whom are expected to play key roles on his unit. His experience with Bolden came from facing him the past six seasons when Bolden was with the New England Patriots, but his connection with McEvoy goes further back. Way further. "I met Tanner McEvoy when he was in grade school," Rizzi said. "I recruited his brother to walk on at Rutgers University. His brother is Colin McEvoy, he played at Pascack Valley High School in New Jersey and grew up in the area that I grew up in. I recruited his brother and I know his family, so I think the first time that I met Tanner, he was in grade school. His brother was coming into Rutgers, ended up walking on and being a player there." Rizzi said because of the connection he followed McEvoy's career, including his two seasons with the Seattle Seahawks. "(He's) a guy that's played multiple positions, was drafted out of high school as a quarterback, played safety, played receiver, could kind of wear a lot of hats," Rizzi said. "A very, very bright player with good football IQ. He played 'P.P.' (personal protector) for them, has blocked punts, has caught passes, has done a little bit of everything."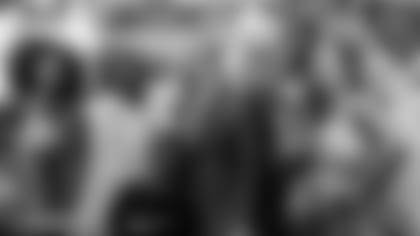 Tailgating tales: For the third consecutive year, Dolphins Owner Stephen Ross and Dolphins players will host Football Unites: Tailgates to strengthen relationships between community leaders, youth and law enforcement. Each tailgate will take place before Dolphins regular season home games at Hard Rock Stadium, beginning Sunday against the Tennessee Titans. The tailgates will feature giveaways, games, food and a live DJ with educational components designed to create dialogue and foster positive relationships and unite groups of different races, genders, sexual orientation and identities to help level the playing field in South Florida. Organizations from the Football Unites grant program, including 5000 Role Models of Excellence Project, Art Detectives, Community Justice Project, Inc., Miami Gardens Police Department, National Organization of Black Law Executives South Florida Chapter (NOBLE), North Miami Police Athletic League, North Miami Beach Police Athletic League, Pridelines, SAVE, Trayvon Martin Foundation, Urban League of Broward County and YWCA Miami, will take part in the program. The tailgate initiative stems from a town hall hosted in the fall of 2016 by the Dolphins and the Ross Initiative in Sports for Equality (RISE) during which players and local leaders discussed actionable steps that could be taken to address issues of racial inequality and unite the community.