Dolphins players enjoyed their first day off in training camp Tuesday after five consecutive days of practice.
The Dolphins will be back on the practice field Wednesday at the Baptist Health Training Facility at Nova Southeastern University as they continue to work toward the team scrimmage at Hard Rock Stadium on Saturday and the preseason opener against the Tampa Bay Buccaneers, also at Hard Rock Stadium, on Aug. 9.
Wake watch: Defensive end Cameron Wake has said he's on board for doing whatever the Dolphins want to do when it comes to playing time among the defensive linemen, but it's also obvious this is a guy who wants to be on the field as much as possible, especially at crunch time. He made clear when he was asked about new defensive line coach Kris Kocurek's stated preference to rotate a bunch of defensive linemen. "When you go out there, you have to go out there and make plays," Wake said. "You expect it to be in the game when situations call for it. But at the same time, you don't want to unnecessarily beat yourself down if it's not necessary, especially in days like this. I'm a guy who likes to go out there and get after it. We've had many talks and I think we're on the same page as far as how much is too much and when to tone it down and when to turn it up. But again, it's always a lot of fun when you have to dial it down versus dial it up." Wake made the point again when the issue of setting up an offensive tackle was brought up. "You have to be ready when your number is called, but again, I like to be in there to get in the flow," he said. "Maybe it's a play where you do set up a play for later. I don't think that's going to be a problem with me and Coach. If I want to be in there, I can't see them saying no. (laughter)"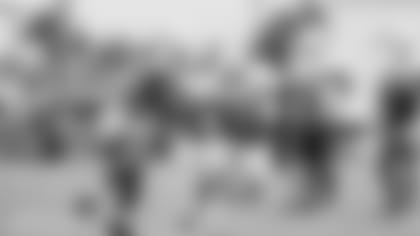 Heated competition: Given that cornerback Bobby McCain and new wide receiver Danny Amendola are among the feistiest players around, it should come as no surprise that those two have had some fierce battles in the early days of camp. Let's be honest, this is exactly what we expected when the Dolphins signed Amendola as a free agent in the offseason. Head Coach Adam Gase, for one, loves it. "That's fun to watch," Gase said. "They're making each other better, because they compete every snap. Really, that's what we're looking for (with) those outside guys and the inside guys. We're looking for those guys to compete and they'll find … One guy might have a really good day one day. Bobby is going to come back the next day if Danny had a good day. We just keep seeing a back and forth there."
Ready for the challenge: Second-year cornerback Torry McTyer has drawn a lot of attention for his early performance in camp, a performance that has put him in the battle for the starting job opposite Xavien Howard. But Cordrea Tankersley, the man who filled that role last season, has no intention of bowing down quietly. "It doesn't surprise me at all," Tankersley said. "I've been battling all my life. This is just another day in the office. It is what it is. Like I said, we're just going to compete. We're just going to duke it out." Tankersley started 11 games as a rookie third-round pick last season and finished seven passes defensed. He said his coaches' message as he headed into the offseason was simple: "Just be consistent. Just to become an elite cornerback that they wanted me to be."
TV time: FOX Sports announced this week its lineup of announcers for the 2018 season along with its broadcasting lineup for Week 1. Because of cross-flexing, the Dolphins season opener against the Tennessee Titans on Sept. 1 at 1 p.m. will be televised by FOX, even though the visiting team comes from the AFC, and veteran play-by-play man Dan Rosen will call the action along with analyst Cris Carter, the Pro Football Hall of Fame wide receiver whose career ended with a five-game stint with the Dolphins in 2002. Sarah Kustok will serve as a reporter for the FOX telecast of the Dolphins-Titans game.