There was a great video online showing jubilant Dolphins players in the euphoric locker room after the victory against New England chanting, "See you Wednesday! See you Wednesday!" before Head Coach Adam Gase addressed the team.
The chant obviously was a not-so-subtle hint for Gase to declare a Victory Monday, which would free up the players for two days.
Gase did just that, but rookie first-round pick **Minkah Fitzpatrick** still showed up at the Baptist Health Training Facility at Nova Southeastern University on Monday.
He went there to watch film with defensive backs coach Tony Oden to go over his performance against New England, a performance that left him less than satisfied.
"I said it before, I just wasn't really happy with my performance," Fitzpatrick said Friday. "It wasn't a terrible performance after watching it with Coach and everything like that. Everything that I did I can improve on, but I think it's just important for me to just sit down and watch it with Coach because he's going to give it to me real, he's going to give it to me raw because he wants me to be at my best so I can perform my best for him. Just sitting down with the coach, especially after a not-so-good performance, it's always beneficial, it's always good. I think I learned a lot from it. He told me what I needed to work on, told me what I needed to focus on and got me going from there."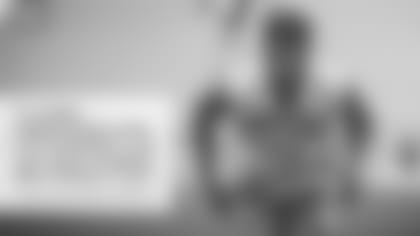 This was just another example of the mature approach and work ethic Fitzpatrick showed during his days at the University of Alabama, just one of the factors that made him such a highly touted prospect heading into the 2018 NFL Draft.
"He literally showed up first thing (Monday) and texted him and said 'I want to go through this with you,' " defensive coordinator Matt Burke said. "He didn't wait, and that's the kind of kid he is. I think that all of his experiences at all of the positions he's played and playing against good players and good quarterbacks, I think he's going to keep growing and learning from that as he grows. Sometimes you've got to learn some tough lessons and take some knocks on the chin to get better."
James on the move: Tackle **Ja'Wuan James** is enjoying perhaps his best season with the Dolphins, and one area where he's made an impact is when he pulls from his right tackle spot on running plays. The Dolphins had success with that play against New England, and James said he believes his physical attributes make him well suited for that assignment. "That's why I think they do have me doing it and it's working right now," Jams said, "so whenever they call it, that's when I'm ready to do it." Head Coach Adam Gase said Thursday that James' mobility makes him ideal for those plays, and offensive coordinator Dowell Loggains later echoed that sentiment. "A lot of those guys, they're really long and they don't have lower-body flexibility and that's one attribute that Ja'Wuan definitely has," Loggains said. "He's a good lower-body athlete. He can bend. He can move. We felt that it was advantageous that week to pull and he played really well overall and did a good job for us." James said he noticed smaller defensive backs go down to combat his block, which is something he's now got to be aware of. On the flip side, he enjoys the feeling when he gets to throw a block against a smaller defender. "It's good, especially when you're picking up some steam," James said. "They really feel it. I like to be physical and that play allows me to be."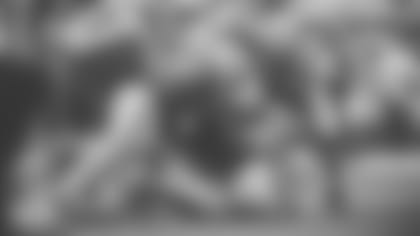 Coordinator challenge: The Dolphins will be facing Sunday a Vikings team that changed offensive coordinator this week, with Kevin Stefanski replacing John DeFilippo. But it was business as usual for the Dolphins defense in terms of their preparation. "They are not going to put a brand new offense in and I don't know much about the new coordinator," defensive coordinator Matt Burke said. "He's been there for a long time, so there is a lineage of what they've done there from that point of view. … We really just try to focus on us and getting us down and doing our things right and making sure our calls are being executed and if there is something new that's thrown at us, then at least we're doing our thing and be in the right spot and we'll adjust to anything we see from there." Head Coach Adam Gase said he's been in situations before where he faced a team that had just changed coordinators, pointing to a game in 2012 when he was an assistant with the Denver Broncos and the Baltimore Ravens had just changed their offensive coordinator. Ironically, the offensive coordinator who had been replaced was former Dolphins head coach Cam Cameron.
Rugby reaction: The Dolphins used some rugby-style punting in the second half against New England, but that was done because of circumstances and isn't something that's going to become commonplace. Punter Matt Haack used that style twice in the second half last Sunday as a response to New England having success with their punt rush. Haack said that's how he punted all the time during his high school days, and he's practiced that style at times at Arizona State and with the Dolphins. "It's something we've had in all year, so it didn't really surprise me," Haack said. "It was he right opportunity to use it to try to get them out of whatever look they were in."
All for one: Gase has spoken often this year about the make-up of his players and how everybody has bought into the team-first approach. Associate Head Coach/Special Teams Coordinator Darren Rizzi said there's been a big improvement in that area this season. "I definitely think we improved our locker room for sure," Rizzi said. "There's no doubt about that. If you look at some of the guys we brought in, and I know this has been talked about a lot, but some of the leadership that we brought in and some of the different guys and the mentality. Even guys that were late additions, a guy like Brandon Bolden for example, he's brought leadership to the team. … You guys know I've been around here for a couple of years and there's been some drama-filled stuff that's happened here. I'm not letting the cat out of the bag on that one. But I don't feel that with this crew. It's a lunch-pail, hard-hat crew. We're bringing our lunch to work every day, we're putting the hard hat on and we're going out to work. This is not a drama group. I don't see the divas and the drama queens or whatever you want to call them. Whatever the right term is or the wrong term, I don't see that. I see a lot of camaraderie. I see a lot of cohesiveness. I see a lot of going out and wanting to get the job done."
TV talk: The CBS announcing team of Ian Eagle and Dan Fouts, who had the good fortune of calling the memorable Dolphins-Patriots game last Sunday, were assigned the Dolphins-Vikings game.