The Dolphins were facing some uncertainty at tight end after the week of practice, although one thing that appeared likely is that rookies Mike Gesicki and Durham Smythe will be asked to play a bigger role Sunday against the New England Patriots.
A.J. Derby, who is first on the depth chart at the position, was ruled out of the game Friday after he did not practice all week.
That means the Dolphins will have only two tight ends in uniform against New England, although they could promote Nick O'Leary from the practice squad, a move they would have to make before 4 p.m. Saturday in order for O'Leary to be able to play against the Patriots.
"He's trying to learn things as fast as possible," Head Coach Adam Gase said of O'Leary. "He's got game experience. I remember him scoring a touchdown against us. When he came out (in the draft), we really liked him as a pass catcher."
O'Leary appeared in 35 games with 12 starts for the Buffalo Bills the past three seasons after being a sixth-round draft pick in 2015, and one of his two career touchdowns came in the 2017 season finale at Hard Rock Stadium.
Derby has seen the most action among the tight ends so far this season, but wide receiver Kenny Stills is confident in what Gesicki and Smythe can provide.
"We always have that next-man-up mentality here," Stills said. "I wouldn't second-guess those guys being out there doing their job, playing hard and helping us execute. They did a great job last week and they're good players. The rookies get thrown in the fire sometimes and that's the best way to grow up. I'm excited to see what they do. I had a feeling last week that Gesicki was going to get in the end zone and I just keep looking for that. I'm excited for him and I want to see him celebrate and have fun."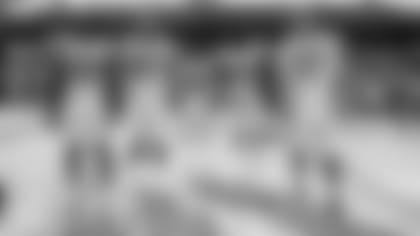 Special battle: Dolphins safety Walt Aikens has established himself as a top-notch special teams player over the past few years and he's looking forward to matching up Sunday against the player who has become the gold standard in that role, seven-time Pro Bowl selection Matthew Slater. "Slater is somebody that you definitely have to look forward to playing as a special teams type guy," Aikens said. "He's always around the ball, always making positive plays and he's a hard worker. Being that I've played him for the past five years, I know his style. We're cordial. We talk a lot. We just discuss certain things, special teams wise. I'm definitely looking forward to matching up against him." Aikens, however, says his focus is on the whole game, not just trying to outdo Slater. "I don't really go in with a mind-set of I've got to make a big play," Aikens said. "I just go in and play my game and everything else will fall into place. You try to force stuff, it never works out how you want it to. Just playing within the confinements of the game and do your one-eleventh and we'll be all right."
Waiting his turn: Rookie kicker Jason Sanders hasn't had much of a chance to prove himself in the regular season, with only two field goal attempts in three games, but he's ready to deliver if his number starts getting called on a regular basis. "I know what it's going to be like," he said. "I know what it's like. It's just a matter of getting called upon and doing your job. It's not like, 'I hope we don't score this touchdown so I can kick it.' I hope we score touchdowns so I don't have to kick. I'm always going to stay focused, confident and ready for the time I am called upon." The Dolphins' two field goal attempts match the second-lowest total in the NFL — the Arizona Cardinals have yet to attempt one.
Guarding Gronk: One of the biggest challenges in trying to slow down the New England offense always will be defending tight end Rob Gronkowski. "That speaks for itself as far as the work that he's done so far in the league," safety T.J. McDonald said. "It's definitely a tough matchup. Guys have done a good job of taking him away. You've got to be able to stick to whatever the assignment is for the week, the scheme we're going with. You can't go out there and just let him get a free run because that's tough." Facing Gronkowski is the kind of challenge that McDonald enjoys. "For sure," he said. "You always look forward to it. He's a great player. You want to stand up and be able to go out there and put your best foot forward."
Taking turns: One of the keys in the passing game for the Dolphins so far this season has been the ability to get everybody involved and get contributions from different players. Through the first three games, the Dolphins have five players who have between eight and 11 receptions — Danny Amendola, Kenny Stills, Jakeem Grant, Kenyan Drake and Albert Wilson. The ability to use different players evenly makes it tougher for opposing defenses, and it's working because the Dolphins players are focused strictly on team goals. "We talk all the time about just doing your job, expecting the ball to come to you every play and when it does, make it your play," Stills said. "For us, that's something that Coach hammers home for us every day: go out there, do your job, handle your business and when the ball comes, make your play. Sometimes it's going to be the receivers, tight ends, running backs, but as long as we're winning, we're happy and that's what we're focused on." Grant said the camaraderie in the wide receiver room is making a big difference. "The thing about it is we love to see each other shine," he said. "We're not selfish. We love to see each other go out there and make big plays, and we know if we just continue to play for each other, keep blocking for each other, the next thing you know, the ball swings our way and one of us will make a big play when our number is called. Coach (Gase) does a good job with spreading the ball around. It's not like he's just up there like 'Let me get him the ball, let me get him the ball.' If the guy is open at that time, that's who's going to get the ball. That's the thing about it. We have so many weapons that any guy can get the ball at any time."