The Dolphins rookies got a lot of playing time in the preseason opener against the Tampa Bay Buccaneers on Thursday night, as expected, and overall produced positive results.
Every rookie on the roster, including all eight draft picks, saw action in the 26-24 loss against the Bucs and first-round and second-round picks Minkah Fitzpatrick and Mike Gesicki both started.
"It was good," Fitzpatrick said of his NFL preseason debut. "I went out there, tried to do my job as best as I could. Play fast, get to the ball, and that was it."
Among the notable performances, fourth-round pick Kalen Ballage led all rushers with 37 yards on the ground; rookie free agent Buddy Howell had 25 yards on only four carries plus an 18-yard reception; sixth-round pick Cornell Armstrong had five tackles; third-round pick Jerome Baker had five tackles, including for loss; and seventh-round pick Quentin Poling had four tackles, plus another stop on special teams.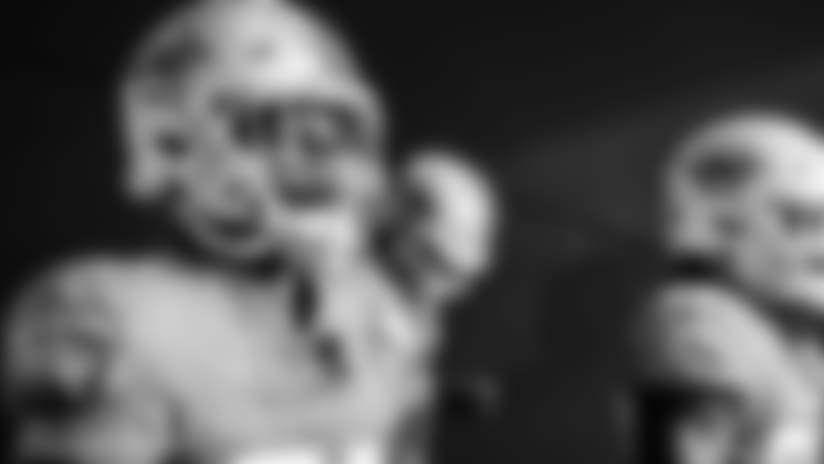 Together again: For Baker and former Ohio State teammate Raekwon McMillan, it was just like old times when they got the chance to line up next to each at linebacker. Baker came in early in the game to replace starter Kiko Alonso, while McMillan got a little more playing time in his first preseason game since his 2017 knee injury. "My man went out there and made a couple plays," McMillan said. "He was out there balling out. It's just good to see him out here doing what we love together again, so hopefully we can get a lot more where that's from."
Ford tough: Wide receiver Isaiah Ford isn't a rookie anymore, but he appeared in his first preseason game for the Dolphins on Thursday night after missing his entire rookie season with a leg injury. After wearing a red (non-contact) jersey in practice while nursing a shoulder injury, Ford was in the lineup against Tampa Bay and came up with the touchdown catch and two-point conversion that gave the Dolphins a 24-23 lead with 1:50 left in the fourth quarter. "It was a little bit surreal," Ford told the Palm Beach Post. "Just looking back at this moment last year, I remember being in the hotel, frustrated, because I couldn't move, couldn't walk. Had to watch it on TV. And to be out there, and to be able to compete and to be able to showcase what I can do, is truly a blessing"
Petty performs: Brock Osweiler and David Fales, listed together on the depth chart as the second-team quarterbacks after Ryan Tannehill, got most of the playing time against Tampa Bay while Bryce Petty watched after the sideline. Petty, who the Dolphins claimed off waivers from the New York Jets in May, entered the game with 3:19 left and the Dolphins trailing 23-17 with the ball at their 43-yard line. Petty was almost flawless in leading the Dolphins to a touchdown drive that gave them the lead, except perhaps for the fact he left too much time on the clock. Petty was 3-for-4 for 47 yards on the touchdown drive before throwing a two-point conversion pass to Ford. "That's what it was an opportunity," Petty said. "You don't get many in this league. You enjoy them while you get them. I'm just excited for any opportunity. It's taken a while to kind of figure out this offense. Excited about feeling comfortable and it's kind of starting to happen as of late. I'm excited for that and just hoping for more opportunities."