**Ryan Tannehill's** status remained a bit uncertain Monday, but Head Coach Adam Gase said he will be the quarterback once he's ready to play.
Gase described Tannehill's status as day-to-day because of a shoulder injury he believes happened when he was sacked near the end of the game against the Cincinnati Bengals on Oct. 7.
While Gase said he was confident Tannehill will play again this season, he couldn't provide a timetable.
"I really don't know," Gase said. "I don't know the answer. It's day-to-day and it's really going to be about how he feels. We can be told by doctors, trainers, hey, this is what we think is going to happen. He's been one of those guys that's been the opposite of what you're being told of he can say, I'm good or I'm not good. This was the first time where we were being told one thing as far as, this is kind of unusual that he's going to the other way and then him actually agreeing that he didn't feel right. Normally, he'll try to go opposite of what they tell him.
"There's unknown for us. It's literally day-to-day. He might wake up on Wednesday and feel great and then go out and throw and feel good. Then it's going to be about, how does he feel the next day?"
Gase described the sequence of events last week that led to Tannehill being inactive and backup **Brock Osweiler** making his first regular season for the Dolphins.
"It's an unusual situation because last week we started the week, he was sore, but then it got worse as the week went on," Gase said. "That's kind of why we found ourselves in a position that we weren't really thinking we were going to be in. He's normally anytime he's been banged up or some kind of injury, he's always progressed positively. That's why we thought we'd probably get the same thing. That didn't happen. That's why we waited until the last minute and that's where we're at right now. We'll see how this week goes. I'll know more when I can see him throw again."
Gase said he didn't have a specific day this week when he needs to make a decision on who will be the quarterback next Sunday against the Detroit Lions, and the reason is that their new head coach Matt Patricia used to run the New England Patriots defense.
"I'm fine either way," Gase said. "Those two guys know, they know the offense. The fact that we're playing Detroit, which is going to be more it's like New England for us, (will help). It's not like we're playing a scheme that we don't know or we haven't seen before. So both those guys are well, they understand the scheme they're playing."
Harris hobbling: Defensive end **Charles Harris** sat out the game against the Chicago Bears because of a calf injury that happened on the last play of practice Friday, and Gase suggested it could keep him out a while. After saying the injury was more of a week-to-week than day-to-day issue, Gase said: "We just need to be smart. I know the trainers are on it. The strength staff will be on it with them. We've talked to him about not putting himself in bad position by trying to push coming back. We just need to be smart with how we get him back. We'll know probably more Wednesday and then we'll at least have an idea if we have a shot or not."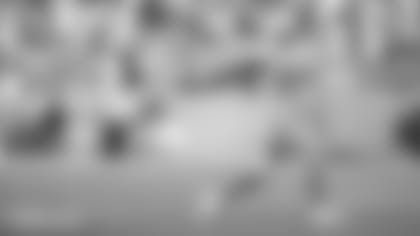 D-ends dig in: Harris was one of two defensive ends inactive against Chicago, as **Cameron Wake** missed his second consecutive game because of a knee injury. The depth at the position took another hit when **Jonathan Woodard** left the game in the first half to be evaluated for a concussion. On the flip side, veteran **Andre Branch** was able to return after missing two games because of a knee injury. He ended up playing 49 of 70 defensive snaps, the second-highest total among Dolphins defensive linemen behind **Robert Quinn's** 50. "It was good timing for us because we were low in numbers," Gase said of Branch's return. "And then we were lower in numbers as the game went on. That group battled. That was not an easy deal for them to go. You can see how the other team was as far as their front. They were tired. It was hot. And we were low on numbers. Those guys just kept fighting."
Parker problem: Wide receiver **DeVante Parker** made his second appearance of the season against Chicago, but played only four offensive snaps. The quadricep injury that made him inactive against the Patriots and Bengals remains an issue, and Parker might not even have been active against the Bears if not for **Jakeem Grant** being on the injury report last week. "I know he's trying to get going as much as he can," Gase said. "It's just nagging. It's just hard for him to really burst, the way he wants to. We'll just keep an eye on that. He was kind of spot playing (against Chicago). Jakeem got banged up pretty good in that Cincinnati game. There was a little bit of concern if he got hit just right, if he came out, we were down to three (wide receivers). And we knew this was going to be one of those games we needed some help in that group."
Two-point conversion: One of the key plays in the comeback victory Sunday was the two-point conversion on a pass from Osweiler to **Kenny Stills** in the back of the end zone that allowed the Dolphins to tie the score at 21-21 after Albert Wilson's first of two fourth-quarter touchdowns. The successful conversion was a testament to keeping a play alive when things don't go according to plan because the first two intended targets were knocked to the ground. "What happened in the game was the first time I've ever seen that actually happen where we lost two of our primary guys because (Khalil) Mack just blew the whole thing up and I'm just glad — Kenny has never caught that ball, never got it thrown to him — but he did exactly what he was supposed to do and kept playing and Brock did a good job staying on the move."
Must-see TV: The Dolphins-Bears game, with all its big plays and twists and turns, clearly qualifies as an instant classic. Fans will get a chance to see it again, as NFL Network will re-air the game — in its entirety — Wednesday at 2 p.m. ET.