The Dolphins addressed their need for depth at wide receiver this week when they signed former Oakland Raiders and Dallas Cowboys speedster Brice Butler.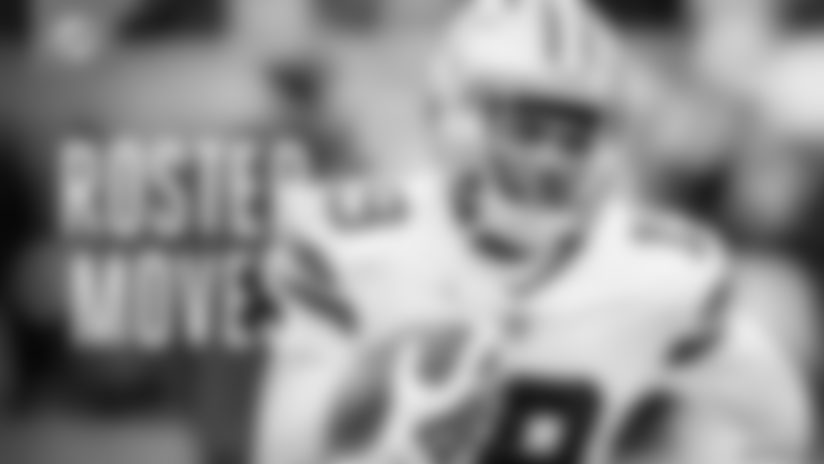 Butler is a six-year veteran from San Diego State who has appeared in 62 NFL games with seven starts. He had 15 catches for 317 yards (21.1 average) and three touchdowns last season. Five of his receptions were good for 30 yards or longer, including a 53-yard reception against the Arizona Cardinals. 
A seventh-round pick of the Raiders in 2013, Butler produced his career-long catch against the New Orleans Saints in his first year with Dallas in 2015.
Butler's signing comes after both DeVante Parker and Jakeem Grant sustained injuries in the game against the Green Bay Packers on Sunday.
Harbaugh shout-out: University of Michigan Head Coach Jim Harbaugh was addressing the media and talking about his running game this week when he changed direction the way Frank Gore has done so effortlessly throughout his brilliant career. Harbaugh began talking about Gore, who he coached during his time with the San Francisco 49ers. "I feel strongly about having a good running game, which I would like to also congratulate Frank Gore, the record he set this past Sunday," Harbaugh said. "Frank is my favorite player of all time, that I've ever coached. But 14 years, each year rushing for over 500 yards, surpassing Walter Payton and Emmitt Smith, is incredible. Most of those 14 years were 1,000. . . . All respect to that accomplishment by Frank." Gore acknowledged Harbaugh's comments with a subsequent tweet: "One of my best coaches @CoachJim4UM."
Hall call: The Hall of Very Good, designed to honor players not in the Hall of Fame but whose careers deserve recognition, has selected its Class of 2018 and includes former Dolphins players Dick Anderson and Earl Morrall. They join Lyle Alzado, Ken Gray, Lee Roy Jordan, Ralph Neely and Fred Smerlas in the Class of 2018. The Hall of Very Good, run by the Pro Football Researchers Association, began in 2013 and other Dolphins inductees include Rick Casares, Bob Kuechenberg and Jake Scott.
Pro Bowl voting: Voting for the 2019 Pro Bowl, scheduled for Jan. 27 at Camping World Stadium in Orlando, is now open. The voting will last four weeks and end Thursday, Dec. 13. Fans can vote at NFL.com/ProBowlvote. During the final two weeks of voting, from Nov. 29-Dec. 13, fans also will be able to vote on Twitter by tweeting the first and last name of the player, the player's official Twitter handle, or a hashtag including the players' first and last name. Player and coaches will cast their votes on Dec. 14. The 2019 Pro Bowl rosters will be announced Dec. 18 live on NFL Network's Pro Bowl special.
Helping hand: In their continuing efforts to fight cancer, the Dolphins have partnered with the V Foundation for Cancer Research. The V Foundation announced Thursday a collaboration with the Dolphins and Sylvester Comprehensive Cancer Center at the University of Miami Miller School of Medicine to support critical cancer research. Earlier this year, the collaboration awarded a $200,000 grant to Dr. Sara St. George at Sylvester for her work in creating a program that uses the Internet and mobile devices to help Hispanic and black female cancer survivors lead their families in keeping a healthy weight. The Dolphins Cancer Challenge (DCC) will contribute $200,000 to the V Foundation during the month of October. The funds will be matched by the V Foundation for two $200,000 Early Career Investigator Grants to be awarded at Sylvester. The partnership will bring continued V Foundation resources to the South Florida area to fund emerging researchers in the Dolphins' community. "We're proud to partner with the V Foundation for Cancer Research and support the critical impact they make to fight cancer," said Jennifer Jehn, Dolphins Senior Vice President & Executive Director of the Dolphins Cancer Challenge. "Cancer impacts us all and we at the Miami Dolphins are committed to fighting this disease at every turn and providing resources for innovative cancer research at Sylvester Comprehensive Cancer Center."