Veteran guard Ted Larsen has been a starter for most of his NFL career, and he's going to get another chance now with the Dolphins.
Larsen will make his first start of the season against the New York Jets and is now the starting left guard after veteran Josh Sitton was placed on injured reserve Friday.
"It's what you prepare for," Larsen said. "It's not a shock to anybody or to me. I was ready to go all training camp."
Larsen started the final eight games of the 2017 season for the Dolphins after coming off injured reserve. Larsen became a backup after the Dolphins signed Sitton, a four-time Pro Bowl selection, in the offseason.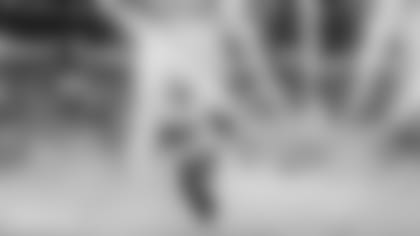 Larsen, however, got plenty of reps with the first-team offense throughout training camp because the Dolphins sometimes limited Sitton's reps or even gave him the day off.
Partly because of that, Larsen doesn't believe that there will be an issue with cohesiveness along the offensive line. 
"I think the continuity, maybe that's a little overblown," Larsen said. "Guys get hurt all the time. On any offensive line, there's going to be backups playing. I think you kind of have to go into the year with six or seven or eight guys that are all tight, they can play together and interchange with each other."
Larsen has started 73 of his 111 career games, including starts at left guard, right guard and center. He has practiced at all three spots since joining the Dolphins as an unrestricted free agent last offseason.
Two days before his first 2018 starter, Larsen said his approach wouldn't change, except for one minor detail.
"I prepared to be a starter at three positions," he said. "So now I'm just able to focus on really one position. If anything, it just helps me focus in a little more."
Sitton plans: Head Coach Adam Gase said the decision to place Sitton on IR was made after it was determined he should have surgery instead of risking what could have become a career-ending injury. The contract that Sitton signed with the Dolphins in the offseason runs through next season and Gase said the team plans on having Sitton back in 2019. "We've had a decent idea all week that he wasn't going to be ready for this game," Gase said. "Then after lots of discussions with him, with everybody in our organization, we realized that the best option was for him to have surgery and not try to risk anything to where it could prevent him from ever playing again." Gase said Sitton already has had an impact on the Dolphins' younger offensive linemen and likely would continue to do so. "Josh is going to be around," Gase said. "He's going try to help our guys as much as possible when he's available to do so. I know he's going to have a procedure at some point, so we'll probably lose him for a few days, but he's not going to go far. We still have him under contract for another year and we anticipate him coming back next year, so we like the fact that he's going to be around."
Jersey ties: The game at MetLife Stadium in East Rutherford, New Jersey, will represent a homecoming for Dolphins rookies Minkah Fitzpatrick and Mike Gesicki, both of whom played their high school football in that state. Fitzpatrick played at MetLife Stadium in the state high school championship game in both his junior and senior seasons, winning one and losing one. "I've got a whole lot of family, whole lot of friends telling me they're going to the game," Fitzpatrick said. "It's going to be nice to get back home. I haven't been there in a long time. It's going to be real good to get back home. It's the Jets. It's a team that a lot of people in my hometown root for and support, so it's going to be cool making a play against them. It's gong to be fun and I'm real happy I'm going to be taking part in that game."
MetLife takeover: As has been the case over the past decade, look for a large contingent of Dolphins fans at MetLife Stadium on Sunday. It's called the MetLife Takeover and it includes a pregame tailgate and some loud Dolphins support from Sections 344 to 347. "It's big-time," Dolphins wide receiver Kenny Stills told dolfansnyc.com, a Dolphins fan site that first organized the MetLife Takeover 10 years ago. "It's not too often that you go on the road and you have such a heavy presence in another stadium, so we always appreciate them.'"
College reunion: Dolphins linebacker Jerome Baker and Raekwon McMillan watched with interest when Jets linebacker Darron Lee came up with a couple of interceptions in their Monday night rout of the Detroit Lions. Lee, who returned one of those picks for a touchdown in the Jets' 48-17 victory, happened to play with Baker and McMillan at Ohio State. "I worked out with him in the offseason," McMillan said. "I talked to him after the game, congratulated him, told him, great job, see you this weekend. I want to see him lead the league in tackles, interceptions, all that, but when they play us, I want none of that."
Stills award: Wide receiver Kenny Stills continues to be active in the community and in supporting causes, and he was recognized Thursday night for his efforts. Stills received the @SAVELGBT Luminaries Icon Award for his community service and social activism.
High school spirit: The NFL released full information on opening-day rosters around the league, and one of the most eye-catching tidbits involved player hometowns and high schools. Miami ranked first in terms of hometowns with 24 players and Fort Lauderdale was third with 15. As for high schools, by far the most prolific was Fort Lauderdale St. Thomas Aquinas, which had 15 alums, twice as many as any other high school in the country. One of those STA alums is Dolphins tackle Sam Young. "That's pretty cool," Young said. "I think it just speaks to the quality of the school, the quality of the program. I know I was there with Coach (George) Smith not only teaching us how to be great football players but great people, great men. That list is … it's pretty cool. I know two guys I played with that were in my class, like Geno Atkins, Marcus Gilbert. To see that it's grown to be that size is pretty special and fun for me. It's a source of pride. We're all texting it back and forth."
Lineup looks: The Dolphins tweaked their defense late in the victory against the Tennessee Titans, with the idea being to prepare themselves for down the road. Torry McTyer played six snaps at cornerback in the second half and lined up at outside cornerback, while Bobby McCain moved from the boundary to his old spot as the nickel corner and Minkah Fitzpatrick moved from nickel corner to safety. "That was not an injury factor," defensive coordinator Matt Burke said. "At some point, down the road in this season, a lot of guys are going to have to play football for us. So when you have an opportunity to try to get some of those guys some work in real game action … We had a little bit of a lead. Not that the game was in hand, but we just felt this was a good opportunity to get a look at some of those guys and give them some real, live action. You can't simulate that in practice or anything. It was just a good opportunity for Torry to get some good game work for us."