Gage Gaynor, a sophomore offensive lineman on the Stoneman Douglas football team, probably said it best: "Days like this mean everything to us."
You could tell it meant a lot to the Miami Dolphins as well.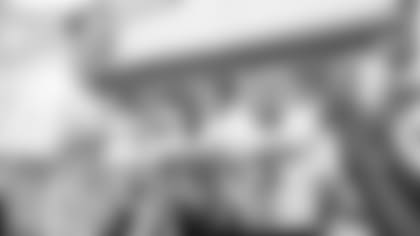 The Dolphins hosted the Stoneman Douglas football team at Wednesday's OTA practice, a little more than 14 weeks after the horrific school shooting that changed the lives of so many. It was a chance for these players to exhale a little, a chance to watch some of their heroes in action, meet them up close and, more than anything else, help these young athletes continue to heal after that tragic day they'll never forget.
"I can't tell you how much we appreciate this," said Gaynor, who even got a few tips from some of the Dolphins' offensive linemen. "Days like this will help us stay strong, maybe come back even stronger."
Their day began in the practice bubble, Dolphins President Tom Garfinkel addressing the Stoneman team. He spoke of admiration and of leadership and of courage and the importance of overcoming adversity. He thought back to when he played high school football and how in so many ways, "it helped me become the man I am today."
"It's unimaginable what they went through," Garfinkel said afterward. "But they are setting a great example of leadership to the rest of the country. They're proving it doesn't matter how old you are. You can still lead and set the right example."
The players watched all of practice, changing corners of the field to be closer to the action. They interacted with the Dolphin players, who really seemed to grasp the importance of the moment. Defensive line coach Kris Kocurek had each of his players walk over and shake hands with the players. And this was during practice.
After practice, the high school players mingled with their favorite Dolphins. They got autographs. They asked questions. They posed for pictures. They looked into the eyes of quarterback Ryan Tannehill with such adulation, absorbing his every word. This was tell-your-kids-about-it-someday type of material.
Willis May, the head coach at Stoneman Douglas, did not lose sight of what this all means. "Anything that helps these kids cope is definitely beneficial," he said. "I can't thank the Dolphins enough for this opportunity. "
You could tell by the expressions on the faces of these high school players how thankful they were as well.
The Stoneman Douglas HS Football team attends the fifth Dolphins OTA.