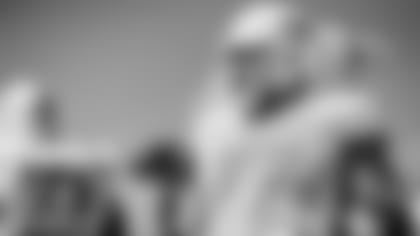 As recently as 2016, Davis had little success in his pro football career. He was an undrafted rookie out of Idaho, first getting cut by Seattle, then the Jets. The closest he ever got to the playing field was a spot on the Jets' practice squad. And that only lasted two weeks.
It was then that Davis looked hard at the man in the mirror, wondering whether it was all worth it and questioning his football future. He gave serious thought to returning home to Asotin, Washington, maybe becoming an electrician like his uncle. It's a small town, about five miles from the Snake River where everyone knows everyone else, and he figured he'd have no problem getting work.
"I remember talking to my fiancé, telling her maybe I should get a 9-5 job," Davis says. "I wasn't in a great place. I needed to change my mindset. I was too scared of failure. I would think too much about the last play instead of letting it loose. It would affect me on the next series. It wasn't a good mindset to be in."
About a week after being released by the Jets, the Dolphins called.
"I figured why not give it one more chance," he says.
Turned out to be one of the best decisions of his life.
Davis isn't quite sure exactly when the light turned on, but at some point heading into the 2017 season he regained his confidence and began fully embracing the opportunity he had.
See, what made Davis valuable from the beginning was his versatility. At 6-foot-6, 325-pounds he had the size and physical tools to play both guard and tackle. In that 2017 training camp, he rapidly rose up the depth chart and that season wound up starting six games at right guard, two at left guard and two at right tackle.
"Aw, it wasn't that hard," he said back then. "You just learn the techniques and adjust."
He did find a permanent home on the offensive line last season, starting all 16 games at right guard and, talk about consistency, played every one of the team's 920 offensive snaps.
"I didn't think much about it until the season was over," he says.
But this season, with a new coaching staff and some significant changes in personnel, Davis started the summer at right tackle. Was getting pretty good at it too. Until Laremy Tunsil was traded to Houston and suddenly there was a gaping hole to fill at left tackle, and guess what the Dolphins decided to do?
They turned to Jesse Davis. He started last Sunday against Baltimore and you've got to believe he walked on that field feeling a great sense of satisfaction. Because only a day before, the Dolphins had rewarded him with a three-year contract extension worth a reported $15 million.
How far he has come in just four years, now one of only three players in team history to start at four different positions on the offensive line (Nate Garner and Jeff Dellenbach, who started at all five positions, are the others).
"Didn't know that," Davis said after Wednesday's practice. "Very cool."
The doubts Davis had back in 2017 are now a distant memory. That small town near the Snake River will have to wait. Davis obviously has plenty of football in front of him and now he has the security of that contract to help justify everything he has done to get where he is today.
"I just became tougher mentally," he explains. "I became determined not to over think things. Now I leave everything in the film room. I don't dwell on things. That's made me a better player, no doubt about it. I'm so grateful the Dolphins gave me this opportunity."
Davis will turn 28 years old on Sunday. It sounds strange, but he is now one of the senior members of this team and the longest tenured offensive lineman. He is certainly enjoying it, welcoming you with a warm smile and a firm handshake as you approach his locker.
He is embracing this move to left tackle just as he embraced all of the other moves.
"I know how important it is for me to be ready for the next challenge," he said. "Being versatile has been such an important part of my career."
It isn't often now that he looks back at those uneasy times because in so many ways he was a different person back then. Far less confident. Far less certain of how his journey would play out.
There is one moment, though, that will always remain vivid, the moment back in November of 2017 when he ran on to the field, through a line of teammates, as a starter for the first time.
Special because of the road he travelled to get there and because deep down he never really stopped believing he would.