Ten days off between games, a mini-bye of sorts, have afforded the Dolphins an opportunity to do some serious self-evaluation. It wasn't an easy week. There was a lot to dissect. Two forgettable performances back-to-back, one at home against Detroit the next on the road at Houston, served as a harsh reality check. Things needed to change, and change in a hurry.
Which brings us to Sunday's game against the New York Jets at Hard Rock Stadium. It's time to get things right, time to put all those defensive breakdowns behind them and certainly to begin repairing a season that seemed so promising at 3-0 and then again at 4-2.
But now they are 4-4 and if they are going to make December matter, they must begin stating their case in November. That means now. That means against a Jets team that should not be taken lightly, certainly in light of how poorly the Dolphins played against both the Lions and the Texans.
"They always bring their A game," said coach Adam Gase.
But, from this perspective, this game is far more about the Dolphins than it is the Jets. It's about correcting mistakes, about following assignments, about finding answers on a roster that unfortunately no longer resembles what it once did. Injuries have seen to that, so many, in fact, that Gase questioned this past week how many more the team can handle.
"I think we've maxed out," he said.
With eight games still remaining? That tells us how hard they've been hit.
Truth is, though, that despite the injuries, the back-to-back losses and some disappointing play on every level of the defense, despite an offense that needs to do a better job finishing drives and despite some players clearly underperforming, the Dolphins find themselves squarely in the thick of things at the midpoint of the season.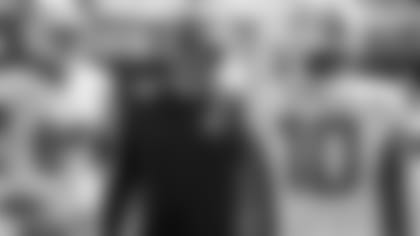 This is how Gase sees it: "Everybody is just bunched up. There's like two or three teams per side that have kind of separated themselves where you notice like, 'Wow, that team is really good.' Past that, I feel like a whole bunch of people are clumped together."
The Dolphins are clearly one of those teams. But to remain there, to forge onward through a very challenging part of their season, a victory Sunday over the Jets is just about essential. It is a divisional game against an arch-rival, perhaps THE arch-rival. It's a chance to avoid three straight losses against a team they have already beaten on the road, a chance to build some momentum heading into road games against the Packers and Colts and a chance to get back above .500.
Mostly, though, it's a chance to get their season back on the right path and, after losing five in a row about this time last season, the urgency of this moment is as clear as a powder blue South Florida sky.
"Every game is important," said cornerback **Bobby McCain**. "But this game? It's one we've got to get."
So how do they do it? Other than the simplest answer, which is to play better, here's five keys that, when combined, would surely mean a victory and a 5-4 record.
Score on their first drive: The Dolphins have now gone 18 straight games without an opening drive touchdown and 11 straight games without an opening drive point. "I'm all for it," said Gase. There is nothing like an early lead, a clear definable first quarter statement, to set the right tone. Don't care if it's 80 yards to **DeVante Parker** or 80 yards on 10 plays. They need to be aggressive from the start.
Get to Sam Darnold: One of the hopes during the mini-bye was for the Dolphins to relocate a pass rush that has yet to be much of a factor this season. It is hard to pinpoint exactly what's going wrong, but you know there was plenty of thought put into this over the past week. Darnold is a rookie that has shown a propensity for making mistakes. Get him rattled, knock him down a few times, introduce him close up to **Cam Wake** and **Robert Quinn**, and you're going to force him into some uncomfortable situations.
Step up against the run: The last two games have been about as bad as you can get. The big chunk runs are concerning. But so are the eight, nine, 10-yard varieties that have also come far too often. I see breakdowns on every level. I see players out of position. I see missed tackles. "It's correctable," Gase says. It had better be because you know the Jets will come straight at the Dolphins defense and you know they'll keep doing it until the Dolphins prove they can stop it. In the first meeting, the Jets rushed for 42 yards on 19 carries. That's the blueprint we need to see Sunday.
A heavy dose of DeVante Parker: We saw what he can do against the Texans, catching six passes for 134 yards many of them the highest degree of difficulty. "I expect him to play even better," quarterback **Brock Osweiler** says of Parker. "He's just getting started." Isn't that a pleasant possibility? Think what it would mean for this offense if Parker consistently played like a No. 1 pick. The challenge now is following up what he did against the Lions with something similar against the Jets.
Win it on special teams: This series is filled with examples of special teams being the difference. Could very well be the case again Sunday. **Jakeem Grant** dialing it up long distance? **Jason Sanders** knocking through another game winner? Or maybe something as subtle as a **Matt Haack** punt settling inside the 5-yard line deep into the game? When these two teams play, you just never know how the script might unfold.