In his 40th season covering the Miami Dolphins, Andy Cohen celebrates the 100th anniversary of the NFL by looking back at some of most memorable moments, players and performances in Dolphins' history.
I've met a lot of unique individuals over the years covering the Miami Dolphins. Some made you laugh. Others made you wince. A few left you wondering: Could this guy actually be real?
In honor of its 100th season, the NFL recently announced its 100 greatest characters of all time, players and coaches with the most off-the-wall personalities. That got me thinking. Who are the greatest characters in Dolphins' history? Which players were so unusual, so off the cuff, so downright bizarre that in many cases they are known more for that than their performance on the field? In other cases, it's simply part of who they were.
Heard the expression: When they made him they broke the mold? Well, that certainly holds true for my favorite characters in Dolphins' history, broken down below in chronological order. See if you agree.
Chief Wahoo McDaniel: A member of the Choctaw-Chickasaw tribe, and he played for the Dolphins from 1966 through 1968 before he knocked out two police officers in an altercation, leading to his trade to San Diego. McDaniel was a decent linebacker, but was known far more for his professional wrestling career, holding the National Wrestling Alliance heavyweight championship belt five different times. Colorful? Flamboyant? Fearless? I am told by those who knew McDaniel that he was truly one-of-a-kind.
Larry Csonka and Jim Kiick: Individually they were somewhat normal. But bring them together, let their creative minds wander just a bit, and you got two of the best practical jokers this franchise has seen. They were known during their heyday as "Butch Cassidy and the Sundance Kid" and once upon a time they were featured on the cover of Esquire Magazine dressed in those roles. In another photo shoot for the cover of Sports Illustrated, Csonka and Kick posed in front of a goal post and if you look closely, you'll see Csonka shooting a bird. Put simply, they were master troublemakers, prompting Don Shula to ask during a team meeting one day: "Are you two ever going to grow up?" Apparently they never did.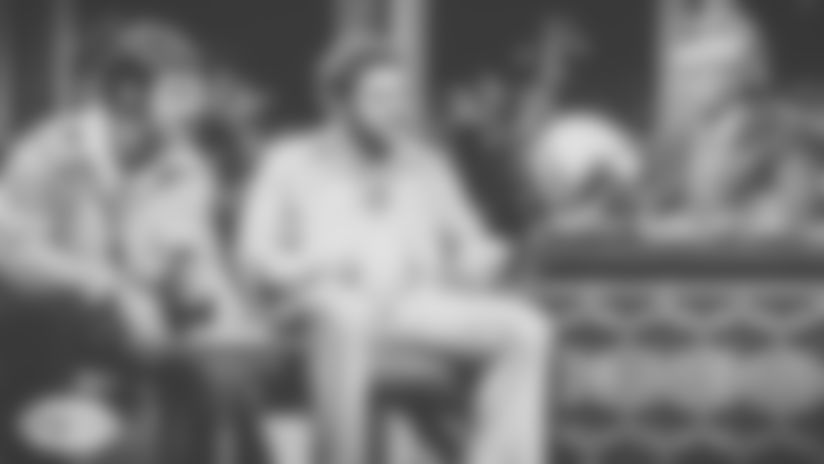 Garo Yepremian: He broke ties; he made ties. So the money wasn't exactly great back in the early 1970's when Yepremian became the kicker of the Dolphins and he had to find something to supplement his income. His singing wouldn't do it, though he tried on several occasions. His sense of humor wasn't enough, though there wasn't a funnier player on the team. So he started making ties. Built a pretty good business. Sold them after practice. Fortunately it didn't get in the way of his afternoon job.
Jim Mandich: It's one story that Shula still loves to tell that helped earn this beloved tight end a place on this list. Mandich was the top draft pick of the Dolphins back in 1970. He was a Michigan man, captain of the football team. So when Shula first met Mandich in the summer of 1970, he envisioned clean cut, polished and polite. What he got instead was a ponytail, sandals, love beads, one earing and a Volkswagen Beatle with flowers painted on it. "YOU!!!! were the captain at Michigan?" Shula asked that day. Fortunately, Mandich eventually cleaned up his act, though he always spoke his mind, even if it wasn't in Shula's mind.
Quarterback David Woodley: May he rest in peace, Woodley was truly one of the more unusual players I have reported on. He once told me in an interview that the perfect scenario for him would be playing in an empty stadium. "Who needs the fans," he asked. "I just want to concentrate on playing football." Woodley was a tough nut to crack. He was a loner in so many ways, which is unusual for a quarterback. I never got the impression he enjoyed playing football; it was more a means to an end. My only regret is that I didn't have a chance to delve deeper into what made him tick.
Mark Clayton: This is a player who just never grew up and I'm saying that with a great deal of affection. Practical jokes? Maybe every day of his football life. Confidence: "Nobody can cover me one-on-one," he said early in his career. Athleticism? He swears he could jump over a Ping Pong table length-wise. Whereas his fellow Marks Brother, Mark Duper, was reserved and soft-spoken, Clayton was in-your-face loud and likeable at the same time. He loved to rag on Dan Marino. Late in his career, he even tested out Shula a few times. Nothing intimidated him. He was in every sense of the word a character.
Bryan Cox: How many players are crazy enough to walk over to the opponent's sideline and challenge, well, just about the entire team to a fight? That's what Cox did in a Monday night game back in December of 1991 against the Cincinnati Bengals. How many players are crazy enough to take out his middle finger and brandish it in full display to a bunch of rapid Buffalo Bills fans in Buffalo no less? Yes, Cox again. He was a good player, sometimes very good. But it was that not-so-friendly fuse that often got him in so much trouble. "If he just stuck to playing football…" Shula once said of Cox. 
Ricky Williams: One of the truly bizarre characters in team history. Ask Williams a question and you could never tell where it might lead. Between his love for yoga, his penchant for smoking marijuana and his unique outlook on life, we may never again see a player quite like him. He played for the Dolphins three different times, once missing a year due to drug-related suspension and another time walking away because his heart wasn't in it. When he did play, he was special. But as much as he'll be remembered for some remarkable runs, it is his lifestyle and his unique perspective that will always set him apart.
Channing Crowder: Where do you start? With his hobby in high school of chasing down wild boars and wrestling them to the ground with his bare hands? Or maybe with Crowder playing a role in hiring a dancer to interrupt rookie talent night with first-year coach Nick Saban in attendance? There are so many stories about Crowder and we hear many of them each day on his sports talk radio show. He is fun. He is creative. He is hilarious. He is controversial. He is liable to say anything at any time, like when the Dolphins were playing a game in London in 2007: "I couldn't find London on a map," he said. Just wish we could have cloned Crowder. Now that would have been a fun locker room.
Ryan Fitzpatrick: Got to include him on this list. Heck, he might have made it just for the beard. But it's more than that. At 36 years old and in his 15th season, having started for an NFL-record seven teams, Fitzpatrick has this unusual desire that he recently admitted: "was probably a little sick." The former Harvard grad and father of seven likes to throw his body around. Likes to initiate contact. Gets a rush out of it. Makes him feel alive out there. "Like a real football player," he said. That's why nobody was surprised when, instead of taking a safer route, he chose to run over Buffalo safety Micah Hyde at the goal line a few Sundays ago. But it's more than that. He has an infectious sense of humor and some great stories to tell. I recently mentioned to him that he'd be a great book someday. He just smiled: "Wish I could remember everything that has happened."