Linebacker Jerome Baker put together what might have been his best performance of the season against the Pittsburgh Steelers, looking like the player who made plays all over the field in the preseason.
Baker had a team-high nine tackles in the Monday night game at Heinz Field, including eight initial hits.
He had two tackles for loss and was credited with two quarterback hits, including one when he created the initial pressure that led to the sack by Taco Charlton.
"Yeah, I think he flew around and played fast and was physical and tackled well and did a lot of good things," Head Coach Brian Flores said Tuesday. "I think he's definitely improving, getting better, taking on more of a leadership role week after week after week; and he played well last night."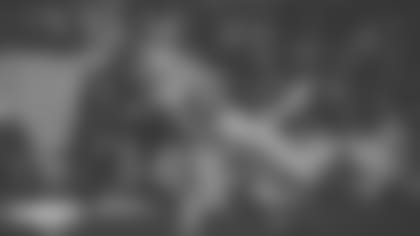 Flores continued by saying that while impressive individual performances are good, it's better to have a great team effort.
As one of the leaders on the team, Baker no doubt would agree.
Regardless, it's been encouraging for the Dolphins to see Baker's play over the past couple of games.
Against Buffalo on Oct. 20, Baker also had two quarterback hits, to go along with a special teams tackle.
Through seven games, Baker leads the team with 47 tackles and he's tied for second on the team in quarterback hits with four.
"He's hungry right now," defensive coordinator Patrick Graham said. "Just by his play, he was running around, attempting to do the stuff that we're asking him to do. I thought that play he made on that third down, that was critical. I don't know what his speed rate was, but he got over there. Obviously we're going to need that next week against the Jets because, you're dealing with (Le'Veon) Bell, (Balil) Powell and all of these backs – Ty Montgomery. At some point he's going to have to cover those guys.
"But I thought it was a good illustration of his toughness, his awareness to see the play and also just his natural ability and his physical traits."