It ended wrapped in frustration, a game lost, the season over, a team now in need of a highly productive offseason.
That's about where things stood Sunday after another road downer, this time a 42-17 loss to the Buffalo Bills, a game that seemed well within reach after two touchdowns by the Dolphins in a span of 15 seconds late in the second quarter.
But even with those rapid-fire scores making it 14-14 at the half, the second half unfolded like so many other road games this season, the offense struggling to sustain, the defense struggling to contain.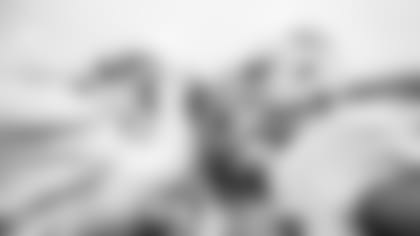 And so the Dolphins finish 7-9 overall and 1-7 on the road, clearly not what they had in mind when the season began some four months ago. But this is now the reality they must accept, a team far too inconsistent on both sides of the ball, its depth tested to the limits by so many season-altering injuries.
"It wasn't good," said coach Adam Gase. "We had to play well on offense and we turned the ball over. We have a lot to look at."
In many ways, Sunday's story was all too familiar. It was about falling behind early, about staging a brief comeback, about failing to convert third downs, about a defense that had no answer for the running of Buffalo quarterback Josh Allen and ultimately about getting outscored 28-3 in the second half.
But in an uncharacteristic manner for a Dolphins' team that came in plus-8 in the turnover/takeaway margin, this time it proved to be their nemesis, the Bills forcing four turnovers including two interceptions and a lost fumble by **Ryan Tannehill**, clearly not one of his better days despite the fact that he caught the first touchdown pass of his career.
Add it all up and you've got a disappointing season ending in the most disappointing manner, playing so poorly against a divisional rival and finishing with three straight losses. The Dolphins are clearly facing issues on both sides of the ball, issues that now have a long offseason to help resolve.
"We really wanted to come in here and finish with a win," said Tannehill. "But we just didn't play well enough to get it."
For a while Sunday, things got interesting. Unfortunately, it only lasted a short while.
Down 14-0 after only two possessions, the Dolphins needed just those 15 seconds to tie things up in the final minute of the first half.
First they went deep into their bag of tricks: Tannehill handing to **Kenyan Drake** who pitched it to **Kenny Stills** who found a wide open Tannehill for a three-yard score, the third touchdown pass of the season for a Dolphins' receiver.
It was a feel good moment that was punctuated a few heartbeats later by a feel great moment, safety **Reshad Jones** tying the game on a 29-yard interception return, the fourth Pick-6 of his career, matching Zach Thomas' team record. Suddenly, the crowd was quiet, the game was knotted and it sure looked like it had the makings of another one of those down-to-the-wire Dolphins-Bills get-togethers.
Then the second half happened and, well, things unraveled in a hurry, two touchdowns by the Bills in the first seven minutes of the third quarter got them going and, no pun intended, it kind of snowballed after that.
You look at the stat sheet you and see all the reasons for this defeat. The Dolphins were outgained 381-225, they converted only 3 of 12 third downs, they gave up four sacks, committed those four turnovers and, after allowing Allen to run for 135 yards in their earlier meeting this month, couldn't slow him down again as he rushed for 95 yards and two touchdowns, including a 30-yarder in the fourth quarter.
The defense came in short-handed with half of the starting secondary, cornerback **Xavien Howard** and safety **T.J. McDonald**, out with injuries. But it got worse after that. Before this cold, gray afternoon had ended, Jones and **Bobby McCain** were also out with injuries and linebacker **Kiko Alonso** and defensive end **Robert Quinn** had been ejected. That left only five regular defensive starters in the game, which was a fitting snapshot of what this team has endured much of this season on both sides of the ball.
But every team has injuries. You can't pin 7-9 solely on that. You've got to look deeper than that. You've got to figure out why the problems on the road, why the inconsistencies on third down, why so many breakdowns, so many missed chances, so many games like the one we witnessed Sunday in upstate New York.
These are what these next months will be about. Finding answers. Evaluating both sides of the ball. Building off the strengths. Dissecting the weaknesses. Listing the priorities. Nobody thinks it's going to be easy. The up and downs of this season certainly told us that.
But it starts now. Let the offseason begin.