Pro Bowl voting is nearing its conclusion. I truthfully haven't been very good over the years predicting who from the Dolphins will make it. During the Dan Marino years it was so easy. You could write down No. 13 with great confidence and then move on to someone else.
This year? To me, there are some obvious choices, but instead of making predictions on how the voting will turn out, I'd instead rather focus on which Dolphin players are simply having Pro Bowl type seasons. It may not be enough to get them an invite, but it's certainly enough to get our attention.
Before going down with a knee injury against Buffalo, Howard was having as good a season as any cornerback in the league. His league-leading seven interceptions only told part of the story. It was the consistency, and the ability to make some of the most athletic plays, that clearly set him part. Go over the numbers. See how Howard fared against some of the league's elite receivers and you'll better understand how valuable he has become to this defense.
There were no snickers, no disbelieving looks when Howard proclaimed after the victory against Buffalo, "I'm the best cornerback in the league." Are you going to argue with him after his first dozen games? After those two interceptions against Andrew Luck and then two more the following week against Buffalo?
"You've got a guy that if you throw the ball at him, and you're inaccurate, he's not just going to knock it down," said coach Adam Gase. "He's going to pick it off. He's one of the best players, if not the best player on that side of the ball."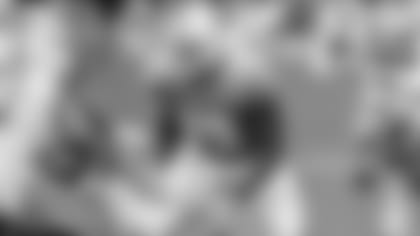 As Pro Bowl good as Howard has been, Tunsil has been every bit as good. It is almost as if a giant switch went off and Tunsil went from a struggling left tackle a season ago to one of the game's true elites. The next sack he relinquishes this season will be his first. But it's more than that. It's the way he is dominating, the way he takes on the opponent's best pass rusher and usually turns him into a non-factor and the remarkable level of every Sunday consistency he has maintained.
Gase first saw signs of this in the spring, the seeds planted by some memorable one-on-one matchups between Tunsil and defensive end **Robert Quinn**. There was just a confidence about him in everything he did. He always had great potential. Now he's reaching it.
"Right away you could see that Laremy was at a different level," Gase said. "He was doing a great job in the spring and then we hit training camp, it just kept getting better. Now when we hit the regular season it's slower for him. He sees so much."
But Howard and Tunsil aren't alone in being Pro Bowl good; they are simply the most glaring examples. Others? Here's the rundown in no specific order.
This has been his best season since coming to the Dolphins. He leads the team in tackles by a wide margin with 116, has intercepted three passes, forced three fumbles and recovered one. Check out his stop on a third-and-one play early on against the Patriots. That's what he's been doing much of the season. Has he been perfect? Of course not. But his steady play, his knowledge and his instincts have proven invaluable to this defense.
He's made 16 of 17 field goal attempts and it's been more than two months since he's missed a kick of any kind, field goal or extra point. What else do you need to know? Find me a rookie kicker in the league with better credentials. I'm not sure you can find any kicker in the league with better credentials.
So easy to overlook because of how well Howard had been playing, but Jones remains one of the top safeties in the league and is trying to make his second straight Pro Bowl. Wouldn't be at all surprised if he did.
The special teams have been excellent this season, consistently excellent, and Aikens is one of the major reasons why. In fact, he has been one of the league's top special teams players for several years now, contributing on every unit, and it's time he is recognized for that.
I link them together because these two deserve to go to the Pro Bowl every year, not necessarily because of what they have done this season, more because of what they mean to this league. Gore is 35-years-old, Wake is 36. They have 10 Pro Bowls between them. Maybe they deserve a special category in deference to younger players. But they deserve to be there. In Gore's case, he is averaging more yards per carry this season than any player his age ever has.
Yes, I'm adding his name to the list even though he missed five games with a shoulder injury and even though he's a long shot given the star power of this league, but if Tannehill can continue his late season roll – eight TD passes and only one interception since returning – he certainly deserves some consideration. I mean how many quarterbacks in the AFC are playing better than No. 17 right now?
One other thought involving honors: The Dolphins, in my opinion, have three viable candidates for the All-Rookie Team: defensive back **Minkah Fitzpatrick**, outside linebacker **Jerome Baker** and placekicker Jason Sanders.
Fitzpatrick has been consistently excellent, Baker already has a game-winning pick six on his resume and Sanders has been just about perfect.