Albert Wilson's comeback took a step back early in the regular season, but he's hoping it's all forward from this point on.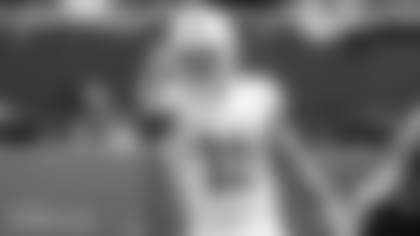 The Dolphins wide receiver is back at practice this week and, even though he's working on a limited basis, he's confident he'll be ready to make his return to the lineup Sunday against the Los Angeles Chargers at Hard Rock Stadium.
"Yeah, I feel really good," Wilson said after practice Thursday. "We're just doing everything possible just to protect ourselves from the rest of the season and just making sure I'll be able to go out there strong week after week. Whatever is best for me is pretty much going to happen Sunday. But, yeah, I feel good. I feel like I'm ready."
Wilson was in the lineup when the Dolphins opened the regular season against the Baltimore Ravens back on Sept. 8, culminating his comeback from the October hip injury that cut short his 2018 season.
But Wilson left the game after playing six snaps on offense and didn't practice the following two weeks, missing the games against the New England Patriots and the Dallas Cowboys.
All along, Wilson kept a positive attitude, saying Thursday he never felt mentally drained.
"Not at all," he said. "I'm just super ready. I'm ready to get back out there, ready to help this team out. Just ready to get back out there. It's not any downfall of mentally me not being out there. I'm just excited and can't wait for it to happen."
The Dolphins offense certainly could use of player of Wilson's multiple talents.
In those six snaps against Baltimore, Wilson's number was called five times — once on a rushing attempt when he took the snap in the Wildcat formation and four times when he was targeted in the passing game. Wilson had two receptions for 13 yards against Baltimore, including a 12-yard gain on the Dolphins' second offensive play of the game.
Wilson has been listed on the injury report every week with a hip/calf issue, though he says it's the calf that kept him out of the past two games.
"I don't think I could have been out there at 100 percent last week, so I think that was a great decision (for him to be inactive)," Wilson said. "But I feel pretty good this week. Been doing everything they ask me to do, so we'll see."
"Right now I feel really good. I feel like I'm moving smooth, moving fast, just ready to get out there and just show the world. I got out there to move yesterday and I felt really, really good. They had to kind of hold me back from doing things. I feel good, just waiting for them to call my number so I can get in there."