Head Coach Brian Flores addressed the media before the start of OTA practice Wednesday. Here were some comments that stood out, along with some perspective:
"He's working hard. He's doing everything we ask. I can't say enough good things about him."
—**Charles Harris** is heading into his third season with the Dolphins as one of the few returning defensive ends on the roster. Flores says he's been impressed with what he has seen from Harris so far this spring.
"We're moving in the right direction. It's important that we finish strong."
— With five practices left in the offseason program, Flores was asked if he was happy with where his team stands at this point. Flores used the analogy of a football game by saying the Dolphins have been good through three quarters but need to have a strong fourth quarter.
"He's smart enough that he can move around. He's made a lot of plays in this league."
— Flores mentioned that fifth-year defensive back **Bobby McCain** is versatile enough that he could line up just about anywhere in the secondary, from nickel corner to boundary corner to safety.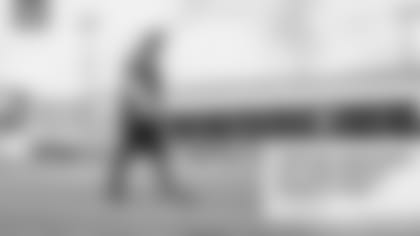 "It adds a competitiveness, a grit to the team. I value that position."
— The Dolphins selected fullback **Chandler Cox** out of Auburn in the seventh round of the 2019 draft, which was a clear indication of the importance Flores sees in fullbacks. Flores pointed to his college days as a linebacker at Boston College, saying he didn't particularly enjoy having to deal with a lead-blocking fullback.
"I just want to see them all compete. I think they're all doing that."
— This was what Flores said when he was asked what he wanted to see from the cornerbacks who will be competing for the starting job opposite **Xavien Howard**.