Christian Wilkins arrived in South Florida on Friday morning after what was a memorable but long night for the new Dolphins defensive lineman.
Then early in the afternoon, some 16 hours after he became the team's first-round pick in the 2019 NFL draft, Wilkins met with the South Florida media at the Baptist Health Training Facility at Nova Southeastern University wearing a nice suit and tie, complete with a handkerchief in the pocket of the jacket.
The only sleep Wilkins got from the time the Dolphins drafted him shortly after 9:30 p.m. Eastern time Thursday until his arrival at the team's training facility was on the plane that brought him from Nashville.
"I just couldn't sleep all night, so excited, adrenaline and everything, being around my family," Wilkins said. "Everybody is excited. I'm excited to be here. So I really couldn't sleep. And then this morning at 7 o'clock a car was waiting for me outside, took me to the airport. (I) got a couple of hours of sleep on the airplane, which was good, so I'm able to be able to be in front of you guys looking nice and sharp, nice and shiny."
Yup, Wilkins was as affable and quick-witted Friday afternoon as he was during his video conference call after he was made the 13th overall selection in the draft.
But Wilkins also made it clear he's all business and ready to deliver on what he told General Manager Chris Grier after being selected Thursday night, that the Dolphins had just made their best decision.
"I'm just ready to work, like I want to get started as fast as I can," Wilkins said. "And it's good I know where I'm going to be, I have my home just because that peace and now I can start get into a routine and things, not traveling and doing those things. It's good just to know this is my home now and I can just get started and train and do the things I need to do to get me as ready as possible for day one when I have to show up."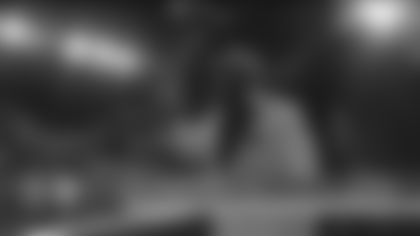 Wilkins' reaction after being drafted was one for the ages, as his jumping into the shoulder of NFL Commissioner Roger Goodell on the stage in Nashville was one of the lasting images of the first round.
Wilkins said he was pretty sure Goodell would remember his name for a long time.
"I just got too excited," Wilkins said. "That's on Coach (Brian Flores) and everybody involved who made the decision to get me. That's on them. I just got too excited. This is just what I've been dreaming about my whole life and what I've been working toward and I just feel like I'm ready for it.
"First thing I thought (when I saw the picture) was, 'Look at that vert (vertical jump).' I had to show off my athleticism a little bit. I hope Dolphins fans and everybody saw a little bit of my athleticism. But that was cool. He was kind of just like cowering, seeing me, like late reaction. It was pretty funny, something I'll remember forever and I'm sure he won't forget it either."
Wilkins said the dream of playing in the NFL has been with him since he took up the sport while he was in elementary school and was watching legends like Reggie White and Emmitt Smith.
"I just loved every bit of it when I was just a little kid," Wilkins said. "So when I was like about seven or eight years old, that's when the dream began for me. I was like, that's what I want to do. I want to play at the highest level someday. I was seven, eight when that happened; I'm 23. I just went to work and now I'm just so blessed to be in this position."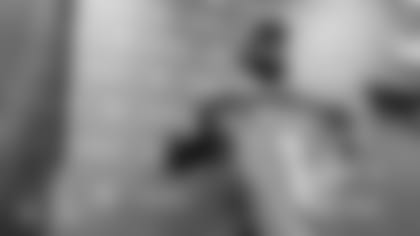 One of three Clemson defensive linemen selected in the first round — a first for any school in the NFL draft — Wilkins said his phone has been "blowing up" since Thursday night, so he hasn't been able to check to see if he got any kind of message from basketball legend Dwyane Wade after saying Thursday night that he hopefully could help fill the void in South Florida created by Wade's retirement.
While he said Friday the comment was made in jest, Wilkins wasn't backing down on the idea of looking to make his mark on the area.
"I was just kind of joking about that, but why not?" he said. "But I'm just worried about working as hard as I can now and just being myself because something we talked about a lot at Clemson and that I realize to be true is you do the little things, the common things in an uncommon way and you command the attention of the world."