One of the most highly anticipated official combine measurements in years took place Thursday morning, and it was good news for quarterback Kyler Murray and his fans. The Heisman Trophy winner out of Oklahoma came in at 5 feet 10 1/8, ending concerns he actually might be 5-9 or even less. Murray weighed 207 pounds and his hand size was 9 ½ inches, the same size as NFL quarterbacks Matt Ryan, Andy Dalton, Mitchell Trubinsky, Lamar Jackson, Robert Griffin III and Sam Bradford, according to NFL.com. Russell Wilson measured at 5-10 5/8 and 204 pounds at the 2012 combine, though he did have bigger hands (10¼). According to NFL.com, Murray will not throw at the combine or participate in on-field drills.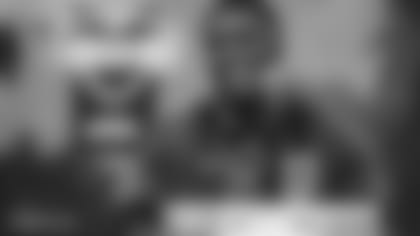 Running backs and offensive linemen started off the workouts at the combine Thursday with the bench press, and Iosua Opeta of Weber State led the way with 39 reps. Running back Alex Barnes from Kansas State had an eye-opening performance, as he tied N.C. State offensive lineman Garrett Bradbury for second-best with 34 reps. Barnes' showing in the bench press was the second-best among running backs in the past decade, behind only the 36 reps by Wake Forest's Tommy Bohanon in 2013. Offensive players had their official measurements taken Thursday, and tight end Zach Gentry of Michigan was the tallest player at those three positions at 6-8 1/8. Utah's Jackson Barton and Ferris State's Devon Johnson were the tallest O-linemen at 6-7 ¼ and Buffalo's Tyree Jackson was the tallest quarterback at 6-7, and Iowa State's Hakeem Butler was the tallest wide receiver at 6-5 3/8.
Brian Flores was asked during his combine press conference about being the only minority candidate among the eight new head coaches hired in the NFL this offseason, and his answer began with a thank you for the question for the opportunity to acknowledge and thank John Wooten of the Fritz Pollard Alliance. The group's mission is to promote diversity and equality of job opportunity in the coaching, front office and scouting staffs of NFL teams. "John Wooten of the Fritz Pollard Alliance was incredible to me during my process as far as the head coaching search and that whole situation," Flores said. "He's been a dear friend, a mentor. He's stepping down this year, so I just want to publicly thank him and thank the Fritz Pollard Alliance for all they do for minority coaches. He was great to me and that's something that's near and dear to my heart. I think there's a lot of very capable coaches in this league and whatever I can do to help those guys get an opportunity, I'm all for it."
Detroit Lions GM Bob Quinn shared a common experience with Dolphins head coach Brian Flores in that his career started as a personnel assistant with the New England Patriots, a job that involved running some errands. "I remember B-Flo coming in and being really quiet, I'd say the first six months, which usually when you work in New England that's a good thing," said Quinn, who worked for the Patriots from 2000-15. "And he just kind of put his head down and worked. He started the same way I started. As scouting assistants, you pick guys up at the airport, bring them for their physical and you drive them around. He probably logged as many hours in those vans as I did back in the day. I'm really happy for Brian. I think he'll do a great job down there and really happy for him and his family."
John Dorsey was responsible in his role as general manager for bringing in a lot of the players that helped the Kansas City Chiefs earn the No. 1 seed in the AFC in 2018, but he didn't want to look back or talk about whatever satisfaction he might have felt because he's more worried about his current job with the Cleveland Browns. But Dorsey was more than happy to talk about Allen, who was one of the key members of his personnel department in Kansas City as the director of college scouting. "True gentleman," Dorsey said. "I think Marvin is a true gentleman. He's an experienced veteran evaluator. He's going to make very sound, factual decisions. I love the guy. I think Marvin is a hell of a man." During Allen's time as director of college scouting for the Chiefs, the organization drafted quarterback Patrick Mahomes, wide receiver Tyreek Hill and tight end Travis Kelce, all of whom earned Pro Bowl invitations last season when Kansas City led the NFL in scoring with 565 points — the third-highest total in league history.