Let's start with a few things that Dolphins rookie cornerback Jalen Davis is not.
He is not related to former Dolphins cornerback Will Davis, even though they have the same last name and both played at Utah State University.
He is not a surfer, even though "Surfer" is the nickname given to him this spring by Dolphins defensive back Tony Oden because of Davis' San Diego roots.
Davis also was not a draft pick, though that one might have been the most surprising thing of all he's not. After all, Davis brought quite the resume into the 2018 NFL draft after being named a first-team All-American selection last season by the Walter Camp Football Foundation, and a second-team All-American choice by The Associated Press and the Football Writers Association of America.
If you don't think Davis is using the draft snub as extra motivation as he begins his NFL career, just consider his pinned tweet is a simple hashtag: #UndraftedJD.
"Oh man, I've got a big chip on my shoulder," Davis said. "I've just got to work now, just prove everybody missed out on me, prove them wrong."
Based on comments from defensive coordinator Matt Burke and what the media could observe during open practices in the spring, Davis appears to be off to a good start in that quest.
To help transition to the NFL, Davis said he sought the advice of fellow Dolphins cornerback and, in the process, took a quick liking to fifth-year Dolphins cornerback Bobby McCain. That would be fitting considering they're players with similar physical attributes and similar college resumes.
Like McCain did in 2014 at the University of Memphis before he became a fifth-round pick, Davis had five interceptions in his final collegiate season. Davis returned three of those picks for touchdowns, including two in a game against Brigham Young in late September. That made him the first FBS player since 2012 to have three interceptions and two pick-sixes in the same game.
Davis, who grew up a big fan of former Falcons and Eagles quarterback Michael Vick, said the key to getting interceptions was simply film study.
"I just like to focus on one certain thing," Davis said, "and then when I see that, then I'm on it."
Davis had 15 passes defensed in 2017, helping him leave Utah State as the school's all-time leader in that category with 48. He finished second with 227 career interception return yards and tied for fourth with 11 career interceptions.
While the obvious playmaking ability didn't get Davis drafted — he called draft weekend "one of the most stressful times in my life" — it put him in high demand as a rookie free agent.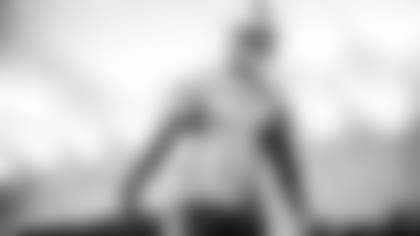 He said his decision to choose the Dolphins' offer came down mostly to Oden.
"He was talking to me throughout the whole process, the whole draft," Davis said. "He was keeping me updated on what's going on and everything and I liked him as a person. I just felt I had a good connection with him, so I chose here."
The Dolphins' group of cornerbacks is loaded with talented young players, such as McCain, Xavien Howard, Tony Lippett and Cordrea Tankersley, and Davis is hoping to make enough of an impression this summer to earn a spot alongside them.
The way he sees it, his mission is simple.
"Know the playbook in and out, just know all my calls, all my assignments, no missed assignments, and just go out there and play," Davis said. "Go out there and play physical, be a dog out there. That's what I'm trying to do."