**Kenyan Drake** has pretty much perfected his routine as he gets ready for his fourth NFL season.
That routine involves putting everything in place to maximize his ability, from the time he wakes up every day to what he eats and how he trains. He doesn't plan on straying from that routine while Dolphins veterans are away from the Baptist Health Training Facility at Nova Southeastern University for the next six weeks, though there might be some adjustments made.
Maintaining the routine will be tops on Drake's agenda during this time "off," though he's also looking forward to a trip to Brazil for a cause near and dear to his heart.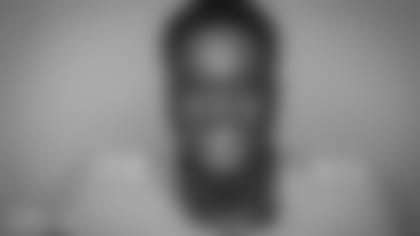 Drake will be traveling to the South American country on behalf of Smile Train, a nonprofit organization dedicated to helping children born with a cleft lip.
"Being involved with Smile Train has definitely been a huge blessing on my life and being able to impact people not just domestically but internationally using my platform to just be a positive energy and being involved with them over the past year," **Drake said during an interview on The Audible.** "Went to Mexico last year; this year I'm going to Brazil. … I just want to continue to be that beacon of light for not myself but people around the world."
On the last day of mandatory minicamp last week, after Head Coach Brian Flores canceled practice in favor of a conditioning test, Drake hosted his first Cocktails for a Cause, again to benefit Smile Train.
He was joined by some teammates in downtown Miami for a mingling event where participants donated to Smile Train.
Drake is looking forward to making an even bigger impact during his trip to Brazil.
"Last year when I went to Mexico City, I didn't really know what to expect, but the people there were very receiving of myself and the staff that I brought down there," he said. "We went to a couple of hospitals, we went to local houses where a kid that was affected by a cleft lip was kind of going through the rehabilitation stages. I'm expecting a very similar, even more of a reception to Brazil. With my second time going out of the country and having this experience already, I can be a little more comfortable, a little more open to the things, the culture there can provide for me as well. I'm there to learn about who the people there and to give my all to them. Everything else, it's all about the energy. And when you go in and spread this energy, it's contagious. I feel like the things that I'm doing, I just want to continue to make people smile."
Before the trip to Brazil, Drake said he was planning to go back home in Georgia, where he'll be working out along with visiting family and friends.
As much as possible, he'll try to maintain his routine to get himself ready for his fourth NFL training camp starting in late July.
"It's all about the routine, and I feel like to be a professional in this league you have to continue to stay on not necessarily a very strict schedule (but) it's still about waking up at a certain time, still going in and eating certain foods, making sure I'm hydrated, putting the things in my body and putting myself in perfect situations to where I'm not necessarily losing anything. As long as I'm keeping the standard that I set for myself, then when I get back to training … I certainly won't be running around, but I won't just be a slob on a couch or anything."
When it comes to training camp and beyond, though, Drake is planning on doing a lot of running.
Now the most experienced player in the running back room, Drake is excited about what lies ahead.
"The offseason has been very productive, just getting into the groove of getting the playbook, meshing with the new coaching staff, the new players who came in," he said. "It's honestly a great challenge for me, this being going on my fourth year, drafted by this organization. Every year I've continued to get better, learn, made mistakes along the way, but that's a part of growth. I'm definitely to kind of step into that leadership standpoint and continue to grow from there.
"(I've) really continued to develop a routine. I think that's the most important thing and aspect that any professional at any given level continues to kind of develop. When you get that routine down, everything else kind of falls into place from there, so you wake up at the same time, you do the same things at the same time and then also you can kind of be able to be flexible in that routine, so if something kind of shakes up a little bit, you're able to kind of roll with the punches and still be productive and have a solid day and continue to grow from there."