Albert Wilson overcame a tough childhood to find himself now as a member of the Miami Dolphins, and he hasn't forgotten.
Wilson spent a good portion of his childhood in foster care in South Florida, so children in the same situation now hold a special place in his heart. As long as he's in the NFL and has the ability to give back, that's just what he plans on doing.
The best example is his Albert Wilson Foundation, which focuses on helping children in foster care. And there's also his annual football camp in Port St. Lucie, where he played his high school football and spent six years in foster care.
Wilson conducted his third annual camp this past May, sending out a free invitation to kids in foster care.
"All the feedback I got from it and all the kids that came out and the love that I have from the area, it's just something I couldn't go without (year in, year out)," Wilson said for an episode of The Life. "For me to come out and just help the kids and be there for them and give them a chance to talk to somebody that they look up, it's a good feeling for me. For them to get out here at such a young age and see so much positive things going, it's good for not only the kids but for my city."
Dolphins players have enjoyed the interaction they have with the high school and youth teams that come out to practice, but it was particularly special for Wilson when Port St. Lucie High came out Aug. 1.
It gave Wilson a chance to catch up with some of his former coaches and talk to kids who hope to follow in his footsteps.
Bottom line: It was another chance for Wilson to give back and help kids.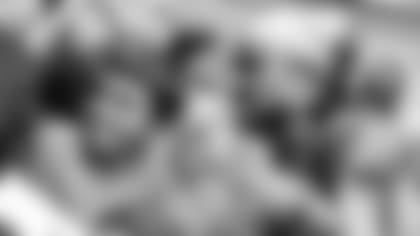 "My interests are all centered on helping the next generation of kids," Wilson told Dolphins.com early in training camp. "Find kids like me who had it hard, who had to fight to get a break and try to be a role model for them. If it is football, if it is school, if it is music, it doesn't matter. I want to find those kids. I have people helping me look for them. This is close to my heart, but this is who I was growing up. You battle as a kid just to get by and then you're in a position like mine, you just have to take advantage of it. It took me a while to be able to ask for help as a kid. I want these kids to be able to ask me for help."
Football played a big role in Wilson's life as he was growing up because, as he says, it was the one constant.
Ultimately, football provided Wilson with the opportunity to achieve a position where he could help those who are where he once was.
"I was in a couple of foster homes, then I actually found a relative that was in Port St. Lucie and they took me in for my junior and senior year," Wilson said. "It was pretty much just bouncing around and just kind of fitting in where I can, and football was that one thing that was pretty much consistent to me. That's why I have so much love for the game."
Wilson's journey not only included overcoming a difficult childhood, but proving himself as a quality player at every stop after being a lightly regarded recruit out of high school and then going undrafted in 2014 before signing with the Kansas City Chiefs as a rookie free agent.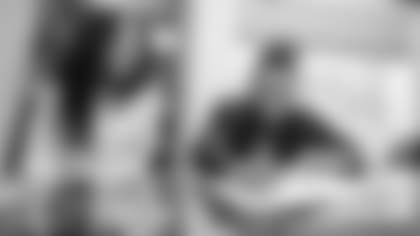 His journey has come full circle with his return to South Florida, and he made clear just how special that was after signing his contract with the Dolphins in March.
"It means a lot – just for my family itself – definitely to be closer to them and being able to have them see me on the regular and seeing me play on the regular," he said. "Not only for my family, but the people in my city to where I come back as much as I can and they only get to see me as much as possible. For those kids that are back in my hometown, to be able to see me and see what kind of work that I'm doing just a few hours away is definitely a great thing. Growing up in Florida, pretty much in the South, you grow up watching these guys play in the (aqua) and orange. It's a dream when you play football, to get in this jersey, and now I have the opportunity. It's an outright blessing."