It's pretty unusual for a wide receiver — any wide receiver — to play every offensive snap in an NFL game, but **DeVante Parker** didn't mind it one bit when he did just that against the Houston Texans last Thursday night.
"Playing that many amount of snaps, I'd say it kind of got me in rhythm a little bit," Parker said. "I think it helps me a lot actually. It gets me going in a groove a little bit."
Oh, Parker got in a groove against Houston last week, and not just a little bit.
And for someone who had been dealing with frustrating injuries for most of the season and had been looking for the chance to have that kind of game, it was big.
Parker had perhaps the best game of his four-year NFL career, setting a career high with 134 yards on six receptions. His average of 22.3 yards per catch was the second-highest of his career in a game with at least four receptions, behind only the 23.3 he posted against the Indianapolis Colts on Dec. 27, 2015 when he had four catches for 93 yards.
Five of Parker's catches against Houston went for 14 yards or more, as he produced four of the Dolphins' five longest offensive plays. Three of the receptions converted third downs — two of them were third-and-11 situations.
Yes, it definitely was a prime-time performance.
"DeVante is an extremely talented receiver," quarterback **Brock Osweiler** said. "He really is. He's a big target, he's physical, he plays hard. He did some great things for us against Houston and I expect him to do some great things against New York. In fact, I expect him to play even better. I think DeVante is just getting rolling. I really do. He showed some flashes last week. I think that guy is just getting started. He has a boatload of talent, ton of potential and I'm super excited to see what he does this week."
Parker's performance showcased all the physical gifts the Dolphins saw in him when they made him the 14th overall selection in the 2015 NFL Draft when he came out of the University of Louisville as an underclassman — the size, speed, hands, body control, ability to make contested catches.
This wasn't the first time Dolphins fans had seen Parker produce, though everyone knows it has been a frustrating road because of injuries that have limited him to three games so far this season.
The 66 snaps against Houston actually represented almost double his previous season total of 37 (33 in the Week 3 game against Oakland, and 4 against Chicago in Week 6).
With **Albert Wilson** having gone on IR days earlier and **Kenny Stills** missing the game because of a groin injury, the Dolphins needed Parker to step up against Houston. His response was all he and the team could have desired.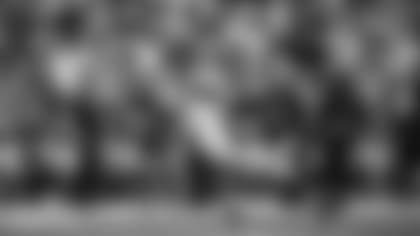 "It was big," said fellow wide receiver **Jakeem Grant**. "It was a big deal, let them know that he's still a playmaker. He's always been a good playmaker. I've always believed in him and always was on his side no matter what. I just felt like injuries got in the way and now he's healthy and now everybody can see that DeVante is a force to be reckoned with."
For Parker, who began using acupuncture about a month ago and says he's "feeling good," it simply was a matter of making plays when they he had an opportunity. Nothing more.
"He just put it in a spot and I tried to be in the right spot," Parker said, referring to Osweiler. "And that was it. It's what I could deliver every week, just standing on the field, remain healthy. That's what I can do."
Parker secured his fourth career 100-yard game in the third quarter with a 46-yard reception he called the craziest catch of his football life.
It was the play where Grant leaped to catch an Osweiler pass around midfield on a third-and-11 from the Dolphins 24, only to get hit as soon as he landed. That forcefully knocked the ball out of Grant's hands, but it ricocheted off an incoming Houston defender's helmet and sailed further upfield, where Parker turned around and made the grab.
"It was crazy," Grant said. "DeVante, he told me, he was like, 'Bro, you were in the air for a long time.' I was like, man, it was high. So I had to go up there and get it. He was like, 'Man, I don't know what happened but it just bounced my way.' He said it looked like a Madden glitch. That's what we've been calling it, a Madden glitch. I'm glad he caught it. That put him over 100 yards, so that's always good."
That wasn't Parker's best catch of the night, though, because he had two other highlight-worthy catches.
The first came on a third-and-11 in the second quarter where he ran a slant and had to adjust to a pass thrown behind him.
Let Osweiler explain it from his vantage point: "There was a linebacker that dropped off the line of scrimmage, I couldn't lead him in front, I had to put it on his back shoulder on a slant, which isn't easy for those guys and he went out there and he snagged it and made a big play for this football team."
And then there was Parker's final catch of the evening, a 30-yard reception in the fourth quarter where he simply reached out with his left hand to bring in the ball.
"I practice those (one-handed catches) a lot," Parker said. "I try to do it as much as I can because you never when it's going to come up."
Parker's stats could have been even better had Osweiler been able to connect on a deep third-quarter pass after the wide receiver got himself wide open behind the Houston secondary.
As it was, it was an eye-opening performance for Parker, the kind that provides hope that a disappointing start to the season could give way to a great finish for him.
"In my time here, he's tried to do everything possible to make sure that he's ready to go," Gase said. "He's done a good job of staying engaged when he wasn't playing. I think it benefited (him), the amount of work he put into the playbook this last game because he didn't have to ask, 'What's this?' or, 'Where do I go here?' He was playing fast. Hopefully we just keep getting better every week and seeing if we can just keep expanding his role to where he makes as many plays as possible per game."
Asked whether he thought the Houston game could have been the start of something big for him, Parker just smiled and said, "I hope so. I hope so."