Connor Hilland couldn't help but grin when he described his style as a football player.
The Dolphins rookie free agent offensive lineman had just wrapped up his first NFL offseason program when he pondered the question.
"I'm a very aggressive player," Hilland said. "I've kind of learned to control that. I would say I'm more of an aggressive type player. I've been trying to get more kind of finesse into my game, more patience, and I think I've been doing a good job. But overall, I just kind of like to … just dominate."
Based on the way he answered, the follow-up question was whether Hilland had ever gotten himself in trouble on the field for being aggressive, or even over-aggressive.
"Not too much of an issue, but there were times where … it can get you in trouble sometimes," he said. "I've learned to control that, learned when I can and can't take advantage of that."
As an undrafted rookie looking to earn a job in the NFL, Hilland is looking for everything in his repertoire to become an advantage.
Aggressiveness is one aspect. Versatility is another.
Take a look at the Dolphins roster on the team website and you'll see Hilland listed as a center, but what he played at William & Mary — and played very well — was guard. But Hilland knows being able to handle all interior offensive line positions is almost a must these days.
"After my senior season, my coach in college and then eventually my agent and scouts that I talked to said I'm going to be a guard/center type," he said. "So learn to snap basically. That's kind of what I did this offseason. I've definitely taken some pretty significant steps in my game as a center, but long way to go. But I'm getting there."
As a guard at William & Mary, Hilland was a four-year starter and he earned first-team All-Colonial Athletic Association honors as a senior after getting third-team recognition as a sophomore in 2015.
His performance was good enough to earn him an invitation to the East-West Shrine Game.
There was a bigger honor to follow for Hilland, one he earned for his off-the-field work and one he considered much more significant.
Hilland was selected as the National Strength and Conditioning Association Athlete of the Year for William & Mary.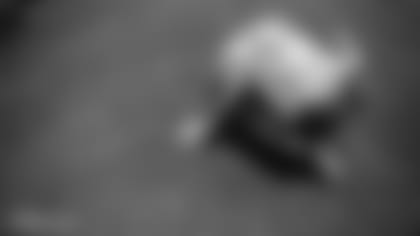 "That was pretty big for me," Hilland said. "I remember coming in as a freshman to William & Mary. The guys that have won that award in the past, their pictures are up on the wall. And I was like, man, I really want to get that. I really want to get that one day. It was actually probably a week before I left to come here, my strength coach came to me and he was like, 'You got it. You got the award. You're going to be up on the wall.' That was a huge deal for me. That was bigger for me than all-conference or all-stuff like that because that's something that was my goal from the beginning. Achieving that was huge for me."
The award is given based on nominations from schools' strength and conditioning coaches, and Hilland says it means so much to him because it recognizes the work that players put in to get ready for games.
"Everyone sees you on Saturday, sees what you do, but then it's the behind-the-scenes kind of stuff that no one really sees, no one really takes into account," he said. "They just see us on game day. I pride myself on my work ethic off the field and that kind of encompassed that."
Hilland knows the kind of dedication he showed at William & Mary will need to continue to make his dream of playing in the NFL a reality. As with everything else, rest assured he'll be aggressive in attacking that challenge.