Head Coach Brian Flores spoke to the media at the AdventHealth Training Center in Tampa following the Dolphins' joint practice with the Tampa Bay Buccaneers. Here were some comments that stood out, along with some perspective.
"I think it's something that, we want good body language out of everybody. We're going to have bad plays. We need to move on to the next one, period."
— The first questions asked of Flores on Tuesday were about quarterback Josh Rosen, and one of the things the head coach mentioned was Rosen's body language. He then followed up by explaining that he wants every player on the team to be able to quickly move on after a disappointing play but that it's especially important from the quarterback because it's a position of leadership.
"It's a good learning opportunity for us. You've got to make adjustments on the fly. We need that as a team. That's what games are like at times. We'll learn a lot from the tape today."
— The opportunity to practice with the Buccaneers comes with several benefits for Flores, who said he was pleased with the Dolphins' level of physicality and conditioning but there were issues with execution. Overall, though, the joint practices are valuable in helping the Dolphins get ready for the start of the regular season.
"He's a fiery, high-energy coach. I think we've got a lot of coaches on that staff with that temperament."
— Offensive line coach Dave DeGuglielmo is easy to spot on the practice field because of how animated he is, and Flores says he loves having his coaches stay on the players play after play because that's only going to make them better.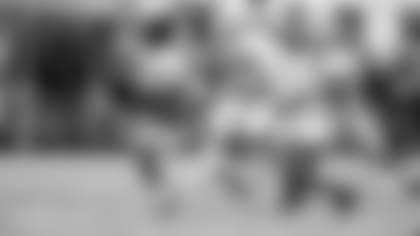 "I think every experience they have is a good one. These situations for those guys, specifically the young guys but really the entire line working as a group, this is good."
— Rookies Michael Deiter and Shaq Calhoun continue to get a lot of work at guard after starting the preseason opener against the Atlanta Falcons, and Flores says the two of them will only benefit from being exposed to all sorts of different situations and experiences.
"This is important to him. Very important to him. From a practice standpoint, from a game standpoint, from a walk-through standpoint, he wants to be a good player and he's working towards that."
— Cornerback Xavien Howard had one of the biggest plays in practice Tuesday when he picked off Bucs quarterback Jameis Winston in a team period. While he praised Howard's work ethic, Flores said the cornerback still has room for improvement.