Head Coach Brian Flores spoke to the media at the AdventHealth Training Center in Tampa following the Dolphins' joint practice with the Tampa Bay Buccaneers on Wednesday. Here were some comments that stood out, along with some perspective.
"He's really a joy to work with from an ability standpoint. As a kid he's a really good kid, too. So I'm looking forward to working with him some more."
— Second-year player Minkah Fitzpatrick has lined up at a wide variety of positions in the Dolphins defense throughout training camp, which only enhances his value to the team. Flores pointed out Fitzpatrick has worked at strong safety, linebacker and cornerback, but the 2018 first-round pick has not appeared overloaded by the various assignments.
"Those are very good problems, turning down good players. I'd like to have those types of problems."
— The Dolphins have very good depth at wide receiver, where younger players like Preston Williams and Isaiah Ford have made enough plays to garner some attention. Their emergence will help make paring down the roster at that position a difficult task for Flores and his staff, but any coach prefers having too many options as opposed to not having enough. Flores said he has no set numbers of wide receivers he wants to carry on the 53-man roster, instead focusing on keeping the best 53 regardless of position.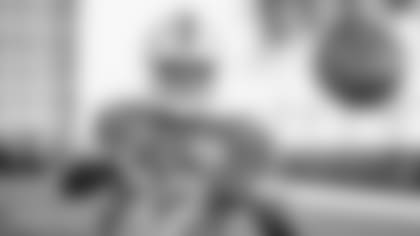 "I thought today was better than yesterday and that's what we need to do. We need to try to build and string good days together."
— In their second joint practice with the Bucs, the Dolphins made some strides in terms of execution, and Flores said he made it a point to tell his players they had a good day when they huddled after the session was over.
"Who's leading? Who's not leading? That's irrelevant to me. I want these guys to try to get better and improve every day. That's kind of where I'm at."
— There's more than two weeks left before the start of the regular season, and Flores made it clear he's not nearly as fascinated about battles for starting jobs as the media appears to be. That applies to the quarterback position, as well as everywhere else on the roster. Flores likes competition at every position because he sees it as an avenue to getting better.