Each week, "In My Own Words" looks back at a past game against this week's opponent through the eyes and words of a Dolphins player who played a key role in that game. This week, former wide receiver Greg Camarillo takes us back to Dec. 16, 2007, when he caught three passes for 109 yards and his 64-yard touchdown reception in overtime gave the Dolphins their lone win of the season.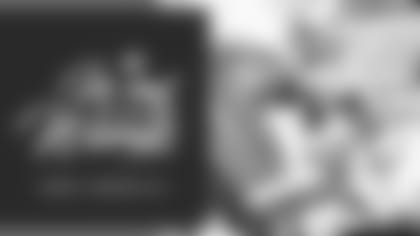 Honestly, I was such an insignificant receiver in the NFL coming into that game. I had one career catch for two yards. After my first catch against Baltimore, I was just excited to be participating on offense and contributing to the team.
We were 0-13 going into the game. There was plenty of motivation to get a win. The personal motivation always is to protect my job. I needed to do something so I can continue to have a job, but overall, it was hard being on a team that was giving everything every week and walking away without a win. It was dejecting.
To be winless through week 14 was tough. It got ugly. You feel like you let people down. At that Ravens game, members of the Dolphins 1972 Perfect Season team were on the sidelines. You didn't want to feel like you let them down that day as well as the Dolphins faithful fans.
We were down 13-3 right before halftime and they're going into score again. Jason Taylor blocked a field goal. I didn't realize at the time how important that play would end up being.
So we start clawing back in the second half and actually take a16-13 lead off of a field goal with like two minutes left. I'm thinking just don't let this thing slip away. The negative thoughts came in as opposed to thinking 'we got this', which is a bad mentality. After 14 weeks of it, you know it's hard to fight that off.
Baltimore came right down the field and drove to our one-yard line with 8 seconds left in regulation. And so we're thinking, 'why wouldn't they just try to win this game?'. Especially from that distance, I think they really should have just gone for it. They got down the one. But they decide to kick the field and we're going to overtime. When you go to overtime you've got a good shot, especially at home, to come away with a victory.
They got the ball first and attempt a field goal to win the game. I was out there watching and thinking 'we lost another one'. And then he (Matt Stover) misses the thing. When he missed that, it was like if we don't win, now we're never going to ever win.
We go with four wide receivers and I was the fourth wide out. This was at time in the NFL when teams didn't go to many four receiver sets. I go into the huddle and hear the same exact play called (Trips left fly scat left Ernie) that was called when I caught each of my previous two career catches. I'm thinking 'they've got to know what's going on just by the formation'. You have (future Hall of Famers) Ed Reed at safety and Ray Lewis at linebacker. They're going to know what's coming. It's a play I have absolutely loved my entire career, but I'm thinking there's no way in the world this is going to work three times in a game.
I go in motion and I try to disguise the play a little bit differently. I'm supposed to stop just outside of where (fellow wide receiver) Marty Booker was, but this third time I wanted to try to stop just shy of him or behind him to make it look a little bit different.
The ball is in the air and Ed Reed is just inches away from intercepting it. Now, I'm not a fast guy. To be honest, it had been since high school since I'd had a big, open field catch. I'm running like a scared kid. I'm turning my head like every second looking for a guy who is going to catch me. I'm actually thinking that if they tackle me then we're still in field goal range and we can win this.
It's amazing what thoughts go through your brain while you're running. I'm thinking that I'm wide open. I'm thinking there are guys behind me. I think we're in field goal range and we're good. Next thing I know, I'm in the end zone. It was the first time I had scored a touchdown since high school. I never scored a TD in college.
It was a combination of excitement and disbelief. All my teammates came running down. We celebrated along the wall with the fans. You could just feel the joy. Everyone had been working so hard so we could get a victory. It came down to the wire and we were finally able to get it. We celebrated like we had won a championship, even though it was just one game.