For Irving Fryar, enjoying a career day against his former teammates made the 1994 season-opening win that much sweeter.
"I knew those guys, I played with those guys," Fryar said. "I knew I could outrun all of them. I didn't have to give them any moves, I didn't have to do a whole lot. I knew once I got an opportunity to be one-on-one with any of them, and Dan knew that too because I told him that I could outrun them, that I could turn it on."
Fryar relied on that familiarity with Patriots roster – a defense he practiced against every day for the first nine years of his career – to cap off a 211-yard, three touchdown performance with a go-ahead touchdown in the game's deciding moments.
"That play really let me know I had been released from hell when I left New England and came to heaven in Miami."
For Dolphins fans, the 35-yard touchdown strike from Dan Marino to Irving Fryar was worth so much more than the six points added to the scoreboard. It was a game-winner over a division rival. It signaled the return of Marino less than a year removed from an Achilles tear. And for the recipient of that pass, it signaled a turning point in his career.
"In New England, whatever play was called in the huddle that's what we had to run," Fryar said in the latest edition of the Drive Time Podcast. "We never were able to make audibles. I came to Miami and we had situations where Dan could come up to the line of scrimmage, give me a signal, and it was just he and I at that point. It's fourth-and-5, game on the line. Dan comes up and gives me a go. I ran by him, caught the touchdown, game over."
It was a trade in 1993 that brought Fryar south from New England in exchange for a pair of draft picks. A trade that Fryar says he had been encouraging Coach Don Shula to initiate for six years.
"I had asked to be traded to Miami and there's a story behind that," Fryar said. "I had been trying to get out of New England for years. Every time we played Miami, going back six years, I would go up to Coach Shula after the game and tell him, 'coach, you've got to get me out of here.' It was a pleasure to be able to come down there. He passed recently, but he was a great man. My condolences to his whole family, to his wife; but man he was the best, he was the GOAT [greatest of all time]."
Part of the allure of coming to Miami was joining forces with a future first ballot Hall of Fame quarterback. But the Fryar-to-Marino connection was delayed by a year after the quarterback went down with an injury in the fifth game of the 1993 season. Fryar jokingly admitted he thought maybe he was the bad luck presence.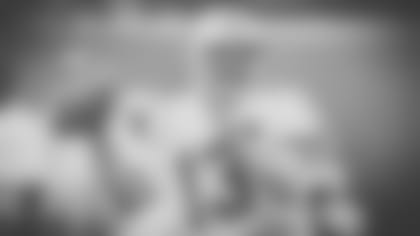 "I thought it was me," Fryar said. "I must be cursed. He had never been hurt before, never missed a game before. I come to town and he busts his Achilles, and that's an injury where a lot of people don't come back. I didn't think things were going to go as well as they did [after that happened]."
Marino would return. And despite the skies opening up and flooding the playing surface at Joe Robbie Stadium, Marino did what South Florida residents grew accustomed to over the previous 11 seasons – light up the scoreboard with an unprecedented aerial display.
The now famed pronounced limp that Marino showed that day was a new normal for the legendary quarterback.
"He [had the limp] for the rest of my time there," Fryar said, "Even now, you see him walk and he has a little hitch in his giddy up."
Media, critics and even some fans doubted Marino's ability to return to the football field, much less at his prior form. But that wasn't the case for the Dolphins receivers.
"I knew that he would not come back if he wasn't right," Fryar said. "He's not a fast guy but he's elusive. I can remember times Dan saying to me, 'watch me make this guy miss in the pocket.' He was very creative, very elusive, knowing where guys were around him and knowing where the soft spot in the pocket was."
The Dolphins offense couldn't find its footing early in the game. Miami's first two possessions were cut short by turnovers, even after Marino extended the second drive with a scramble to move the sticks. Fans held their collective breath in South Florida as Marino maneuvered around the Patriots defense, but his Dolphins teammates knew at that moment that the quarterback was all the way back.
"It didn't bother me it all," Fryar said. "In fact, it was encouraging to let me know that Dan was engaged, that he was all in. Let's get it going."
It took some time to get going. The slow start bled into the third possession with a quick three-and-out; a drive that concluded with an incomplete pass intended for Fryar. Marino expressed some general frustration with the inauspicious beginning to the game, but according to his Pro Bowl receiver, that frustration never occurred in a verbal display.
"I never did get a Dan Marino ass chewing, as you put it," Fryar said. "I think that changed a little bit when myself, Mark Ingram, Keith Jackson and Keith Byars got there. Dan would get upset and that just meant that he cared about what we were doing. He wanted to win. I was never on the other end of that."
Fryar was present for a lot of big NFL moments in his career, including Marino's 300th career touchdown pass. He didn't catch number 300, but Fryar would be on the receiving end for touchdown passes number 301, 302, and 303.
The third and final touchdown on the day put Fryar over 200 yards and led Miami to the thrilling 39-35 victory. That catch was the second go-ahead score of the fourth quarter for Fryar. The first fourth-quarter score was on a flea flicker. Fryar and the Dolphins offense saw a tendency on film for the Patriots defensive backs to bite hard on the run and leave the receivers open downfield.
"We saw that on film," Fryar said. "It was also the fact that I was running in and blocking the safety on most of the runs. So, I would leave where the corner was and take an inside release and run at the safety like I was going to block him with the running back receiving the ball. [The safety] starts coming down trying to beat me to the runner so I just took off right behind."
Fryar was in behind the New England defense all afternoon. The baseball diamond on the field presented a built-in excuse for a position that relies on precision and quickness, but Fryar saw the dirt – be it a baked, sun-soaked surface or the muddy rain-soaked slop – as an advantage.
"When [the dirt was] real soft like that it gets heavy," Fryar said. "If I had to have my choice I would take the harder [dirt] surface, but either way the advantage goes to the offense because the receiver knows where he's going and the defensive back has to react. Reaction always takes a little bit longer than the action."
Fryar's 211 receiving yards were a career high. It was one of three games across his illustrious 17-year career where he found the end zone three or more times. Fryar reflected upon his brief, but productive time in South Florida.
"It's just an honor to be connected to moments like that, people like that," Fryar said. "Dan Marino, Coach Shula, the people I played with over the years. It's great to be able to say I know those people and they know me."