When **Kenyan Drake** met with reporters in the Dolphins locker room Wednesday, he politely requested that questions be restricted to the upcoming game against the Minnesota Vikings.
Yes, it would be tempting to keep revisiting his game-winning touchdown against the New England Patriots this past Sunday given how extraordinary it was, but Drake fully understands it's time to turn the page and look ahead.
"Yeah, it's always the 24-hour rule," Drake said. "We still have three critical games left, obviously with the next game being the most important because it's the next one and (against) a quality opponent. That's just our main focus and we're looking forward to continuing to grind this week to put ourselves in the best position to win this game."
Drake has a little experience in how to handle momentous plays like his walk-off touchdown against New England.
Maybe it wasn't with plays of quite that magnitude, but Drake came up with heroic stuff before during his days at the University of Alabama and with the Dolphins.
As a NFL rookie in 2016, Drake had a kickoff return for the game-winning touchdown in a victory against the New York Jets that was part of a six-game winning streak that propelled the Dolphins to the playoffs.
And the previous January, he had kickoff return for a touchdown in the fourth quarter of the 2015 BCS title game to help the Crimson Tide defeat Clemson.
Dolphins rookie **Minkah Fitzpatrick**, Drake's teammate at Alabama in 2015, now has had the pleasure of watching Drake pull off two dramatic plays to help him win big games.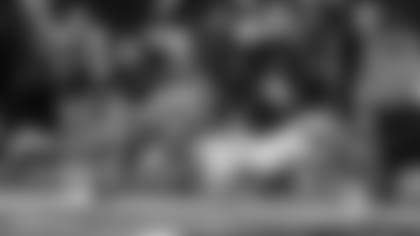 "He's a running back," Fitzpatrick said. "That's what they do. They're designed and they're used to just being in the open field and making people miss. I think that's what Kenyan is really good at. He's got really good vision. Not too many people could just go what he did, take off, see the open field, and just make a play."
That's what Drake has been since he joined the Dolphins: a playmaker.
He's a running back with tremendous speed, great hands and the ability to make anybody miss in the open field.
Those assets came into play during his 52-yard run after taking a lateral from DeVante Parker on that memorable touchdown against New England.
Drake, however, was quick to share the credit.
"I can't do it by myself," he said. "There's a lot of great guys on this offense that pick up key blocks in timely situations. We practice week in and week out putting ourselves in great position to create open lanes and things like that. It's the people with the ball in their hands' job to make people miss. That's what we get paid to do. That's what I pride myself in."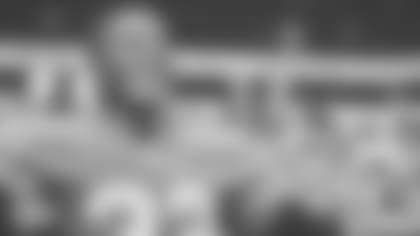 Now in third season with the Dolphins, Drake has become a more dependable player or, for lack of a better description, a better pro.
It's part of the natural evolution of player and person.
"Everybody has to grow up someday," Drake said. "I made mistakes as a kid. I'm only 24, so I'm going to continue to become the man I want to be. It's about being where your feet are. It was a great play and a great opportunity to make a great play and put ourselves in a position to continue to get our goal of making the playoffs. Now our focus is on a great quality opponent in Minnesota."
The touchdown against New England was Drake's fifth receiving touchdown of the season. It's tied for fourth in the NFL among running backs and has tied a Dolphins record first set by Norm Bulaich in 1975 and matched by Tony Nathan in 1980 and Keith Byars in 1994.
Drake has a streak of three games with a receiving touchdown, matching Nathan's streak in 1980 as the longest in Dolphins history for a running back.
Though he hasn't been used as extensively as a ball carrier as he was late in the 2017 season, Drake has nonetheless contributed in the running game as well.
As another example of his big-play ability, his 54-yard touchdown against the Detroit Lions in Week 7 is tied for the longest Dolphins run of the season.
He has four rushing touchdowns, making him one of only three running backs in Dolphins history with at least four rushing and four receiving touchdowns in a season. The others are Bulaich (1975) and Joe Auer (1966).
"He's been huge," quarterback **Ryan Tannehill** said. "He's a playmaker. We saw it last year. We saw it some his rookie year. We saw it in preseason in Carolina. You see any play can go the distance with that guy. We feel good about splitting him out. He's got the speed to get on the edge. We kind of move him on some fast-motion type stuff and try to use him to misdirect the defense. And he can run the standard downhill running plays.
"He's huge. He's basically a utility knife in the backfield that we can put in a lot of different places and use to create matchups that we like."
Drake came up bigger than huge for the Dolphins against New England, if that's possible.
That game is done, though, and now Drake is just looking for more big moments for himself and the team.