For the first time in Dan Marino's life, the quarterback's raw ability to play football wasn't a safe bet. In fact, there were plenty of people prophesying that his best days were behind him.
For more than a decade, Marino defined the Miami Dolphins, but in the blink of an eye, he was sitting on the ground at Cleveland Municipal Stadium, clutching his right ankle. The man who had personified superstardom and super consistency had suffered a torn Achilles tendon in the October 1993 game, and his streak of 145 consecutive starts would end the following week.
Nearly 11 months after the legendary Dolphin — who had already amassed nearly 300 touchdown passes and more than 40,000 yards through the air — endured the most significant injury of his career, he tried to pick up where he left off.
"It was really devastating," Marino said. "A ruptured Achilles is one of the most difficult injuries to come back from. It's time consuming and tedious. You go through times when you aren't making the progress you think you should be."
The 1993 campaign ended with the Dolphins losing their last five games. But worse than that was the uncertainly surrounding Marino's future. As winter turned to spring, concern about whether the quarterback would be able to carry the Dolphins again began to envelop South Florida like a tropical storm.
"The surgery to fix the Achilles didn't work the way it was supposed to," Marino said. "The tendon atrophied and elongated, so I couldn't put weight on my toes and push off the front of my foot when I was throwing the ball."
In the '94 preseason, Marino didn't look much like himself. In his final tune-up for the regular season, he completed four passes in 12 attempts for 37 yards with two interceptions against the Minnesota Vikings. Veteran quarterback Bernie Kosar, who was signed that offseason, was waiting in the wings.
"I didn't do well in the preseason games I played in," said Marino, who turned 33 years old in 1994. "I struggled. I was testing my ankle and trying to figure it out, but it wasn't going well."
After what seemed like a few thousand questions from the media and as many articles predicting Marino's football demise, he took the rain-soaked field at Joe Robbie Stadium for the team's first regular-season game on Sept. 4. Facing the up-and-coming New England Patriots, led by future Hall of Fame coach Bill Parcells and 22-year-old sophomore quarterback Drew Bledsoe, Marino knew that in order to give the Dolphins any chance, he needed to revert back to his old self.
"I had no doubt that I could still win games," Marino said. "I guess there were some question marks from people covering the team, but I knew I would be able to play. I was used to playing at a pretty [darn] high level before that, so the only thing I wasn't sure of was what level I would be able to get back to."
"I had no doubt that I could still win games." Dan Marino
New England jumped out to a 7-0 first quarter lead, and when the Dolphins got the ball back, Marino finally began to show glimpses of his glory days. Four completions brought the Dolphins into Patriots territory, and with the quarter winding down, Marino faced a third-and-10. No-one was open on the play, so the quarterback, who now had a limp in his step and more equipment protecting his right leg than any player in the sport, took off running. As two Patriots began to close in on him, Marino dove headfirst into the thick mud that made up the Florida Marlins infield for the first down.
"Even though I couldn't move like I did before, I felt like I was going to be able to make people miss and move around a little," he said. "Your mind and body take over, and you figure out a way to make it happen."
After Marino and Bledsoe each tossed second-quarter interceptions, the Dolphins quarterback connected with wide receiver Mark Ingram on a 64-yard touchdown to tie the game. Bledsoe hit tight end Ben Coates on a two-yard lob to give the Patriots a 14-7 lead, and Marino completed back-to-back 21-yard passes to set up a Pete Stoyanovich 42-yard field goal at the end of the half.
Already ahead, Bledsoe struck first in the third quarter, connecting with Coates for a 62-yard touchdown that put the Patriots up 21-10.
"I felt a lot of urgency to start matching points with Drew at that point," Marino said. "In those kind of games, you feel like you have to score every time you get the ball."
A series later, Marino connected with wide receiver Irving Fryar for a 40-yard completion. Two plays later, No. 13 found tight end Keith Jackson in the end zone for a 26-yard touchdown. That touchdown pass was the 300th of Marino's career.
"I really started to think that whoever got the ball last was going to win," Marino said. "It was quickly turning out to be one of those games."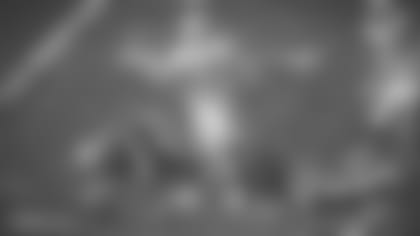 Bledsoe continued his onslaught of the Dolphins' defense after the teams traded turnovers on back-to-back plays. This time, the budding Patriots star capped off a 24-yard drive with a touchdown pass to wide receiver Michael Timpson.
Now trailing by 10 points and facing a third-and-15, Marino went deep, launching the football to a sprinting Fryar near the goal line. The former Patriots receiver took it the rest of the way for a 54-yard touchdown that brought the score to 28-25.
"As I was moving around in the pocket, Irving was running an in pattern, and when he saw me scramble a little bit to the outside, he turned up field," Marino said. "New England's safeties didn't go with him, and he was able to beat the cornerback up the field."
After a rare stop for the Dolphins defense in the second half, Marino got the ball back early in the fourth quarter with a chance to give his team its first lead of the day.
Marino and the Dolphins quickly turned to trickery, attempting to complete a flea-flicker on the second play of the drive. From the 50-yard line, Marino handed the football off to Terry Kirby, who drew several Patriots in before tossing it back to the quarterback. When Marino got the pigskin, Fryar had already run past every Patriots defender, and he hauled in another touchdown bomb.
The Dolphins' 32-28 lead was short lived though. Bledsoe marched down the field on his next possession and tossed his fourth touchdown of the day, giving New England a three-point advantage.
Halfway through the fourth quarter, Marino got the ball back on his own 20-yard line. With four touchdowns under his belt, he had proven that he could still play at the highest level, but could he pull off the type of heroics that had cemented his iconic status years before?
After getting sacked and pushed back to his team's 11-yard line, Marino completed six of his next eight passes, but another sack and an incompletion put the Dolphins in a do-or-die situation.
It was fourth-down-and-5 with 3:19 left in the game, and the Dolphins were losing by three. From New England's 35-yard line, the Dolphins were not about to send their kicker onto the field, and Marino had come too far to go for a tie.
"We were going to run a short pattern on the left side just to get the first down," Marino said. "But coming out of the huddle, I told Irving that if he got bump-and-run coverage, we should go deep and end it right there."
Fryar jogged up to the line and quickly recognized that he only had one man to beat.
"We just looked at each other for a second," Marino said. "We both knew what the plan was."
It was time for one of the NFL's greatest passers to double down.
Fryar took off for the end zone, and Marino threw the football from the infield mud at the 40-yard line to the goal line. Fryar caught the perfectly-thrown pass in stride for the eventual game-winning touchdown.
"I had confidence in myself," said Marino, who led the Dolphins back to the playoffs that season and went on to play for five more years after that, breaking every meaningful passing record en route to his 2005 Pro Football Hall of Fame induction. "The satisfaction I got from coming back from the injury and winning that game is something that will always be with me."