Five snapshots from the Dolphins-Jets series.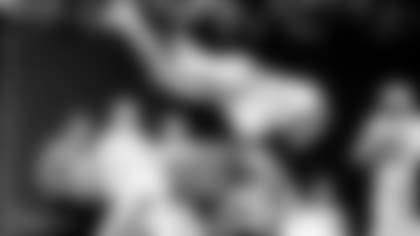 This game, which gave the Dolphins a 10-0 record on their way to a Super Bowl appearance, will be remembered for the famous "Helicopter Catch" by wide receiver Nat Moore, now the Dolphins' Senior Vice President for Special Projects and Alumni Relations. With the Dolphins trailing 10-7 in the third quarter, they faced a second-and-20 from the Jets 23-yard line when Dan Marino threw a strike to Moore inside the 5-yard line. As he tried to split two defenders, Moore was spun around in the air parallel to the ground before landing at the 3. On the next play, Woody Bennett scored on a 3-yard run to send the Dolphins on their way to a 31-17 victory. The catch came one series after Moore had fumbled after making a reception. "In my mind, when I caught that football, I'm trying to score, I'm trying to atone," Moore told the South Florida Sun-Sentinel a few years back. "I'm trying to go up and over and I get hit and I'm spinning. The only thing I was thinking was, 'Whatever you do, don't let this football go because you've got to see (Don) Shula again.' He has that kind of impact on you. … I think the key is when you're playing in New York, there are a lot of cameras and a lot of media. If you play well there, you're known. Granted, I'm known for getting the heck knocked out of me, but it's still great to be remembered."
Two members of the famed QB Class of 1983 put on a show in the Week 3 matchup that became the highest-scoring game in Dolphins history — and still is to this day. Dan Marino was in typical Marino form that day as he passed for 448 yards and six touchdowns, but the Jets' Ken O'Brien answered with 479 passing yards and four touchdowns, all of them to Wesley Walker, to help the Jets pull out a wild 51-45 overtime victory. Walker's third touchdown came on the final play of regulation and capped an 80-play drive that began with 1:04 left and the Jets having only one timeout. The Jets then got the overtime kickoff and needed only five plays before O'Brien and Walker hooked up for the 43-yard game-winning score.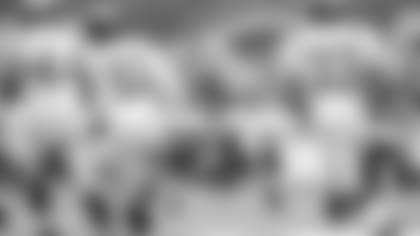 Ted Ginn Jr. made NFL history on this day when he had two kickoff returns for touchdowns of 100 yards or more, something that had never been done before. Nine years later, Ginn stands as one of only two players to have accomplished the feat, along with Josh Cribbs, who did it for Cleveland later in 2009. Ginn's exploits helped the Dolphins beat the Jets 30-25 despite gaining only 104 total yards. His first touchdown in the third quarter covered 100 yards and came right after the Jets had taken a 6-3 lead with a field goal. After Jason Taylor returned a fumble for a touchdown, the Jets scored to cut the Dolphins' lead to 17-13 before Ginn took the ensuing kickoff back 101 yards. Ginn ended the day with 299 kickoff return yards, which stands as the second-highest total in NFL history behind only the 304 yards by New Orleans' Tyrone Hughes in a 1994 game against the Los Angeles Rams.
The Dolphins have had great success on special teams against the Jets in the 2000s and another example was the 2010 game at the new Meadowlands Stadium. This time, it was punter Brandon Fields who was the star. Simply put, he put on the greatest punting display in franchise history and one of the best ever in the NFL. Despite a tough day on offense, the Dolphins pulled out a 10-6 victory in large part because of Fields' punting, which kept the Jets from easily winning the field position battle. Fields punted 10 times that day, and his gross average of 56.4 and his net of 49.6 both set NFL records for punters with at least 10 kicks. The gross average is still the best ever, while his net was topped last season by Tennessee's Brett Kern — in a game against the Dolphins.
This was Matt Moore's finest moment during his seven seasons as the Dolphins' backup quarterback, as well as the last time a Miami quarterback threw four touchdown passes in a game. Making his first start since 2011 after Ryan Tannehill was sidelined the previous weekend, Moore led the Dolphins to a 34-13 Saturday night victory that paved the way for them to clinch a playoff berth the following weekend. Two of Moore's touchdown passes that night went to tight end Dion Sims, and he also had TD passes of 52 yards to Kenny Stills and 66 yards to Jarvis Landry.